Shabbat Shalom
June 27, 2014
Dear Friends and Family,
Why Israel…?
Last Saturday we woke to the Presbyterian election results indicating (by a slim margin) their intent to divest from 3 American companies connected to Israel. Realistically, this will have very little impact on Israel though it is a slap in the face for All Jews.
Why Israel? The only democracy in the region (though not perfect as no county is) that provides equal rights to all citizens regardless of religion, race, gender, ethnicity or sexual orientation.  Why not Syria for forcing children to become soldiers; Why not Egypt for jailing Journalist; Why not Malaysia for arresting Transgender Women; Why not Bangladesh for their abysmal working conditions; Why not Australia for their forced sterilization of disabled underaged girls; Why not Afghanistan for stoning women to death for accused adultery; Why not Saudi Arabia for banning Women from driving; Why not ANY of the 81 countries where Homosexuality is illegal!!! NOPE, Israel is the only country deserving of a Boycott from this religious institution. Why… Because Anti-Semitism as been replaced (after Nazi's stigmatization) with the more acceptable Anti-Zionism (which is still anti-semitism).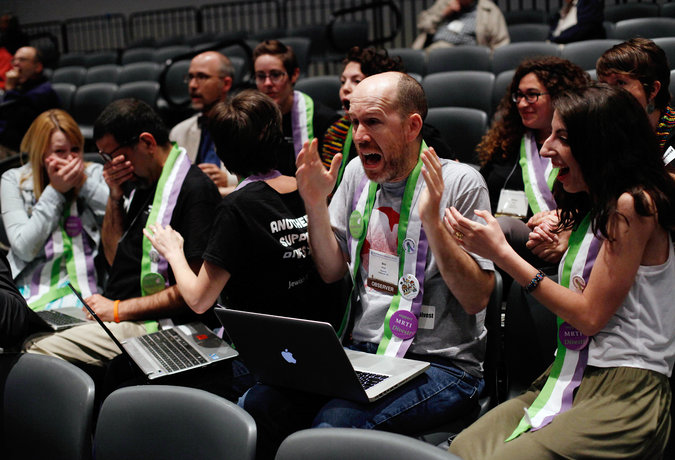 Reaction of the vote, tears of joy… you'd think they were told Cancer was cured.  
Proud Zionist
FACT: Jews are a Peoplehood, a Nation, just like the French, Americans and Italians.  FACT: Our homeland since the biblical era is Israel.  FACT: Anti-Semitism has plagued our entire existence, yet during our "wondering years" without our safe haven we were massacred repeatedly.  FACT: UN resolution 181 established an Israeli Jewish State along side a Palestinian State. Somehow Zionism became a dirty word.  The definition of Zionism is that Jews are a Peoplehood deserving of a protective Nation. We need to reclaim the positive meaning of Zionism. Without it, History could repeat itself as all attacks against Jews always started with words just like the Presbyterian agenda.  Yet the difference and irony is that Israel is now here to protect us as their words try to delegitimatize our Protection. Please check out http://www.zionistspring.org/ and stand up as a proud Zionist.  Please read MLK's quote below.
Black Jewish Brotherhood (Andrew and Michael were Jewish)
50 years ago this week, James Chaney, Andrew Goodman and Michael Schwerner were murdered (in cahoots with the Mississippi police) by the Ku Klux Klan while participating in the Freedom Rideto assist Southern Blacks in the voter registration process. Segregation was a disgraceful time in our history as it preempts the inequity for all citizens in this country. We need to focus on compassions and protection for those who are different in color, gender, religion, orientation or income bracket. "All men (women and transgender) are created equal". Thomas Jefferson (with my slight editing) wrote these words in 1776 (yes, Lincoln said them too), yet there is still much work to be done till these words ring TRUE.  This week also commemorates the 50th anniversary of the Civil Rights Act.  This act, signed into law on July 2nd, 1964 by President Johnson, helped to ratify Jefferson's words:
Update on Sudanese Christian
Freedom of religion is taken for granted in our country but certainly not in Sudan where it is illegal to convert from Muslim to any other religion.  The Christian mother of two who was sentenced to death (after 100 lashes) as been released from jail and was traveling to the US with her American husband and children when they were detained at the Sudanese airport. Hopefully this detention is only temporary and she will be allowed to escape persecution.  I'll keep you posted.
History repeated
From 1980-1988 the
Iran-Iraq War
dominated the headlines. As Iraq is swirling back into disarray, it seems history is repeating itself with Iran again poking back into Iraq. Will our Iraq efforts from both Bushes (41 & 43) go down in the history books as a Vietnam footnote.  
Saddam
is gone but other barbarians are waiting in the wing.  Speaking of Saddam, there are unconfirmed reports that the Judge who sentenced him to death was captured and killed by
ISIS (Islamic State of Iraq and Sryia
– brutal terrorist).   And speaking of ISIS and jumping to our local elections, one of our
US Senatorial 
candidates (Terri Lynn Land) doesn't know the difference between ISIS and Al Qaeda.  This was her quote when asked to address the Iraq situation:
"Well, the president has obviously said that Al Qaeda has, you know, on the run. Well, it's obviously not true. So the president has to lead, he's the chief and commander and he needs to lead and show us a vision and a plan on how he's going to solve the problems and the issues."
 This quote speaks for itself. And while on this region, it seems the population in Iran is heavy on the gray-haired side so as of NOW, it is illegal to get a
vasectomy or tubal ligation
in Iran: 
http://tinyurl.com/IranBirthControl
  And to swing back to history repeating itself, the people of
Dortmund, Germany
should beware as their newest city council member is a Neo-nazi: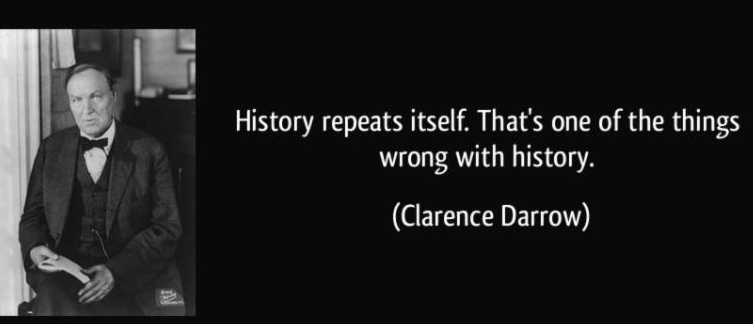 Politics
Voting
I just picked up my Absentee Ballot for our Aug. 5th Michigan Primary and wanted to remind all of you who will be out of town to do the same at your City Clerks Office.  Also, as a heads up, there is aState Proposal to reduce taxes and a County Proposal for a Transportation millage. Lastly, our Michigan Primary process restricts you to ONLY vote one Party, meaning you can only vote either the Republican section or the Democratic section. No Crossovers allowed in the Primary, though you can crossover in the General Election. Please vote (and encourages your friends/family to vote) on Aug. 5th or pick up their absentee ballots.
RIP Stanley Marshal, eccentric Texas Millionaire who was the sponsor of the above Art Exhibit call Cadilac Ranch.
Ginger Rogers did it first but these guys are quite amazing too: https://www.youtube.com/watch?v=kc17H68IKMs
Mazel Tov to talented local boy (and son of friends Marcie and Rob) as Jason Orley catapults his career and punim onto the big screen: http://www.hollywoodreporter.com/news/nancy-meyers-casts-assistant-key-714087
Wishing you and your loved ones a Sweet Shabbat Shalom,
Lisa
 Day 15
Free these sons!
  We pray and hope for there safe return! 
"What we have once enjoyed, we can never lose. All that we love deeply becomes part of us." Helen Keller
Condolences to Phyllis and Bob Pilcowitz and their family on the passing of Bob's father, Ted Pilcowitz who reached his 90th birthday plus one day and was a Holocaust Survivor.  Our thoughts and prayers are with the Pilcowitz family during their time of sorrow.  May Ted's spirit and memory bring comfort to those who loved him.
Eli Wallach died this week at the age of 98 (Kenahora). He was the son of Jewish/Polish immigrants who first stared in cowboy westerns and continued his acting career into his 90s.
Michigan Primary is Aug. 5th (quickly approaching)
National Election is Nov. 4th
Register

All US Citizens who are or will be 18 by Nov. 4th are eligible to vote. You can register to vote by mail; at your county, city, or township clerk's office; or by visiting any Secretary of State branch office. 
http://www.mi.gov/sos
 This site can also answer all your Election questions including info on a sample ballot so you can prepare for your vote.
Registration deadline for Michigan Primary Election is July 7th. 
Get your Absentee Ballot
For those who will be out of town (or out of their district) on Aug. 5th or for those who are older than 60 or for those who are disabled and can't get to the polls, you can pick up your Absentee Ballots from your County Clerks office this week.
Please help support our Michigan Candidates and spread the word:
(copy, paste & forward if you choose):
Governor
Mark Schauer (and Lisa Brown)
US Senate
Gary Peters
US Representatives
District 3 – Brian Ellis – Western MI – (Justin Amash must go)
District 5 – Dan Kildee – Central MI –
District 7 – Pam Byrnes – Jackson, parts of Ann Arbor…
District 9 – Sandy Levin – HW, RO, Fern, Frank…
District 11 – Livonia/Novi area – Bentivolio MUST go!
District 12 – Debbie Dingell – Detroit, parts of Ann Arbor…
District 14 – Ruby Hobbs – Detroit to Auburn Hills zigzag
MI Senate
District 13 – Ryan Fishman – Rochester Hills, Rochester, Bloomfield Hills, Troy, Birmingham, Clawson, Royal Oak, and Berkley
District 14 – Vicki Barnett and Ellen Cogen Lipton (both are friends of mine and brilliant legislators) – Farm., Farm. Hills, Ferndale, Hazel Park, Hunt. Woods, Lathrup Village, Madison Heights, Pleasant Ridge, Royal Oak Twp., Southfield.
MI Representatives
District 27 – Robert Wittenberg – Berkley, Ferndale, Hazel Park,Huntington Woods, Oak Park and Pleasant Ridge and Royal Oak Township
District 35 – Jeremy Moss – Southfield, Lathrup Village, Beverly Hills, Bingham Farms and Franklin
District 37 – Barry Brickner, Christine Greig, Theresa Rich – Farmington, Farm. Hills.
District 39 – Sandy Colvin – Commerce Twsp, Wixom, West Bloom. Twsp, Wolverine Lake
District 40 – Mary Belden Birmingham, Bloomfield Hills, Bloomfield Township and the eastern portion of West Bloomfield Township
Potential Candidates
If you are a candidate or know someone who is running for office, I would be happy to meet them and if they are progressive, pro-choice, pro-Israel, pro-environment, pro-gun control, pro-education, pro-Health Care, pro-equality, pro-Detroit and pro-Michigan, I will gladly include them on this list.
Hillary Clinton
If you are ready to join the team, please click on this website:
https://www.readyforhillary.com/webform/jewish-americans-ready-hillary
Please attend:
Gary Peters event Hope you can attend this Sunday June 29th at 4:00pm the reception to support Gary Peters for U.S. Senate at Doreen Hermelin's home.  For info on the June 29th event, please contact Hy Safran athy@petersformichigan.com or (248) 631-4929.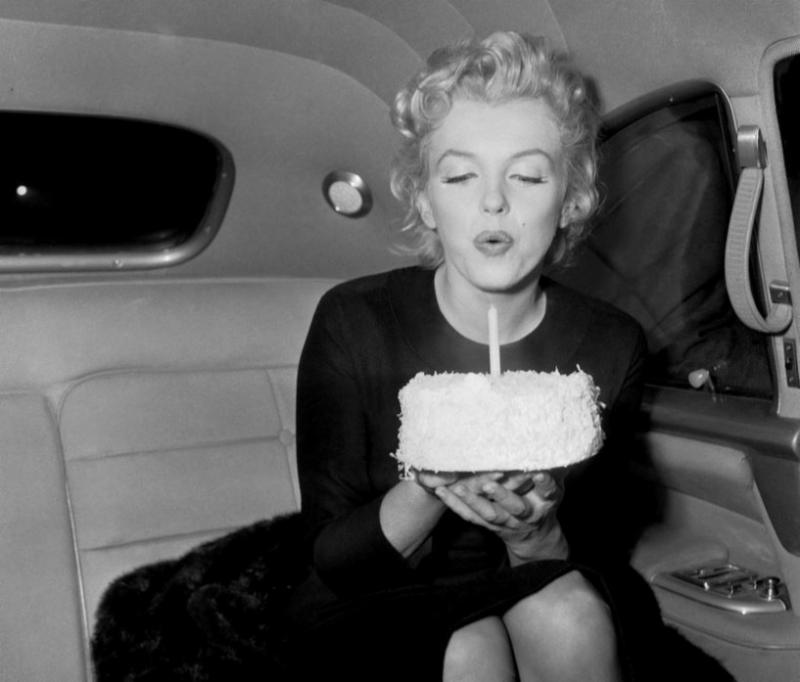 "Happy Birthday day to you…"
So sorry I missed dear friend Keenan Wollen's birthday which was last Saturday June 21st.
Also missed Liz Fellow's birthday on June 24th
This week's celebrants are…
June 27th
Karen Kelman
Orly Rubinfeld
Dolcy Rubinfeld
June 28th
Deborah Tyner
June 29th
Beth Gans
June 30th
Jon Linden
Nancy Gad Harf
Julie Yolles
July 1st
Jay Hack
July 2nd
Megan Topper
Rina Raviv
Miriam Forman

 July 3rd
Scott Kaufman
If you'd like a birthday mentioned in these emails, please confirm I have it CORRECTLY in my system.

For those who are forwarded this message by a friend or read it on Facebook, you can receive your own version each Friday morning at 6am by clicking on the above button.
Please excuse my typos, misspellings and human errors.  Thanks.