Shabbat Shalom
And Happy 4th of July
Dear Friends and Family,
Sorrow
I intended to open this week's Shabbat email with a message of Independence, Freedom and Hope as we celebrate our 238th birthday, but, of course our week began with the most somber discovery of the 3 Israeli Teens' demise.  Israel is Independent yet surrounded by enemies.  All citizens are Free yet safety is elusive.  Hope is her national anthem but Peace seems to be a dwindling image.  What will Israel's 238th birthday hold? Will the day come when Israel can celebrate her independence without the constant threat of annihilation? The neighborhood is DANGEROUS with inhabitants who are filled with hate and value death (even against themselves) in exchange for dominance.  We value LIFE and need to remember our ethics while continuing to PROTECT our citizens yet keeping the casualties of our enemies to a minimum.
 Gilad Shaar z"l (16)  Naftali Frankel z"l (16)  Eyal Yifrach z"l (19)
Stronger Voices
The day the teens were found coincided with the month-long commencement of the reflective Ramadan holiday.  Muslim observance of Ramadan includes fasting during the daylight hours, praying, reading the Quran, being humble, refraining from bad deeds and giving charity.  Certainly killing teens would be counterintuitive to the holiday.  We must continue to pray for the day when moderate Muslims can safely stand up and speak out to repress and root out the violent radical high-jackers of their religion, like this brave Arab teen who's life is now threatened after criticizing terror.  His aunt, an Arab Israeli Knesset Minister (though very anti-Israel), objects to his peaceful stance.
http://www.timesofisrael.com/threats-against-israeli-arab-teen-who-slammed-kidnapping/
Politicized Decision
Shame on SCOTUS (Supreme Court of the United States) for disregarding one of the major blueprint elements decreed by our forefathers.  We must keep our vast and varying religions clear and separate from our governing bodies. This new judgement by SCOTUS has set a precedent and opened pandora's box.  There are 71 other companies who've sued to restrict affordable Birth Control from their employees.
http://www.motherjones.com/politics/2014/04/hobby-lobby-sebelius-contraceptive-for-profit-lawsuits (side note, our Michigan Attorney General, Bill Scheutte, filed briefs against the ObamaCare in 6 of these 71 lawsuits). The Citizens United debacle which opened the door to Corporations being treated as People is one of the rationalizations for this latest decision. Corporations are NOT People and even if they were, they can't pick and chose which LAWS they prefer to follow. It is now the LAW to (wisely and for the good of our country) require Birth Control to be covered under Insurance.  Half of all pregnancies are unexpected (yes HALF!).  One way to prevent unwanted pregnancies and decrease abortion is through safe and affordable birth control. Also, there are many health benefits to the Pill. http://www.webmd.com/sex/birth-control/features/other-reasons-to-take-the-pill This Supreme Court decision is a direct assault on Women's Health Care.  I don't see them cutting off Viagra from anyone's insurance policies.  Here is a great diatribe (by the brilliant President Jeb Barlet) of why religion needs to stay in their own Houses of Worship and out of our civic policieshttps://www.youtube.com/watch?v=jYaewOBGybw
Independence Day
Lots of Dishes
Many of you will be joining friends and family for Shabbat dinner tonight but I assume it won't be as large as this Guinness World Record Shabbat Dinner of 2,226 attendees in Tel Aviv last month:
http://www.tabletmag.com/scroll/176199/worlds-largest-shabbat-draws-2226-to-tel-aviv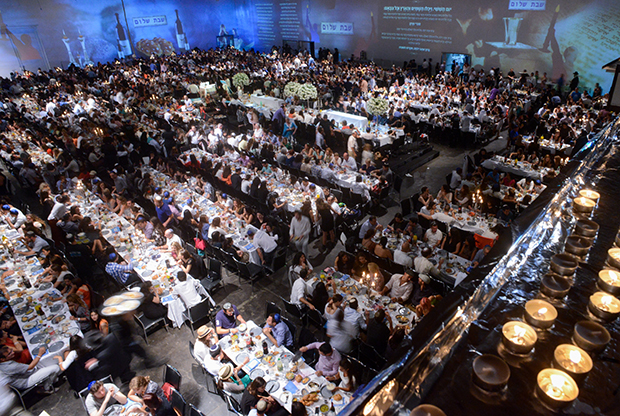 Two Step
I love this meshing of Laurel and Hardy dancing to my favorite Santana tune: https://www.youtube.com/watch?v=jkZGg0qNdCc&feature=kp
Chevre Cheese
To conclude this week's email, here is a photo from last weekend's trip to Eugene, Oregon when we visited Liat (our daughter) and Andrew (Liat's boyfriend) on the goat farm.
Wishing you and your loved ones a Sweet Shabbat Shalom and a joyful 4th of July weekend.
Lisa
 "To live in the hearts left behind is not to die" – Thomas Campbell
It has truly been a sad week and adding to our sorrow was the unexpected passing of a community patriarch and friend, David Page.  David stepped up in every corner of our region to take on chairmanship and leadership roles at Federation, Children's Hospital, ORT, Detroit Riverfront Conservancy, City Year and the list goes on.  I am grateful to him as just this month I was install on our Detroit Zoo board based on his nomination of me.  He was a mentor to many, a sweet and generous man, a loving husband and father and a friend to all.  He will be greatly missed. Our thoughts and prayers go out to his wife, Andrea (of 49 years) and his family.  May his spirit, love, memories and devotion bring comfort to those in mourning.
Our thoughts and prayers are also with Paul Meyer and his family on the passing of his younger brother, John David Meyer.  May his memory and spirit bring comfort to those who love him.
Michigan Primary is Aug. 5th  
National Election is Nov. 4th
Register

All US Citizens who are or will be 18 by Nov. 4th are eligible to vote. You can register to vote by mail; at your county, city, or township clerk's office; or by visiting any Secretary of State branch office. 
http://www.mi.gov/sos
 This site can also answer all your Election questions including info on a sample ballot so you can prepare for your vote.
Registration deadline for MI Primary is July 7th. 
Get your Absentee Ballot  For those who will be out of town (or out of their district) on Aug. 5th or for those who are older than 60 or for those who are disabled and can't get to the polls, you can pick up your Absentee Ballots from your County Clerks office this week.  
Please help support our Michigan Candidates and spread the word:
(copy, paste & forward if you choose):
Governor
Mark Schauer (and Lisa Brown)
US Senate
Gary Peters
US Representatives
District 3 – Brian Ellis – Western MI – (Justin Amash must go)
District 5 – Dan Kildee – Central MI –
District 7 – Pam Byrnes – Jackson, parts of Ann Arbor…
District 9 – Sandy Levin – HW, RO, Fern, Frank…
District 11 – Livonia/Novi area – Bentivolio MUST go!
District 12 – Debbie Dingell – Detroit, parts of Ann Arbor…
District 14 – Ruby Hobbs – Detroit to Auburn Hills zigzag
MI Senate
District 13 – Ryan Fishman – Rochester Hills, Rochester, Bloomfield Hills, Troy, Birmingham, Clawson, Royal Oak, and Berkley
District 14 – Vicki Barnett and Ellen Cogen Lipton (both are friends of mine and brilliant legislators) – Farm., Farm. Hills, Ferndale, Hazel Park, Hunt. Woods, Lathrup Village, Madison Heights, Pleasant Ridge, Royal Oak Twp., Southfield.
MI Representatives
District 27 – Robert Wittenberg – Berkley, Ferndale, Hazel Park,Huntington Woods, Oak Park and Pleasant Ridge and Royal Oak Township
District 35 – Jeremy Moss – Southfield, Lathrup Village, Beverly Hills, Bingham Farms and Franklin
District 37 – Barry Brickner, Christine Greig, Theresa Rich – Farmington, Farm. Hills.
District 39 – Sandy Colvin – Commerce Twsp, Wixom, West Bloom. Twsp, Wolverine Lake
District 40 – Mary Belden – Birmingham, Bloomfield Hills, Bloomfield Township and the eastern portion of West Bloomfield Township
District 61 – John Fisher – Portage/Kalamazoo area.
Please attend
Candidate Forum for the 14th US Congressional District (we support Rudy Hobbs in this race) sponsored by:
Jewish Community Relations Council
American Jewish Committee
Anti-Defamation League
July 22nd @ 7pm
Adat Shalom Synagogue
29901 Middlebelt Road
Farmington Hills 48334
Step Up and Join JAC
If you are fed up with SCOTUS and our Congress' attack on Women's Rights and are passionate about Protecting Israel then please check out JAC and become a member.
http://www.jacpac.org/  Here is their new video that explains their agenda accompanied by a catching tune:
https://www.youtube.com/watch?v=1yYcTCLiqpI&feature=youtu.be
"Happy Birthday to you…"
This week's celebrants are…
July 4th
United States of America
Kim Lifton
Cantor Michael Smolash
Mina Levin
July 5th
Lea Luger
July 6th
Alon Tolwin
July 7th
Eleanor Jackier
July 8th
Congressman John Dingell
Lily Kaye
Vicki Barnett
July 9th
Aubrey Topper
July 10th
Brad Schram
Ricki Rogow
Eldan Kaye
If you'd like a birthday mentioned in these emails, please confirm I have it CORRECTLY in my system.


Please excuse my typos, misspellings and human errors.  Thanks.