Shabbat Shalom From the German Autobahn
April 24, 2015
Dear family and friends,
Travel Log 
As you read today's Shabbat Message, I am on the tail end of my travels.  This week was spent travelling down the Autobahn(with no speed limit, other than common sense).Germany (Berlin and Nuremberg) and Italy (Lake Garda, Tuscany, Florence and Venice) are our destinations.
Highlights of the trip will be shared in next week's email.
Here are some interesting facts about our journey's locations:
1. Two Million East Germans (1,000 per day) fled to the West between 1949-1961 but then on Aug. 13, 1961 Berliners woke to find a barbed wire fence separating East and West Berlin (later replaced by the wall).
2. The Berlin Wall fell on Nov. 9, 1989 one day earlier than planned due to poor communication only after 100 people died trying to scale the wall to freedom but 5,000 people were successful by going over and under the wall. Pieces of the wall were scattered across the globe with one finding a home in the bathroom of a Las Vegas casino.
3. As in most of Europe's history, Jews were often persecuted and killed as scapegoats and Nuremberg is no exception.  The Jewish pogroms and massacres in Nuremberg started in the late 13th century and continued throughout history.  And of course, in 1935, Hitler scribed the famous Nuremberg Lawswhich demonized non-aryans and Jews (or anyone with Jewish Grandparents regardless of their current identity). Most Arab countries used the Nuremberg laws to initiate persecution of their Jewish Residents. After the war, Nuremberg became the Trial Home for Nazi crimes.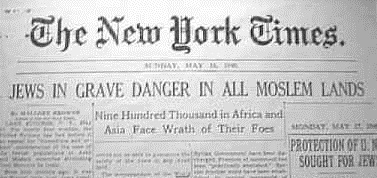 New York Time, May 16th, 1948
4. Lake Garda is the largest lake in Italy and legend states there have been settlements there dating back to 2000 BCE.
5. Tuscany is considered the birthplace of the artistic and scientific Renaissance.
Tuscany
6. Italy's youngest Prime Minister Matteo Renzi (age 40) is from Florence.
7. Venice is made up of about 117 small islands connected by canals and bridges, though sadly it is sinking about 1-2 millimeters a year.
"Venice is like eating an entire box of chocolate liqueurs in one go."
–Truman Capote
Wishing you and your loved ones a Sweet and Peaceful Shabbat Shalom.  And (yesterday April 23rd) Happy 67th Birthday Israel.  Wishing you many many more peaceful years!
Lisa
Permanent Postscript (till after the election)
Please spread the word to vote
"YES" on Proposal 1 on May 5th
to fund Road Repairs.
It is the right thing to do our our State.
April 26th 
Send a Kid to Tamarack event
Adat Shalom
Enjoy a Magical Night with Magician and Mentalist
Oz Pearlman
For more info, please contact Laura Adler
adler@tamarackcamps.com
April 29th
Jewish Women's Foundation
11:30am-2:00pm
The Colony Club, Detroit
Women Lighting the Way
May 1st 
Forgotten Harvest Comedy Night

(please join us as Hannan and I are co-chairing this event)
8:00pm
Detroit Opera House
Featuring:
Joel McHale
(NBC Community and The Soup)
For more details and ticket info:
May 3rd
Jewish Senior Life
11:30am
8 over 80 presentations
Adat Shalom Synagogue
For more info:
248-592-1101 or mbuda@jslmi.org
May 7th
Orchards Children's Services
6:00-9:00pm

Signature Event
Colony Club, Detroit
For more info, please contact Fern Kepes
fkepes@orchards.org
May 17th 
Hillel Day School Annual Dinner
(I'm humbled to be receiving the Alumni Award with friend Hy Safran and Dr. Charles Schwartz)
(My Alma Mater)
Honoring:
Audrey and William Farber with Dream Maker Award
Bob Canvasser with Rabbi Jacob Segal (z"l) Award
For more info, please contact Amy Schlussel
aschlussel@hillelday.org
248-539-1484
May 18th
Planned Parenthood Annual Luncheon
The Henry (Dearborn)
Guest Speaker: Senator Wendy Davis
April 24th
Andy Doctoroff (and twin brother Tom)
Paula Milgrim
Gary Gilbert
April 25th
Liat Tova Lis (our lovely daughter)
David Handleman
Emily Levin
Ilan Rubinfeld
Jon Guyer
Lisa Brown (Howard's wife)
Marcy Feinberg Leland
Wendy Yedwab
David Gans
April 26th
Illana Panush Greenberg
Rick Krosnick
Bryan Kraft
Lorne Gold
April 27th
Amy Frank Ostrow
Stephen Hayman
Nathan Leader
Mark Stephens
April 28th
Ilana Kutinsky
April 29th
Eli and Raphi Berg
Ruby Hobbs
Michele Eichner Saulson
Brian Mark
April 30th
Aaron Rosberg
Abe Slaim
Eric Feldman
Helaine Zack
Jackie Victor
Genevieve Berg