Shabbat Shalom April 26, 2013
Dear Friends and Family,

Again this year, the Irish Teachers Union has recommitted their stance to Boycott the State of Israel.  They believe their 14,500 members should cleanse themselves of all Israeli academic and cultural exchange due to their apartheid actions toward Palestinians, worse, according to them, than even South Africa.  This message is flawed and bias on SO many levels that logic and truth barely come into play.  It is sad and frustrating that they prefer to align themselves with the Universities in Gaza which promote terrorism, deceit and pride in killing Zionists.
Much appreciation is due to the Muslim community of greater Toronto for stepping up to thwart the terrorist train derailment plot which could have killed hundreds of Canadians and Americans.  An Iranian supported (al Qaeda assisted) plan to attack a Toronto to New York train was foiled long before serious plans were executed due to the vigilance of Canadian Muslim leaders.  With no intent to minimize these efforts, it would be helpful if the Global Muslim Community unionize against Islamic radicalization.
Though it seems Iran's main wrath of contention is of course that "evil" sliver of Israeli land. Deep in Iranian crevices are nuclear enriching factories which need constant monitoring.  Until these efforts are stopped, much thanks is due to our US government for the $3.1 Billion (highest amount ever) Military aid to Israel this year.  Also, thanks for the special Air Tanker Gas Station (to refuel planes mid-air) so Israeli jets can (non-stop) reach Iranian territory (if needed). By the way, these plane requests were denied by our previous US administration.  Still denied are the bunker busters needed to penetrate those nuclear factory crevices.
With no Iranian (or foreign) connection (that we know of), Bomber Number 2 was charged with using weapons of Mass Destruction.  This sad saga will continue to play out for months to come as his trial commences while many victims try to regain their physical, emotional and financial self-reliance.
Bon Fires will dot the Israeli landscape this weekend as Lag B'Omer is celebrated on Sunday. One element of this holiday commemorates the Jewish revolt against the Roman Empire lead by Simon bar Kokhbar.
Famed Woodstock performer Richie Havens died this week at the age of 72.  He was the 1st performer on the Woodstock Stage and sang for 3 hours.  His music was beautiful as he sings "you are so beautiful" with the help of his audience: http://www.youtube.com/watch?v=69RGjgozoYo
Rest in Peace, Alan Arbus, a gifted photographer (along with his late ex-wife Diane Arbus) and a talented actor, who appeared in my all time favorite Television show that was named for the acronym of "Mobile Army Surgical Hospital".
Famed Abandoner, South Carolina ex-Governor, Mark Stanford, thinks SC citizens will give him another chance after his Appalachian trail/South American Affair debacle.  So if you abandoned your post, do you think you should be given a second chance.  The good people of South Carolina don't think so as the current poll for the May 7th special Congressional Seat election is leaning toward Elizabeth Colbert Busch (sister to my favorite comic political pundit, Stephen Colbert). Good luck Elizabeth!
Wishing you and your loved ones a Sweet and Pleasant Shabbat Shalom,
Lisa
P.S.  My friend, Abbey, is looking to rid her home of a  5 piece white pearl Mapex drum set in great condition (with snare drum noise pad, high hat, cymbal, music stand and stool).  If you are interested,  I'll connect you two to negotiate and swap.
SOAP BOX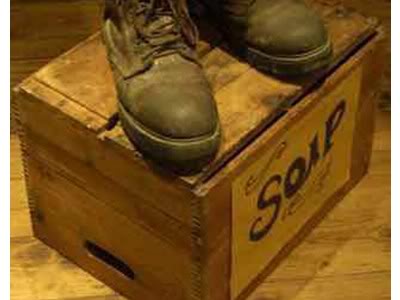 Please join me at Shaarey Zedek's Women's World next Wednesday May 1st(luncheon 1pm, boutiques 9am-4pm) and stop by my friend, Liz Guz's jewelry table. You will love her necklaces.  CNN correspondent, Jessica Yellin is the guest speaker (who I've seen all last week covering the Boston Marathon).  Did you know, her grandfather was an orthodox Rabbi?  For more info: 248-357-5544 Ext. 48

Please join my mother and me for the Mothers, Daughters, Sisters & Friends Patron event (Fashion Show) in support of Henry Ford's Breast Care and Wellness Center. The event will be held at Saks Fifth Avenue at Somerset on Thursday May 2nd @ 9:30am. For more info: 313-874-6139 or aabaloz1@hfhs.org or visit http://www.henryford.com/mdsf

This is your last reminder to see funny man, Martin Short, tomorrow (Saturday April 27th) at the Opera House in support of Forgotten Harvest (food rescue organization). Check out this hysterical video: https://www.youtube.com/watch?v=6m2uFALH0iw  No promises, but I'm going to try and get him to say "Shabbat Shalom" to all of you.

Please check out this wonderful project by Aviva to create "stories" for visually impaired children.  It is truly inspiring, creative and heartwarming: http://vimeo.com/61608145

For friends and family in Denver and for those planning to travel there before May 26th, please check out "a gorgeous new musical"quotes the critics, Sense and Sensibilitydirected and choreographed by fellow Detroiter, Tony Award nominee, Camp Sea-Gull Alum and sister of friends (Marianne, Carol and Paula) Marcia Milgrom Dodge.  For info and tickets: http://www.denvercenter.org/buy-tickets/shows/sense-sensibility/about.aspx

If Ovarian Cancer is a cause close to your heart, please check outhttp://belindasuefund.org/ a relatively new local non-profit which raises funds dedicated to awareness and research for this deadly disease.  They have an upcoming dinner at the Henry this month and a family-friendly zoo event in September.

Deep condolences to Judy and Bernie Cantor on the untimely passing for their beloved daughter, Ellen Beth Cantor.  May her spirit and memory bring comfort to their mourning.

Condolences to Lenore Simon (best piano teacher to our children) on the passing of her mother-in-law, Mildred B. Simon.

Sorrowful condolences to my mother's dear friend, Larry Trager and his daughter, Toni, on the passing of their beloved wife and mother, Toby Trager.  May her soul be wrapped up in the love of her family.

Sadly, Rhoda Sills, passed away this week.  Condolences to her children, Claudia, Susie and Douglas (and the late Lawrence Sills).  May her memory bring comfort to her family and friends during their time of mourning.

I hope all you April birthday celebrants had a birthday filled with Health Family, Good Friends, Delicious Food, Belly Laughs and Peace in your lives… L'Chaim to:
April 1st
Jon Frank
April 2nd
Laura Freedman
April 3rd
Penny Orley (furry and 4 legged)
April 4th
Don Cohen
Karen Simons
Michelle Ross (Niece, not Atlanta friend)
April 5th
Mark Lewis
April 7th
Lisa Weinbaum 
April 8th
Andrew Kramer
April 9th
Aviv Lis (our son)
April 10th
Edie Slotkin
April 11th
Carole Lasser
Nancy Winer
April 12th
Jenny Driker 
April 13th
Neal Zalenko
April 14th
Geoff Kretchmer
Marc Siegel 
April 15th
Pam Lippitt
April 16th
Jo Rosen
Keri Cohen 
April 17th
David Victor
April 18th
Orly Lis Lior
Shmulik Klein 
April 19th
Beth Margolin
Lisa Kirsch 
April 21st
Paige Mark
Dana Pagoda 
April 22nd
Bonnie Avianni
Ellen Tenner
Linda Kovan 
April 24th
Andy Doctoroff (Happy 50th)
Paula Milgrom
April 25th
Liat Tova Lis (our daughter)
David Handleman
Emily Levin
Lisa Brown
Marcie Leland
Wendy Yedwab
David Gans
Ilan Rubinfeld 
April 26th
Illana Greenberg
Rick Krosnick
April 27th
Amy Ostrow
Nathan Leader
April 30th
Abe Slaim
Eric Feldman
Helene Zack
Please let me know if I've missed your birthday.