Shabbat Shalom November 1, 2013
Dear Friends and Family,
4th Year
This week marks the 4th anniversary of these Shabbat messages.  My original intent was to just wish friends and family a weekly Shabbat Shalom and these days they have morphed into… well, what you see.  Evolution is in the future, as I plan to keep these messages innovative, current and interesting.  I truly enjoy writing them and plan to continue sending them each Friday morning till my fingers can no longer type or my brain can no longer compose.
1st Year of Wedded Bliss
Wishing our wonderful niece, Ilana Mark, wedded bliss (this weekend and many years to come) to the Love of her Life, Jason Fisher as they stomp on the Glass to join their love in marriage.  We look forward to the Michigan celebration since we couldn't attend the destination wedding as we are anticipating our first Grand-baby any day.
7th Year Stretch
Mazel Tov to the Red Sox, the Green Monster, Quincy Market, Beacon Hill, Coolidge Corner, Newbury Street, No Name Resturant, Harvard Square, JP Licks and all of my old favorite Boston stomping grounds on winning their 7th World Series.
30th Year of Vacant Seats
30 years ago this week 1, 800 US marines were in Beirut, Lebanon on a Peacekeeping Mission, when a truck bomb exploded outside their barracks, killing 241 souls.  The terrorist organization, Hezbollah committed this hideous crime with "moral" and financial support from Iran and Syria.  Not much has changed in 30 years. Though Syria has destroyed their chemical plants this week, Iran continues to enrich uranium to the full 20% just short of weapon's grade.  Hezbollah is still supported by Iran and Syria and continues to reek havoc in the region as 241 families endure 30 years of vacant seats at their dinner tables where loved ones used to sit.
Mid Year Elections
This Tuesday Nov. 5th is election day (for us Americans).  There are many local candidates up for election and several proposal in each of our cities.
Here is a website for the Oakland County options:
http://www.oakgov.com/clerkrod/elections/Documents/2013_november_combined_list.pdf
Starting on page 8, you'll find all of the proposals for Oakland County Cities.  For example, our City of Farmington Hills has 2 school bond proposal for Safety/Infrastructure and Art/Athletics.  But the BIG Michigan question is who will be the next Detroit Mayor.
Most likely, Mike Duggan will succeed as he is endorsed by… well, almost everyone.  No matter who wins, we'll still have our emergency manager, our bankruptcy and some major financial huddles to overcome before our city returns to it's glory… which it WILL.
The Year of Samsung
I have abandoned my iPhone after frustrating weeks with the new operating system and joined the Samsung family but now I need to let iPhone users know that in order for me (and others) to receive their texts they need to:  Go to Settings, choose Messages, and enable option 3 which is Send as SMS, otherwise some iPhone text messages will not reach their intended receiver.

Lou Reed
Sad Year for Rock & Roll
Lewis Allan Reed, beloved son of Toby and Sidney passed away this week at age 71. Though born Jewish,
Lou Reed
claimed his religion as Rock & Roll and Rock & Roll surely benefited from his talents.  Though his 60's band the
Velvet Underground
failed at its onset, it grew in popularity over the years.  Here is his iconic tune (and peom) "A walk on the wild side" with some incredible NYC video images in this youtube:
http://www.youtube.com/watch?v=WZ88oTITMoM 
468 Victims Each Year
Oct. 30th was National Domestic Violence Action Day and this day is unfortunately needed as 9 women each week are shot and killed by their partner.  At times it seems like our country is moving in a more enlightened direction with Marriage Equality and Marijuana acceptance, YET when it come to Women's Rights & Protections and Gun Control, it seems we are stuck in the mud or even moving in reverse.
Wishing you and your loved ones a Sweet and Peaceful Shabbat Shalom,
Lisa
Banksy NYC images



SOAP BOX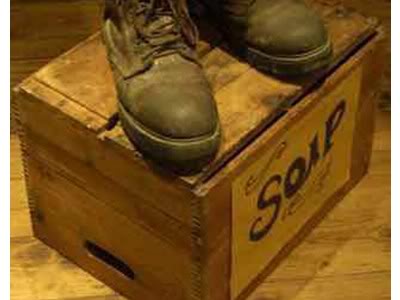 Please attend the Nov. 5th screening of The Prime Ministers at The Maple Theater(4235 West Maple Rd) for a Simon Wiesenthal Center fundraiser. The 115-minute docudrama, directed by Academy Award winner Richard Trank, features voiceovers by major Hollywood actors Sandra Bullock (Meir), Michael Douglas (Rabin), Leonard Nimoy (Eshkol) and Christoph Waltz (Begin).
www.wiesenthal.com/michiganpremiere

Please help support The Jewish Dental Clinic by attending the Monte Carol Night on Sunday Nov. 17th at Shaarey Zedek.  248-497-6224 or www.jdcmontecarlonight.org

Please join American Jewish Committee (AJC) at their Advocacy in Action Dinner on Wednesday Dec. 4th at the Birmingham Townsend Hotel with Journalist and Author Jeffery Goldberg.  248-646-7686 or www.ajc.org/detgoldberg
Technology is usually wonderful until it fails you.   My calendar program failed me last week which cause me to miss the birthday of dear friend to many (including me).  Happy Belated Birthday Ronnie Elkus on Oct. 26th.  You are the best!
 Happy birthday to this week's celebrants:
Nov. 1st
Kinky Friedman
Nov. 2nd
Karen Sosnick Schoenberg
Ronnie Ferber
Helen Curhan
Nov. 3rd
Wendy Eichenhorn Stone
Nov. 4th
Abbey Brasch Nathan
Ellen Bryne
Tomer Zur
Nov. 5th
Debra Feldman Singer
Heidi Blas Barzily
Michael Horowitz
Sheldon Cohn
Susanna Pollak Mould
Michelle Winterberg
Nov. 6th
Carol Ann Feder Levis
Robin Kaufman Trepeck
Kari Grosinger Alterman
Bob Henrich
Bruce Gorosh
Nov. 7th
Brad Schlafer
Linda Hayman
Kim Levitt Chesbrough
Tracey Grosinger
Susie Citrin
I am prone to mistakes and don't mind being corrected on my spelling or errors, so please feel free to call me out on my human condition of imperfection.