Shabbat Shalom October 25, 2013
Dear Friends and Family,
Health Equality
It is absolutely unacceptable and a Shanda that the website for HealthCare.gov was such a technical disaster as it seems they knew of the problems before it went "LIVE".  (yes, I just criticized the Dems.) Hopefully, the best and the brightest will NOW fix the kinks and those who need insurance will be able to obtain it before the official deadline.  There were 48 million Americans without Insurance before ObamaCare which is the true Shanda of our nation.
Taft Anger
Republican president William Howard Taft held our highest office in 1909 and since then many of his decedents have held prominent political office; all within the Republican Party.  Today, though, the Taft legacy is fed up with the highjacked extreme measures of many who are tarnishing the Grand Old Party. William's Nephew John G. Taft makes this message abundantly clear in this week's NY Time's Op-Ed:
http://www.nytimes.com/2013/10/23/opinion/the-cry-of-the-true-republican.html?_r=0
Marriage Equality
Only 36 to go… New Jersey became the 14th State to institute Marriage Equality behind California, Connecticut, Delaware, Iowa, Maine, Maryland, Massachusetts, Minnesota, New Hampshire, New York, Rhode Island, Vermont, and Washington.  There is a Michigan ban on Same-Sex Marriage however there is hope on our horizon as a Federal judge announced this week that a February Trial will be held to determine if our ban is constitutional.
Desensitized
Another school shooting occurred this week (in Sparks, Nevada) when a 12 year old killed a (former Marine) teacher.  He also wounded two other 12 year olds and killed himself with a semiautomatic gun he took from his house.  We seem to be desensitize to gun violence since this horrific incident barely made the media print headlines.   

Graham Nash
Music Legend
Wild Tales is the new book out this week by Graham Nash.  It is a memoir which shares the rock and roll stories of his life in the Hollies and as the stabilizing force of Crosby, Stills, Nash and Young.  Graham (my favorite of the four) is a two time Hall of Famer, with each of his bands.  This new book includes behind the scenes explanations of many of his famous tunes.  Here's an oldie from my favorite Nash album (Songs for Beginners):
http://www.youtube.com/watch?v=jWrtQOgOlHY
Music Beauty
If you enjoy music, you should enjoy this incredible expression of trash to treasure as this symphony performs music from instruments created from garbage near the slums of a landfill.
http://www.youtube.com/watch?v=UJrSUHK9Luw
Landscape Beauty
Detroit thanks are due to Dan Gilbert and his team for eliminating the Blight in our city (there are 78,000 abandoned building) and Hantz Farm for reforesting huge acres of our blighted land.
Wishing you and your loved ones a Sweet and Peaceful Shabbat Shalom,
Lisa
SOAP BOX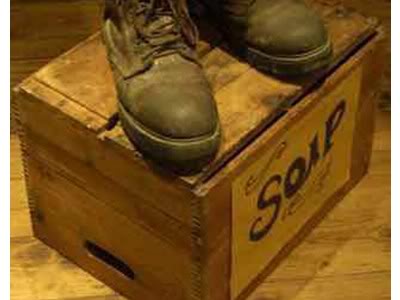 We lost another hero in our community this week with the passing of Hugh Greenberg, a beloved patriarch and family man.  Deepest condolences to his wife, Carolyn and his sons Danny and Ned and his daughter and daughters in law, Amy, Illana and Elisa.  May his spirit and dedication to our community and his family bring comfort to those who mourn his passing.
Correction: Shop4aCure booklets (mentioned last week) can be purchased through
Ellie Bittker by contacting her at 248-752-1771 or at her (correct) email address of bittwins@aol.com
More Shopping for a cause:  dear friend, Liz Guz, will be hosting an open house to sell her beautiful and unique jewelry on Friday Nov. 1st  (11:00am-4:00pm), Sat Nov. 2nd (noon-4:00pm) and Sun. Nov. 3rd (Noon-4:00pm).  50% of all proceeds will be donated to the Prechter Bipolar Research Fund.  Liz lives in Franklin and you can get more details by calling her at 248-865-9620
Pasture Elementary Alumni Foundation is in need of children's clothing.  Please contact Marcy Feldman at 248-514-5359 if you are able to help.
Ryan Fishman is running for State Senate (Birm., Bloomfield Hills, Troy, Royal Oak, Berkley, Clawson, Rochester and Roch. Hills). If you live in those areas please join him Wed. Nov. 20th at Blue Wheel Media Group office in Troy (1900 Stephenson Hwy) from 6-8pm for his campaign Kickoff.  He's a great guy with a great background to represent these areas.  Read more about Ryan: http://www.theoaklandpress.com/government-and-politics/20131024/25-year-old-former-republican-running-for-michigan-senate-seat-as-democrat
Mazel Tov on the arrive of Grandson, Binyamin to thrilled grandparents Bob and Anita Naftaly.
Mazel Tov to Carol Burnett on winning the Mark Twain award at the Kennedy Center this week.
 This week's birthdays include:
Oct. 26th
Barbra Etkin Alter
Lori Cohn
Rick Herman
Steve Margolin
Oct. 28th
Leora Bar Levav
Oct. 30th
Paul Silverman
Leora Rothenberg
Shelley Alexis
Oct. 31st
Rachel Winer
P.S. Thanks for all of the wonderful birthday wishes.  I truly felt the warmth!