Shabbat Shalom October 11, 2013
Dear Friends and Family,

The Nine
SCOTUS started another session this week with its traditional start date (and 1981 movie title) of The First Monday In October. How do you think the Supreme Court should vote on some of these tough topics on their current docket:  Do you think the store Hobby Lobby (yes, same one that doesn't sell Jewish decorations) should be allowed to deny Contraceptive Care to its employees based on their Christian beliefs?  Do you think the race of African American students should be considered for University (of Michigan) acceptance?  Do you think abortion protestors should be able to come closer than 35 feet from clinic patients?


3 women
6 men
1 African American
1 (first) Latina
3 Jews
6 Roman Catholics
Level the Field
But the case that is most concerning involves political campaign contributions and efforts to eliminate the individual limit. Over 6 Billion dollars was spent in 2012 on political campaign races. Most of that money was raised from the top 1% of our population and corporations, but some of it came from many of your pockets. Aside from Super Pacs and Citizens United which gave corporations (as individuals) nearly free rein in contribution opportunities, there is still a limit of $2,600 by one person to one candidate per one cycle. Removal of this limit is now in front of SCOTUS. We need a complete overhaul of this system.  Buying influence, slinging mud via billions of dollars of Media Ads is NOT the way to elect our legislators.  There should be a level playing field with Town Halls, Debates and Door Knocking, but it doesn't look like this situation will improve anytime soon and if the SC rules in it's conservative manner, this last limit will also be removed.  Speaking of money…
Say Hello to our New 100 Dollar Bill.
Ben Franklin
They have been working on this new bill since 2003 and each one costs 12.5 cents to print.  There are many new features to prevent counterfeiters. The 100 dollar bill is our largest denomination since we stopped producing 500, 1,000 and 10,000 dollar bills back in 1969.  Did anyone really use a 10,000 bill?  100 dollar bills last around 15 years in circulation compared to 6 years for the 1 dollar bill.
First Female
Now for more money talk, the economic Glass Ceiling was shattered this week with the nomination of Janet Yellen as our (first female) Federal Reserve Chair.  Ms. Yellen (proudly from our national Jewish Community) is brilliant and will serve our country well. Back in 2007, she astutely predicted/warned about the 08 Recession and hopefully she can help keep our economy strong during her rein.
Brave Soul
Another outstanding female role model is 16-year-old Malala Yousafzai, the Pakistani student who was shot by the (evil-minded) Taliban just because she was defending educational accessibility for girls in her community and county.  She is well deserving of this year's Nobel Peace Prize and hopefully will win it. (The winner will be announced Friday, after I send this message). Here is Jon Steward's interview with Malala. He was so genuinely enamored by her, he could barely contain his emotions.
http://www.youtube.com/watch?v=f506lCk6Tos
Positive PR
Our global Jewish population is 0.2% yet Jews represent 22% of all Nobel Laureates including several more this year and many with Israeli roots.  Our global and national contributions should be celebrated yet Anti-Semitism continue to persist.  We could truly benefit from a Global PR campaign to educate the masses of our positive impact on the world.
VIP
This week's Guest Shabbat Shalom Greeter is from a very prominent national family who's contributions have made a tremendous impact on our society. I met him at this week's event sponsored by the Alzheimer Association and Jewish Senior Life. He was gracious, friendly and very handsome.  The handsome part is a clue to his family. Enjoy and thanks, Nancy Heinrich and Carol Rosenberg for your efforts with his appearance: http://youtu.be/l8EtuC9EN9g
Punishment
Kwame Kilpatrick will serve 28 years in Federal Prison for the millions of dollars of damage and corruption he inflicted on our City of Detroit. May his punishment put an end to this despicable era as our city moves forward in a positive direction.
RIP
An estimated 700,000 people attended the (largest) funeral in Israel's history for ultra-orthodox Rabbi Ovadia Yosef, the revered and controversial leader of the Sephardic community.
Wishing you and your loved ones a Sweet and Peaceful Shabbat Shalom,
Lisa
Bonus video:  I LOVE NYC and wished I was there yesterday asSir Paul popped into Times Square for a Pop-Up impromptu concert on his flat bed truck.  He also performed a surprise 90 minute concert to a Performing Arts High School in Queens.  I know it's great PR but it's also very cool:
http://www.youtube.com/watch?v=2h1aC45EGuQ
SOAP BOX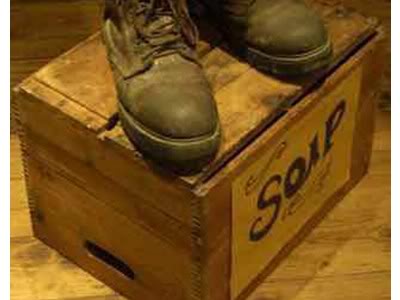 Since it is still Clergy Appreciation Month, I can still appreciate one of my favorite Rabbis who I missed recognizing last week. Todah Raba Rav Joey Krakoff
Mazel Tov to Lori and Marc Siegel on last week's wedding to son
Mazel Tov to Andy Levin on last week's honor for his dedicated social justice work and the establishment of the new Project Micah.
Mazel Tov to Mary Lou Zieve on her well deserved honor from Jewish Ensemble Theatre on Monday Oct. 14th at Glen Oaks Country Club in Farm. Hills.  There is still time to honor Mary Lou by calling 248-788-2900.
Please join us at the (First Awards Dinner) of the Michigan League of Conservation Voters event on (my birthday) Oct. 24th at the Westin Book Cadillac where they will be honoring Congressman Gary Peters (among others).
http://www.michiganlcv.org/innovationinconservation
Where and When can you get updates on Israel and Fashion at the same time?  Saks and Nov. 6th (5:30-8:00pm) is the answer when Gretchen Ruff will provide the hottest trends and David Victor will discuss the US-Israel relationship.  There is no cost to attend, but RSVPs are requested to Brenda Rosenberg at peace@brendanaomirosenberg.com or 248-790-1544
Please join this year's Shaarey Zedek Soiree on Saturday Oct. 19th at 8:00pm for music, dancing, supper and drinks. For more info: 248-357-5544
Please check out this wonderful blog by our friend, Kelly Victor, who has a PhD in Philosophy, has nearly completed her Health Coach certification in Integrative Nutrition and with her husband, David (mentioned above) are the parents of four children.  Her messages are poiyant and meaningful.  Please enjoyhttp://kaleandkant.com/
Please help support Congressman Gary Peters efforts to succeed Senator Carl Levin.  Gary's opponent Terri Lynn Land stands in support of Ted Cruz and others regarding our Government's detrimental Shutdown.
http://petersformichigan.com/
Please help support Rudy Hobbs (current State Legislator) in his efforts to succeed Congressman Gary Peters.  Rudy is a bright, ethical and dedicated candidate who deserves to represent us in DC.  http://www.voterudyhobbs.com/
Please help me wish Happy Birthday to this week's celebrants!
Oct. 11th
Kevin Dorn
Lisa Leopold Moed
Oct. 12th
Bunky Elyakin
Oct. 15th
Terri Orbuch
Lisa Beckwith Weisman
Randy Orley
(Same Big One as his cousin from last week, Gregg)
Oct. 16th
Idan Percy
Ron Oberstein
Hilary Borman
Oct. 17th
Alisha Siegel
Alan Schram
Jennifer Lerner Friedman 
The Situation Soap Box
The Situation in our country is toxic. This Shutdown has far-reaching effects for all of us.  Some also forget that we just cut cost with the Sequestration and now our Debt Ceiling is looming. Our recovering economy could be affected. There are still over 1/2 million people NOT working or receiving wages to pay their bills. Will they get paid retroactively… who knows? When will they return to work…who knows?  Here are some facts we do know…The Affordable Care Act (ObamaCare) is LAW and was affirmed by the Supreme Court and should NOT be a pawn for negotiations.  Our Health Care system was broken and cost were soaring out of control for Individuals, Businesses, Our Government and Hospitals.  Every Western Nation has some form of Health Care. Reform was needed and attempted UNSUCCESSFULLY in the 90s. It took 20 years for it to be attempted again but this time with major compromise just to get it passed. ACA IS COMPLICATED. It is not being clearly explained. 85% of our population has insurance and does NOT need to do anything different. 26 million people (who didn't have med. ins.) are now eligible to get it.  On the first day alone 5 Million people attempted to navigate the new online marketplace. Debating the details of what might happen because of this LAW is futile.  Things WILL change, NOTHING can ever stay the same, but it won't be catastrophic like some pundits predict.  In fact, most believe it will be beneficial to us as a modern society but the future history books will tell the tale not the Talking Heads (from news networks, not the 70s band).