Dear Friends and Family,

Nature's Deadly Attack
In under 30 seconds, the residents of Moore, OK felt winds reaching 200 miles per hour. To give you perspective, Superstrom Sandy's deadly winds were a "mere" 89 mph. Two elementary schools, plus neighborhoods and shops were stuck in the tornado's (2 mile wide, 17 mile long) path.  Sadly, 24 people, including 10 children, lost their lives in this disaster. Our National Jewish Community has set up a fund to help the victims. Donations can be made at http://miniurl.com/4Q68  The people of Moore can take solace from the people of Joplin, MO as two years ago this week, they also experienced Natures deadly wrath, yet their lives have returned to their new normal.

Human's Deadly Attack
Some London residents witnessed the brutal and brazen hacket attack (by two CRAZED lunatics) of an innocent British soldier, Lee Rigby, who was a father of a 2 year old son.  What is wrong with these brainwashed killers who believe a Cause is more important than a Life.  When will the twisted minds of our global society stop preaching terrorist methods in search of their utopia?

Arrogant Attack
Often, the root of all evil is pointed toward the Jews.  That message was verbalized again this week in Detroit by "our friend" Louis Farrakkan when he said "major US institutions are controlled by Satanic Jews and the Synagogue of Satan" with NO outcry from audience members like Rep. John Conyers or NAACP Detroit branch head, Rev. Wendell Anthony.  Silence to the witnesses of bigotry and racism is just as wicked.

Coastal Mayors
These anti-semites have more fuel for their fodder as now our two largest US cities (NYC and LA) both have Jewish Majors.  This week,  Eric Garcetti, was elected Mayor of Los Angeles.  Mayor Garcetti discribes himself as half-Mexican, half-Jewish with an Italian last name. He also happens to be the youngest LA Mayor (age 42) in over a century.

Gang Reform
Bravo to the Gang of 8 for their stedfast efforts to bring the Immigration Reform Bill to the Senate floor for June debates. 11 Million immigrants  could potential benefit from it's passage.  Hopefully, I'll post good news once it has cleared future obstacles.

The Doors
Enjoy this classic Ed Sulivan version of "Light My Fire" with a great view of the talented Keyboardist, Ray Manzarek, who died this week.
http://www.youtube.com/watch?v=NGaV2A6o0IM

Musical Celebration
Speaking of Music, Happy 55th birthday to Keenan Woolens as he celebrates this weekend in harmonious form.  We are sorry to miss the festivities but know those who do attend will be "Happy Together".

Get Smart
The Producers, Blazing Saddles, Your Show of Shows, 12 Chairs… Yes, all you Mel Brooks fans, these comedies are all credited to the brilliant (originally named) Melvin James Kaminsky.  Mel is one of the few EGOTs* in the entertainment business.  Both NPR and PBS spotlighted his long and comical career this week and you can find the Terri Gross NPR interview here http://www.npr.org/2013/05/20/182609040/mel-brooks-i-m-an-egot-so-i-don-t-need-any-more  and the PBS documentary here: http://www.pbs.org/wnet/americanmasters/

Bravo
A little overdue but better late than never, 80 year old Carol Burnett will receive this year's Mark Twain prize for American Humor at the Kennedy Center.

Double Bravo
To Sir Paul McCartney for handwriting letters of support to the Russian Government requesting parole for jailed Pussy Riot band members, one of which has started a hunger strike.  If you remember, they were incarcerated for hooliganism due to their public protest against President Putin.

The Votes are in

As of January 1st, male youth (under age 18) will now be allow to join the Boy Scouts.  However, gay adults are still barred from leading troops. This week's vote to end the 103 year old policy is welcomed by most Americans as our country is moving in a positive directions toward Equal Rights.

Exhilaration
Our son, Mataan is now a Tough Mudder!
Wishing you and your loved ones a Sweet and Peaceful Shabbat Shalomand a pleasant and meaningful Memorial Day Weekend,
Lisa
* EGOT =  Emmy, Grammy, Oscar and Tony winner
SOAP BOX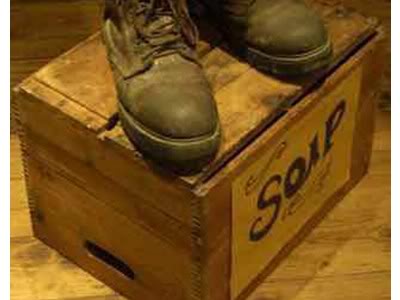 North Star Reach
Please vote for North Star Reach at the Art Van Charity Challenge (contest ends May 30th) http://www.artvancharitychallenge.com/  (**directions on how to vote a bottom of this email).  NSR provides camping experiences for kids with serious health conditions.  For more info on North Star Reach, please click here: http://northstarreach.org/  Bravo to my sister, Sheri Mark, on her efforts as Board President and applauds to friend, Fran Victor, on her efforts as Director of Development.

Gary Peters
This week Senators Debbie Stabenow and Carl Levin both endorsed Congressman Gary Peters for his run for the US Senate.  Please join in their support by attending the upcoming fundraiser at the home of Jennifer and Brian Hermelin on Sunday June 9th @ 1:00pm.  For more info send emails to: info@petersformichigan.com or 248-799-0850
Celebrations this week:
May 24th
Robby Weinbaum
May 25th
Arthur Horwitz
May 26th
Marcia Balonick
May 28th
Linda Lee
Tzachi Shani
May 29th
Happy 2nd Wedding Anniversary
Daughter and Son-in-law
Ariella and Tzvi
Mazel Tov to:
Yoav and Anna Raban on their recent wedding
Rachel Reiters engagement to her love, Ryan.
** How to Register to vote the first time: Go to artvancharitychallenge.com
1) Register on the Homepage
2) An email will be sent to you from info@artvancharitychallenge.com with a link. Click on a link in the email to verify your email address. Check you spam folder if you do not get the email with in 10 minutes.
3) When you click the link to verify your email address you will be sent back to artvancharitychallenge.com.
Note: You only have to register once per email address during the voting process. Once you have registered, you can skip to step 4 daily.
4) Click the "Vote Now" button on the homepage
5) Enter login information at the bottom of page and the list of charities will pop up.
6) Click the check box for NORTH STAR REACH hit the vote button at THE BOTTOM OF THE PAGE.
7) You have now voted for camp – thank you!