Shabbat Shalom March 22, 2013
Dear Friends and Family,
Spring has sprung, but here in Michigan, Father Time forgot to tell Mother Nature.  It seems Winter has decided to take hold and stay for awhile.
March also brings Women's History Month so there's no better time to recognize the centennial of the very first march down Pennsylvania Ave with 5,000 strong and brave women requesting a Women's Right to Vote.
Israelis welcomed Pres Obama to our Jewish Homeland with this friendly video:
http://www.youtube.com/watch? feature=player_embedded&v=566vZUPWITw
The Gazans also "welcomed" Obama to the neighborhood by shooting two rockets into Israel just as he was planning a visit to the West Bank.
Personally, flowers would have been a more appropriate gesture but apparently peaceful offerings are not in their arsenal of welcoming gifts.
I'm still hoping this visit can bring some positive outcomes for our beloved Eretz Yisrael.
Among security and peace, one additional concern for both Israelis and Americans is the fate of Jonathan Pollard.  The average prison sentence for spying for a friendly country (Israel and USA are BFFs) is five years. Pollard got LIFE with the courthouse steps promise by the prosecutor  that "Pollard will never be freed".  Why such a harsh penalty? There was something fishy going on when he was tried and sentenced. President Shimon Peres will present President Barak Obama a (200,000 signatured) petition asking for Pollard's clemency. Every President before him has also been asked to no avail.  Hopes are not high for his release, but truth of his treatment deserves transparency.
After 10 years, $2.2 Trillion, 4,000 US military deaths, 35,000 US military injuries and 165,000 Iraqi deaths, how will the history books asses the Iraq War?  What was accomplished?  An evil dictator is gone. One down, but so many still exist. With Saddam's absence comes a stronger relationship with their Eastern neighbor, Iran.  That can't be good for us.  Will this war teach us any lessons for the future.  I hope so…
Mazel Tov (not sure how to say "congrats" in the Adawa language) to
Tim LaCroix and Gene Barfield on the (first same-sex) marriage performed by the Northern Michigan Native American Tribe. Though, currently, our State doesn't recognize the union, hopefully sometime in the near future, our State will add their name to the long and growing list of Marriage Equality supporters.
Though the Mormon Church preaches compassion toward people with same-sex attraction, they forbid action on that attraction. My extensive knowledge of their beliefs are due mainly to the hilarious show,
Book of Mormon
, which we saw at the Fisher Theatre last weekend. It's only here for a few more days, so if you don't get a chance, here is a snippet of the show from last year's Tony Awards: 
http://www.youtube.com/watch?v=OKkLV1zE8M0
Also, I highly recommend the new documentary by (Ann Arbor raised) esteemed documentarian, Ken Burns, called "The Central Park Five" showing this weekend at the Ann Arbor Film Festival (aafilmfest.org/51).  The film showcases the egregious and racially motivate wrongful conviction of 5 innocent boys in the Central Park Jogger Case in the late 80s. Though I haven't seen the film myself, I heard the interview on NPR and the story sounds powerful and infuriating. PBS will also premier the film for the Television audience on April 16th.
Condolence to the Colorado Prison Chief as he was gunned down when he simply went to answer his front door.  This occurred hours before the Colorado governor announced stricter gun control measures for his State.
Our Spring Cleaning holiday is almost here.  We are abiding by our famous saying of "Next year in Jerusalem" and we'll be breaking matzah with Hannan's family in Israel (with daughter and son-in-law Ariella and Tzvi and son, Aviv). We arrive long after Obama departs (a whole 48 hours). There have always been two camps (Ashkenazi and Sephardi) when it comes to what we can and can't eat during Passover. Here is what I have heard.  We are NOT suppose to eat wheat, barley, rye, spelt or oats in any of our foods during Passover.  THOUGH, we can only use those 5 grains to make our Matzah.  THOUGH, some won't eat rice, millet, corn and legumes (like beans and lentils) because when ground up, they could APPEAR like those forbidden grains, BUT they are NOT forbidden.  Now that you are totally confused, I wish you and your family a wonderful, inspiring, entertaining Seder and an enjoyable Passover holiday.
Wishing you and your loved ones a Sweet and Peaceful Shabbat Shalom andHag Pesach Sameach (Happy Passover),
Lisa
P.S. BONUS video.  This is a must watch!  I gave me chills.  It is in recognition of ADL's 100th anniversary.  Just imagine what COULD have been achieved… if only:  http://www.adl.org/imagine/
SOAP BOX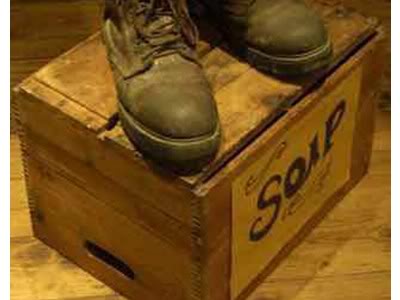 Welcome home from Afganistan, Ryan and enjoy some well-deserved R & R with your lovely wife Jocelyn.

Huge Mazel Tov to cousin, Morgan Berg, on becoming a Bat Mitzvah last weekend. You were awesome and graceful at the service and celebration.

Please join me in helping Downtown Detroit's Isaac Agree Synagague "Make It History" with its crowdfunding online fundraiser to make some much needed renovations to its historical home.  http://www.indiegogo.com/projects/make-it-history?c=home

Please join us at the Forgotten Harvest fundraiser on April 27th at The Detroit Opera House with comedian Martin Short. Click here for more info: http://www.forgottenharvest.org/events/detail.aspx?i=52

Please join us at on Wednesday April 24th (7:00pm) at the Maple Theater for the Film Premiere of Eli's Story (about Eliezer Ayalon, the inspiring Holocaust surviver who passed away last year).  This event will benefit Holocaust Survivors and their families at Jewish Senior Life. Please contact Renee Fein at rfein@jslmi.org or 248-592-5082

Two Jewish Community Rock Stars will converge on June 12th at Adat Shalom as (Rock Star 1) Patti Aaron will receive a well deserved honor from Jewish Community Relations Council and (Rock Star 2) Ruth Messinger (from American Jewish World Service) will be the guest speaker.

Save the Date for Henry Ford Health System Mothers, Daughters, Sisters, FriendsMay 2nd Patron event at Saks and Oct. 2nd Luncheon at Shenandoah with guest speakers Giuliana (breast cancer surviver and E! News correspondent) and Bill Rancic(Apprentice winner).  These events raise funds for Breast Cancer support and research.

Please join us in Ann Arbor for the incredible vocal talents of Israeli singer Noa to celebrate Israel's 65th birthday.  April 17th at the Michigan Theater https://www.facebook.com/events/405151549567891/

And lastly: