Shabbat Shalom November 16, 2012
Dear Friends and Family,
After weeks upon weeks of consent rocket barrage, Israel finally retaliated upon the Gazan terror tactics and killed the Hamas commander (who was responsible for the abduction of Gilad Shalit, among other atrocities) with a pinpoint targeted attack and a warning to other Hamas terrorist that their fate will be the same if rockets continue to threaten Israel. Sadly, of the hundreds of rockets that were launched from Gaza this week, one reached a home and killed an Israeli family of 3.  If it were not for the Iron Dome, many more casualties would have occurred and if it were not for the security fence, many more terrorist attacked would have penetrated Israel's territory. Here is a very interesting youtube of how the Iron Dome works:http://www.youtube.com/watch?v=djp_kdgppLo   After 64 years, Israel's enemies should come to terms with reality and accept its neighbors and the prosperity it could bring them by making peace with Israel.
Lazer passed away last week.  He served his community well with his gentle touch, mild mannor, loyal disposition and soft fur.  He was the companion dog at our local Jewish apartments for the elderly. His comrade in arms (or should I say, paws) just across the street is Henry, the collie, who works the hall of Henry Ford Hospital (voluntarily accompanied by my brother, Jeff, on a weekly basis).  I know dogs are greatly loved in this community so here is a tribute to their endless devotion. A tip of a hat and a wag of a tail to: Pixie, Penny, Tripper, Liza, Milo, Elgin (OBM), Dexter, Emma (of blessed memory), Sophie, Zeus (OBM), Thor, Yoda, Badu, Coltrane, Rocky, Daisy, Tony, Sadie, Freeway, Eve, Chimpy (OBM), Sooty, Ziggy, Greta(OBM), Maggie, Shaggy (aka. Sholmo), Palsy, Benny, Maude andStar...I'm sure I missed many more loving companions, so sorry if I missed your pooch.
I always favored Paul over Mick, but Mick and his gang are celebrating their 50th year of existence with a new album call GRRR! and the possibility of a Rolling Stones concert somewhere in the near future. Also, celebrating 50 years is the record company A&M, though Herb Alpert (as in A) and Jerry Moss (as in M) are no longer owners or even involved, they led the charts with great bands like Herb Alpert and the Tijuana Brass, Burt Bacharach, Brasil 66 and my all time favorite, Cat Stevens. Though The Tijuana Brass conjured images of a Latino band, no one actually was.  Herb used to say, the band had the makeup of 4 lasagnas, 2 bagels and an American Cheese.  Here is some vintage Brass, enjoy: http://www.youtube.com/watch?v=2vp6CsgncKw
25 years after Mick and Herb formed their respective bands (which was 25 years ago, if you are following the math), the words "Let my people go"were song in support of Soviet Jewry by 1/4 million protesters.  The historic March on Washington took place with the leadership of Elie Wiesel and refusenik, Natan Sharansky (both men, just this week, spoke at the Federation's General Assembly).  Those collective voices led to the ultimate release and freedom of 1 million Soviet Jews as President Reagan continued pressure on Gorbachev who was visiting the US just after the protest.
Wishing you and your loved ones a Sweet and Peaceful Shabbat Shalom and a wonderful Thanksgiving holiday.
Lisa
SOAP BOX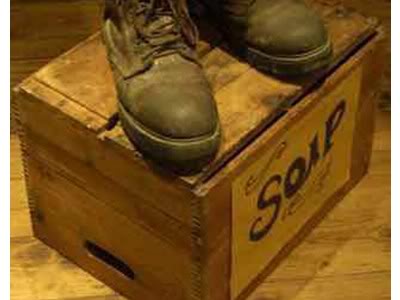 Condolences to Hannan's cousins Janie, Yaffa and Avi on the passing of their beloved Mother, Dina.  May her memory bring comfort to her family as they are still mourning the recent loss of their father, Poli.

May your Thanksgiving holiday weekend be filled with an abundance of Family, Friends, Food, Football, Fancy Footwork, Fantastic Film…and grateful gatherings.