Shabbat Shalom April 13, 2012
Dear Friends and Family,
The end of an incredible life occurred this week with the passing of Hannan's father, my father-in-law and our children's Saba (grandfather), Yosef Lis.  Yosef enjoyed a life of many delights yet also struggled and survived the hardships of Europe during WWII.  He was born in the Warsaw Ghetto and at age 14 he escaped with two siblings to Russia unwittingly leaving his parents and 3 older siblings behind to eventually lose their lives to the German killing machine.  The Russians sentenced him to hard labor in a work camp in Siberia for his continued commitment to Zionism.  After Poland was liberated in late 1944, he was released and traveled back to Warsaw in search of his family only to find the horrors.  There he realized his future lies in building a Jewish State.  He traveled to Italy and joined the Irgun (Etzel, the Zionist underground movement fighting to establish a Jewish homeland). He worked to smuggle death camp survivors into Palestine before boarding a ship himself.  His ship was intercepted by the British navy and sent to an interment camp on the Island of Cyprus.  There he trained, played soccer and met his future wife (Hannan's late mother, Ester).  In early 1948 they were smuggled into Palestine which was about to gain independence as a sovereign Jewish nation.  As a young IDF solider, he fought bravely in the War of Independence driving armored trucks into besieged Jerusalem.  He continued as a driver for the national Egged Bus Company while as a reservist participating in the wars of 1956 (Sinai Campaign) and 1967 (Six Day War).  They raised two wonderful sons and were proud grandparents of 6 beloved grandchildren.  Their stories are typical of the generation who founded modern Israel and should be remembered as most have passed on.
We are in Israel now as the funeral is Sunday afternoon.  We will be back in Farmington Hills Wednesday evening and will be sitting shiva at our home on Thursday April 19th.
As this weekend brings an end to Passover (here in Israel it ends Friday evening), this is my last opportunity (till next year) to share with you two Passover particulars.
First, apparently my assumption last week of the Last Supper Seder is most likely mythical. Rabbi Mike M replied with an articulate well-versed 3-point rebuttal to my assertion. 1. if we started retelling the exodus story in the 2nd century that would have been after the Last Supper.  2. If it was during Passover, Jesus would have referred to bread as matzah (which he does not) and 3. the timing of the sacrificed paschal lamb doesn't make sense.  If you are truly interested in this issue, please confer with your rabbi, as my paraphrasing (and understanding of religious issues) has much to be desired.
Second, Hannan shared this wonderful Passover story at both of our Seders, so if you were at either, sorry for the repeat.
David Ben Gurion went to the White House in 1954 to seek support for our newly established country of Israel.  He came upon resistance from, then Sec. of State, John Foster Dulles (as in the airport), who was not one of our best friends.  Dulles ask, after 2000 years of exile, how Ben Gurion and the tiny State of Israel could possibly represent all the Jews of the diaspora such as those from Poland, Russia, Yemen, Morocco and all corners of the world.  Ben Gurion politely replied by stating that 200 years ago, the Mayflower set sail to establish a new county that turned into the highly respected, most powerful democratic country in the world. He then asked Dulles to find 10 boys and girls from the DC area and ask them each the following questions. 1. What was the captain's name on that journey?  2. How long did the journey last? 3. What did they eat on the journey? 4. How did the sea behave?  Most likely not one child will know that answers to any of the questions. Ben Gurion went on to state that over 3000 years ago, the Jews left on a journey out of Egypt.  He suggested to Dulles to find 10 Jewish children anywhere in the world and ask them those same questions about our exodus journey and you can bet all 10 will know who the captain was, how long the journey lasted, what they ate and how the sea behaved.
The sanctity of preserving our Jewish traditions is in the celebrations of our holidays.  Our matzah eating days are nearly complete with hopefully not too much intestines clogging. We look forward to our next holiday celebration.
Wishing you and your loved ones a Sweet and Peaceful Shabbat Shalom,
Lisa
SOAP BOX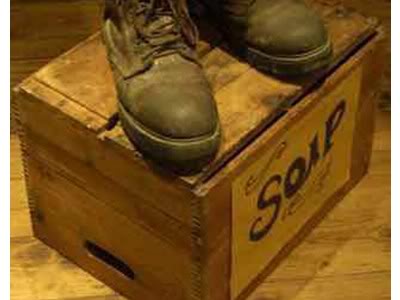 Condolences to Laurie Bennett and her family on the loss of her father, Earl Bennett. May his memory be a blessing onto her family.

Please check out this wonderful new agency which centralizes our volunteer opportunities.  It's called Repair the World
http://werepair.org/about

Thursday April 26th
Yom Hastzamaut (Israel Independence Day)
Detroit Film Premier of Israel Inside: How a small nation makes at big difference
Maple Art Theatre (4135 W. Maple Rd)
7:30pm
http://www.aishinthewoods.com/new/event.php?id=160