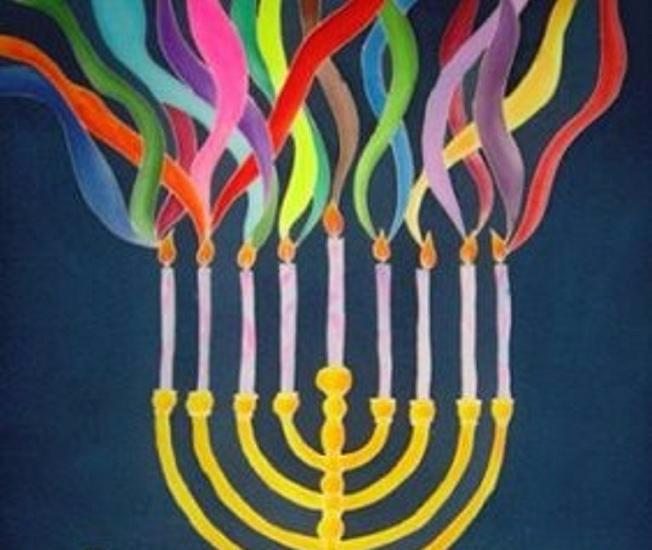 Shabbat Shalom and Happy Hanukah
December 11, 2015
Dear family and friends,
Speak Up
These two Talmudic quotes describe the reaction to the absurd statement from the leading Republican Candidate:
"You can educate a fool, but you cannot make him think"
and
"Who can protest an injustice, but does not, is an accomplice to the act"
Trump's outrageous remarks continue to accelerate in offensiveness as he speaks to the
Id
of our nation.  If you remember from your Psychology 101 class, our Id is 1/3 of our personality.  It is our unrefined instinctual (irrational) segment that gets countered by our Super Ego to form our Ego. Most who agree with Trump seem to be thinking only with their Ids or their irrational minds. How else can you explain his followers. Everyone to the right (and in their right mind) of his followers, including many in the Republican Party, are rebuking his message.  The
UK
has proposed a Ban (signed by over 370,000 people) to keep Trump out of their country. 
http://www.bbc.com/news/uk-35052505
  Trump was scheduled to visit Israel next month but postponed the trip knowing this reception might not be welcomed by Israel leaders. When we witness injustice, like his remarks about banning all Muslims from the US, we
all
must speak up against this discrimination, or as famously stated by 
Pastor 
Martin Niemöller during WWII…who will be next?
First they came for the Socialists, and I did not speak out-
Because I was not a Socialist.
Then they came for the Trade Unionists, and I did not speak out-
Because I was not a Trade Unionist.
Then they came for the Jews, and I did not speak out-
Because I was not a Jew.
Then they came for me-and there was no one left to speak for me.
This photo speaks volumes…look closely.
Protection
Because we are in this Era of Global Terrorism, we need to be vigilant and proactively protective to prevent future attacks by innovating security measures, choking terrorist funding sources, building international coalitions and, yes, instituting national sensible weaponry regulations. Bravo to the Supreme Court, this week, for refusing to weigh in on the Illinois (Highland Park) law banning the sale and possession of semi-assault weapons, though of course, Justices Antonin Scalia and Clarence Thomas both disagreed with this action and wanted to hear the case. Also, kudos to the Doctors and Lawyers Associations for their collective applauds to the NYTimes (first front page editorial in nearly a century) about our Gun Epidemic.
But back to our terrorism problem, the core of Human Beings (even Thomas and Scalia) is Humanity so, optimistically, Good will win over Evil but how many generations will it take before we are victorious.
Our Only Home
Another victory we must accelerate is our battle over our abusive behavior toward our only home. China this week has proven that their industrial actions have literally choked its citizens with pollutant smog so sickening it closed its society (schools, factories…) and told people to stay indoors. Their air quality index measured at 308 which equates to "Severely Polluted" (0-50 is healthy air).  Leaders in Paris are refining the global document that will decrease carbon emission and
find ways to pay for it. And speaking of the price tag, Bill Gateshas jumped into the game with his $1 billion dollar commitment to environmental Research and Development.
Heroism
Speaking of environmental contaminants, many First Responders of 9/11 heroically performed their jobs after our horrific terrorist tragedy, only later to development serious medical issues due to pollutants at Ground Zero.  But instead of being rewarded for their heroism, with (the least we can do) medical care, they have been fighting with Congress for their lives.  Jon Stewart has been their stalwart supporters as he helped passed the first (5 year limited) Zadroga Act in 2010. With simple math, you can see it expires this year and Jon is back with (less) survivors (since many have died) to get a renewal of their much needed and much deserved medical care which is being juggled by Mitch McConnell purely for political reason.  Here is Jon Stewart, back on The Daily Show, venting his warranted frustrations.
RIP
35 years ago this week (Dec. 8, 1080), John Lennon was gunned down in front of his NYC Dakota apartment as his wife, Yoko Ono, looked on in shock. His senseless murder will forever be blazoned in the minds of fans around the world yet his prolific music (of Peace) and spirit will continue to live on for generations (of fans) to come.
Tibor Rubin z"l
 died this week at the age of 86 after living (some would say) two heroics lives.  One during WWII as a concentration survivor and the other during the Korean war, while both were fraught with severe anti-semitism.  To read more about this amazing man, check out this NY Times article: 
http://tinyurl.com/TiborRubin
Happy 99th
Issur Danielovitch, also known as Kirk Douglas, turned 99 years old this week on Dec. 8th.  His birthday gift to his Hollywood community was a $15 Million donation to the Healthcare and Social Services of the Motion Picture and Television Fund.  Ever think about the phrase "Motion Picture"…That's just what they were in 1892 when Thomas Edison invented the first Motion Picture camera.
Bravo
The Obamas honored a very worthy group of societal game-changers at Sunday's Kennedy Center Awards including my favorites, Carole King, George Lucus, Cicely Tyson.
True humanity is demonstrated by Beth Israel Synagogue in Peterborough, Ontario when it opened its door to their Muslim neighbors after their Mosque had been destroyed by arson. May this action be a model onto the world.
Congrats to Angela Merkel for being named 2015 Time Person of the Year, though I don't think she'd like to be in the same company as some of her runner ups, like, Trump, The Leader of Daesh (ISIS), Iran's President Rouhani and Russia's Vladimir Putin.
Congrats to our
Detroit Zoo
for being named Crain's 2015
Best Managed Nonprofit
.  Kudos goes to Ron Kagan and his dedicated and passionate team who focus on animal and environmental conservation and sustainability in their daily routine. 
http://tinyurl.com/DetZooBestManaged
Bananas
I eat Banana Chocolate Chip cake almost everyone morning and the bad news is that my sacred bananas are under threat. 60 years ago we ate 
Gros Michel Bananas,
a smaller sweeter version of today's 
Cavendish Banana.  
But a disease wiped out the Gros Michels and now our Cavendish are threatened. Remember that old song
"yes, we have no bananas".  
A new specie of Banana might be in our future but if the taste continues to evolve, we may need to change our banana expectations. 
http://grist.org/food/good-news-bananas-arent-going-extinct-bad-news-they-are-in-trouble/
Happy Hanukah!
As we round out our last few days of Hanukah, please enjoy this original holiday song from 2009 (complete with the Hebrew candle blessing embedded in the song) written by the talented Canadian, 
Steven Page
(wish he would reunite with
Barenaked Ladies
). 
https://www.youtube.com/watch?v=Rqn1tZhESP8
Wishing you and your family a 
Peaceful Shabbat Shalom and 
a Sweet Hanukah Celebration.
Lisa
Dec. 25th (Friday)
Looking for something meaningful to do on Christmas? Check out these great opportunities in our community with
Mitzvah Day
 sponsored by
JCRC
(Jewish Community Relations Council) 
http://tinyurl.com/MetroDetMizvahDay2015
March 9th (Wednesday)
JVS 8th Annual Trade Secrets
Benefiting the JVS Women to Work Program
Temple Beth El
6:00pm
Featuring the inspiring story of Linda Schlesinger-Wagner, founder of clothing line, Skinny Tees.
May 4th (Wednesday)
Congregation Shaarey Zedek
Lois Linden Nelson Women's World
Honoring Henrietta Weisberg
Featuring Paula Abdul
Save the date. More details to follow
May 7th (Saturday)
Forgotten Harvest 
24th Annual Comedy Night
Fox Theatre
Save the date. More detail to follow
May 13th (Friday)
Planned Parenthood 100 Year Gala
Detroit Marriott at the RenCen
Save the date. More details to follow
May 19th-25th
"Becoming American: The Jewish Experience"
Travel opportunity through EMU Alumni Association to
NYC, Philly and DC.
This experience is open to the public regardless of your University Affiliation, religion, race, age, shoe size…
Any questions can be directed to:
jeffrey.bernstein@emich.edu
And for further details of the trip:
Iowa Caucus is Mon. Feb. 1, 2016
New Hampshire Primary (1st in country) Tues. Feb. 9th
Our Michigan Primary is Tues. March 8, 2016.
Presidential Election is Tues. November 8, 2016
1. Hillary Rodham Clinton
2, Bernie Sanders
3. Martin O'Malley
13 Republicans alphabetized (polls are too erratic)
Happy Birthday…
Dec. 11th
Dale Rubin
Dec. 12th
Carol Blumberg Tarnowsky
Lauren Kepes (Panina Ora)
Wendy Cohen Kohlenberg
Tedy Raviv
Dec. 13th
Elise Goldsmith Schostak
Liz Cooper Guz
Dec. 14th
Ashley Israel
Marc Shaye
Joan Lowenstein
Dec. 15th
Dana Siegel
Harvey Heller
Dec. 16th
Avi Gruber
Dec. 17th
Simcha Tolwin
Natalie Newman
Elissa Miller
And a little early, but want to wish him Happy Birthday two weeks in a row, so, Happy 60th (Dec. 18th)
 to my sweet brother,
Jeffrey Gilbert Mark