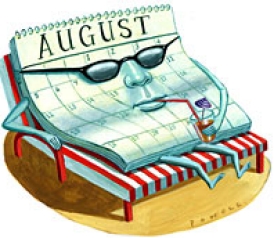 Shabbat Shalom
August 7, 2015
Dear family and friends,
Headed Home
We've been in Israel for the last two weeks visiting our son, Mataan, and as this email arrives in your inbox, we will be flying back home to Michigan.
August Memories
I will catch up on current events in next week's email but as we enter the month of August, here are some historic moments (some good, some cataclysmic) that occurred in this glorious month.
In August…
Columbus sets sail in 1492
Declaration of Independence signed in 1776
General Washington establishes Purple Heart Award in 1782
First World War starts in 1914
Lucille Ball born in 1911
Andy Warhol is born in 1928
Hitler becomes German Chancellor in 1934
Anne Frank is captured in 1944
US drops Atomic Bomb on Hiroshima in 1945
NBA is form with competing associations in 1949
Marilyn Monroe is found dead in 1962
MTV launched in 1981
Reagan fires Air Traffic Controllers in 1981
Iraq invades Kuwait in 1990
Launched Aug. 1, 1981
Wishing you and your loved ones a Sweet and Peaceful Shabbat Shalom,
Lisa
ORT Rub-A-Dub
5:30pm
Franklin Hills Country Club
or contact Nicole Miller nmiller@ortamerica.org
NCJW Women of Vision Luncheon
Honoring (dear friend) Liz Guz
Plus Michael Williams, President and CEO of Orchards Children's Services
And Liz Bank as Jewish Community Champion
Shaarey Zedek
For more info: 248-355-3300
September 19th (Saturday)
Humble Design Gigs For Digs (1st annual event)
Or contact David@humbledesign.org
October 14th (Wednesday)
Michigan Israel Business Bridge
2015 Ambassador Awards Dinner
The Reserve, Birmingham
5:30pm
Honoring:
Dr. Eva L. Feldman and Delphi Automotive
Michigan League of Conservation Voters
3rd Annual Innovations in Conservation Awards Dinner
Honoring:Detroit Zoological Society 
and Lana and Henry Pollack
6:00pm to 9:00pm
Detroit's Westin Book Cadillac
For more info, please contact Kim Easter 734-222-9650 or events@michigan.org
November 15th (Sunday)
David Broza Concert
Ark in Ann Arbor
Presented by:
Eastern Michigan University Jewish Studies
Jewish Federation of Greater Ann Arbor
7:30pm
Small venue so tickets may sell out.
Tickets sold at Michigan Union Ticket Office
Online at the Ark
458 days till the Nov. 8, 2016 election.
Please join us Aug. 18th to support Senator Chuck Schumer with his re-election. Please email me if you'd like to attend and I'll give you more details.
Democrats (5)
1. Hillary Rodham Clinton
2, Bernie Sanders
3. Jim Webb
4. Martin O'Malley
5. Lincoln Chafee
Republicans (15)
1. Jeb Bush
2. Scott Walker
3. Marco Rubio
4. Ben Carson
5. Rand Paul
6. Mike Huckabee
7. Ted Cruz
8. Chris Christie
9. Rick Perry
10. Rick Santorum
11. Carly Fiorina
12. Lindsey Graham
13. Bobby Jindal
14. George Pataki
15. John Kasich
Spotlight Grabbing Narcissist (1)
1.  Donald Trump
Happy Birthday!
Aug. 7th
Norma Dorman
Aug. 8th
Brad Beck
Cheryl Margolis
Lisa Wiener
Eleanor Aronovitz
Aug. 9th
Ron Sollish
Congressman Sandy Levin
Jenny Suidan
Aug. 10th
Andy Levin
Susie Sillman
Bryan Fenster
Michael Banks
Aug. 11th
Ron Siegel
Jody Rosenfeld
Lilly Jacobson
Carol Nederlander
Aug. 12th
Daniella HarPaz Mechnikov
Alan Kaufman
Bonnie Larson
Allison Rabinowitz Baumwald
Rabbi Jennifer Tisdale Kaluzny
Rabbi Lauren Berkun
Aug. 13th
Sarah Wolk