Shabbat Shalom
July 10, 2015
Dear family and friends,
Hypocrisy
When it comes to the rules of courtship, "No means No" and an affirmative "Yes" is needed for consent. These rules hold true for all, including famous "moral" hypocrites, but how do you punish a lifetime of "mickie slipping" and unconscious assaults over dozens of decades, against dozens of women. Bill Cosby will hopefully pay the price for his unconscionable actions.  We have one life and one reputation;  Appreciation and protection are due for both. Cosby's reputation is already tumbling down as well as his statue at Disney World which was removed this week. I see more future damage to his "charmed" life down the pike.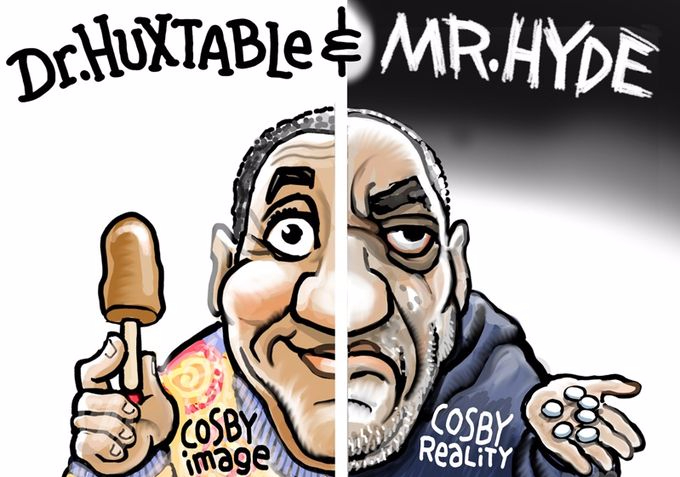 Quds Day
The Iran Deal has (again) been postponed and this new deadline falls on 
Quds Day
(today, Friday July 10th). What is Quds Day you ask…? It is a national holiday in Iran (established 1979) that coincides with the last Friday of Ramadan. Basicly, Quads Day is meant to unite the global Muslim community to protest against the State of Israel and proclaim their legitimate right to Palestine, in other words, the destruction of Israel. The day is "celebrated" with parades, speeches and lots of "Death to Israel" chants.
https://en.wikipedia.org/wiki/Quds_Day
So, hopefully a (good) Iran Deal would eliminate their ability to liven up Quds Day.  But, if there is to be any agreement, it must include these 5 protective requirements (according to AIPAC). 
http://tinyurl.com/5IranDealRequirments
It does seem younger Iranians are a bit less fanatical against Israel than their elders, but only time will tell if or when Iran will ease up on their hatred. For now, they must be kept clear of any nuclear weapons.
Backward Coalition
One step forward, two steps back…Israel has returned power to the Ultra-religious party (again) as (two months ago) the current government's coalition formed and "reformed" religious decisions like conversions (who is a Jew) and divorces back to shtetl era. Under the (ultra-religious) Shas Party, only strict conversions will be accepted which affects 350,000 "religion-less" Russian Israelis and most Reform and Conservative (converted) Diaspora Jews. And divorce proceeding under Shas has a reputation of being discriminatory against women.  Two more concerning issues of this religious coalition is the ultra orthodox educational system which barely teaches core curriculum (like Math and Science) and military or national service to the country. Unemployment and poverty are of deep concern for this community.  Progress was being made to integrate the ultra orthodox into the Israeli society but this movement will now be curtailed. Though here is an example of progress that was made to help employ some of these men in the high-tech industry.  I hope it continues:
World Cup
Congrats to the US Women's Soccer team for winning their 3rd World Cup.  If you live in NYC, you can attend today's Ticker-Tape Parade to celebrate the champs.
Every Girl
Bravo to the Girl Scouts of Western Washington.  Good deeds do get recognized as a $100,000 returned donation morphed into a $300,000 crowd-raised reward. The first 6-figure gift was returned to the donor after stipulations were demanded that the funds were never to benefit transgender girl scouts. Trying to replace the money by crowd-funding proved 3 times as successful once their story and policy was revealed that "Girl Scouts is for Every Girl".  Wish the Boy Scouts would take note of this inclusive montra and join the 21st century, though they are making slow progress.
About Time
Bravo to the legislators and Governor of South Carolina as they quickly debated and agreed to remove the confederate flagtoday at 10am. The flag was absent following the Civil War but was hoisted back up in 1961 for the war's centennial anniversary.   Rather than taking it down, South Carolinians kept it flying as a protest against the Civil Rights Movement. Its removal today does represent a step in the right direction however equal civil rights are still being denied to many within our society.
Poor Judgement
The local Gorcycas reputations are shot. Judge Lisa and her husband (former Oakland County prosecutor) David, have proven themselves to be insensitive to the wellbeing of our county's children.  Both have now removed innocent children from loving parents.  The latest case concerns Judge Lisa Gorcyca as she placed three siblings in juvenile detention (till they are 18) because they refused to see their father whom they witnessed abusing their mother. Now the kids ages (9,10 and 14) are separated from each other and their mother.  This is how Judge Gorcyca is teaching the kids a lesson for disobeying her ruling even after the kids tried to explain why they don't want to see their dad. She needs to be removed from the bench and given training on how to act Humane.
Good-bye Forever
Sentencing this week takes place for local Dr. Farid Fata for his money scheming method of overtreating patients with cancer and lying and prescribing chemotherapy treatment to many others who didn't even have cancer.  This man is despicable and unremorseful of his actions and deserves life without parole.
Condolences
RIP Beekeeper, hippy and founder of Burt's Bee, Burt Shavitz(age 80).  Through a rapid rise to fame, Burt and his business partner Roxanne Quimby built an empire that Burt rejected.  He got out early with $130,000 for his share before Clorox bought the company for nearly $1 Billion.  Roxanne did compensate Burt a few million in the end, yet Burt continue to live the hippy lifestyle and shoned the wealth road.
RIP Jerry Weintraub (age 77), music promoter (John Denver, Beach Boys, Dolly Parton, Bob Dylan) and television/movie producer (Nashville, Diner, Karate Kid, Oceans 11, 12 & 13)
Making
Shiva Calls
is a mitzvah and responsibility in our community. Sometimes it is uncomfortable but here is an article that I wish I had read years ago.  It gives simple advice on how to respectfully paid a condolence visit. For example, Silence is OK…Attempting to bring Cheer is not appropriate…Don't phone a Shiva house…Timing is important. The complete article is well worth the read and might just ease your next Shiva visit. 
http://tinyurl.com/ShivaVisit
Collaboration
Please enjoy this wonderful song "Another Day" song in three languages: Hebrew, Arabic, English and performed by 20 musicians playing numerous instruments.
Amy's Short Life
The documentary about
Amy Winehouse
is coming out this weekend though not everyone is thrilled with the portrayal. Amy's father, Mitch Winehouse, feels the film is inaccurate regarding their family's depiction, so he plans to create another movie to include his view and more of her friends. Both sides would agree that her talents were immense and tragically cut short. Here is a sample of her mesmerizing voice singing a Carole King/Gerry Goffin tune, "Will you still love me tomorrow: 
https://www.youtube.com/watch?v=GuanbnnzXQ4
Finale
Adios and Fare The Well to The Grateful Dead as the surviving members commemorated their 50th anniversary by performing their final concert this past weekend:
Wishing you and your loved ones a Sweet and Peaceful Shabbat Shalom,
Lisa
Jewish National Fund (JNF) Baseball Project
Special Guest Brad Ausmus (Tigers manager)
7:00pm
Home of Florine Mark
or contact Eric Goldstein egoldstein@jnf.org
ORT Rub-A-Dub
5:30pm
Franklin Hills Country Club
or contact Nicole Miller nmiller@ortamerica.org
NCJW Women of Vision Luncheon
Honoring (dear friend) Liz Guz
Plus Michael Williams, President and CEO of Orchards Children's Services
And Liz Bank as Jewish Community Champion
Shaarey Zedek
For more info: 248-355-3300
September 19th (Saturday)
Humble Design Gigs For Digs (1st annual event)
Or contact David@humbledesign.org
Michigan League of Conservation Voters
3rd Annual Innovations in Conservation Awards Dinner
Honoring:Detroit Zoological Society 
and Lana and Henry Pollack
6:00pm to 9:00pm
Detroit's Westin Book Cadillac
For more info, please contact Kim Easter 734-222-9650 or events@michigan.org
Please save the date of Aug. 18th if you'd like to help us support Senator Chuck Schumer with his re-election. Please email me if you'd like to attend and I'll give you more details.
Interesting facts about our candidates…
Democrats (5)
Hillary Rodham Clinton – Won a Grammy in 1997 for Best Spoken Word Album of her audio book, "It Takes a Village".
Bernie Sanders – He can read Hebrew.
Martin O'Malley – He's the frontman of a Celtic Rock Band.
Lincoln Chafee – He was the Brown University Wrestling Team Captain.
Jim Webb – Was a US Marine and the only candidate who is a combat veteran.
Republicans (14)
Jeb Bush – JEB are his initials and stands for John Ellis Bush.
Ted Cruz – Was born in Canada to a Cuban father and American mother.
Rand Paul – Opposes all Gun Control Regulations.
Marco Rubio – Was baptised a Mormon and loves the Osmonds though is now a Catholic.
Ben Carson – Was the first doctor to separate conjoined twins who were connected at the head.
Carly Fiorina – First woman CEO of a Fortune 100 Business.
Mike Huckabee – Plays bass guitar in Classic Rock band, "Capitol Offense"
Rick Santorum – CEO of a Christian Movie distributor and opposes the teaching of Evolution.
George Pataki – His wife, Libby, founded pro-Israel non-profit, One Jerusalem.
Lindsey Graham – Has never been married
Rick Perry – Longest serving Texas governor since 2000
Donald Trump – Filed for Bankruptcy 4 times
Bobby Jindal – His real name is Piyush but picked Bobby after his favorite character, Bobby Brady.
Chris Christie – Attended 130 Bruce Springsteen concerts
July 10th
Brad Schram
Ricki Rogow
Eldan Kaye
July 11th
Hal Ostrow
Ed Lansat
Rachel Devries
Bonnie Otis
July 12th
Gail Fisher
Arthur Liss (Cousin)
Simone Vitale
Alison Pure-Slovin
Dylan Handelsman

July 13th
In 1934, Babe Ruth hits his
700th Home Run while playing against Detroit

July 14th
Conrad Giles
Marla Drutz
Beth Stone
Sherry Margolis 
July 15th
Natan HarPaz
Julie Fisher (Israel)
July 16th
Carol Rosenberg
Julie Zussman
Lee Buckman