Shabbat Shalom
June 5, 2015
Dear family and friends,
After 50 years
The long overdue removal of
Cuba
from the US terrorist list brings our countries closer to normalizing relations leading the way for increased tourism and stronger diplomacy. The three remaining countries on the terror list are
Syria, Sudan and Iran
. Yet there is possible hope on the horizon regarding Iran with some Israeli military are cautiously optimistic about the Iranian deal. 
http://news.yahoo.com/israel-military-cautiously-upbeat-iran-nuclear-deal-083330296.html
After the Analysis
But Israel can't afford to breath too easily since her compass of concern is still on high alert. In the South, Gaza is still shooting rockets (even this week) at civilians and continues to build more tunnels; In the North, Hezbollah in Lebanon is estimated to possess a stockpile of 100,000 rockets; And in theNortheast, after 4 years of civil war, the Syrian army is devastated and infested by Da'ash (ISIS). Israel has 360 degrees of concern though with the fish in the Mediterranean as her only friendly neighbors.
After 43 years
The long overdue memorial to the slain Israeli Olympic athletes will be breaking ground this year after decades of requests by the families and Israel.  The memorial will be on the site of the athletes village where 11 Israelis were killed.  And with a complete change of heart, the International Olympic Committee is even considering including a tribute during the opening ceremony for the 2016 Rio de Janeiro games.
After many decades
The FIFA house of cards is collapsing fast and furiously. Corruption has infested the ranks for decades and the crimes are all coming to light. Shortly after winning the presidency (for the 5th time), Sepp Blatter resigned over the deep seated corruption. But the best episode this week involves their former Vice President Jack Warner who is now spilling the beans but tried to defend his actions by using a satirical   article from the Onion Newspaper. Sadly the corruption has also lead to over 1,000 deaths as poor immigrants are forced to labor in the excessive Qatar heat to build the World Cup stadium. Qatar has got to be the worst place on Earth to host a World Cup and we know corruption greased the palms of the decision makers. In addition to their corrupt government, they have adverse relations with Israel so even though they made an exception for Israeli athletes to play in the games, Israeli fans wouldn't be allowed to enter the country to watch the games.  Here is a petition that will be sent to FIFA trying to revoke the 2022 World Cup decision.
After Tons of Ocean Debris 
After a brilliant 18 year old realized our ocean pollution problem, he set out to create an Ocean Cleansing System which will be deployed in 2016.  There are 5 giant ocean patches of garbage that will be cleaned up in the decades following the introduction of his system.  Here is an article and video if you're interested in this issue:
After Years of Denial
I love this creative way actor
Jesse Tyler Ferguson
is trying to influence our Supreme Court Justices to make the right decision on Marriage Equality.  The SCOTUS decision is due within the month so please check out Jesse's action plan to sway their thoughts: 
https://www.youtube.com/watch?v=53cSbzo419U
After miles of biking
Refuah Shlema (speedy recovery) to John Kerry as he broke his leg while biking in the French Alps though his recovery will not stall the Iranian discussion but this did not stop Iran from reporting bogus allegation that his injury was actually an assassination attempt.
After tons of wasted food
Bravo to France for instituting a new law that requires Supermarkets to donate all leftover food they are unable to sell.  We, here in the US, discard 43 billion pounds of food every year.  Think how that amount of food would benefit the hungry of our society.  Many wonderful agencies, like Forgotten Harvest and Gleaners, do rescue some of our uneaten food, but certainly these efforts could be quadrupled if grocery stores were required to donate their excesses.
After years of debts
As another crop of college grads will embark on their job hunt shackled to their enormous student debt, isn't it time to reform our country's collegiate financial situation? Proud that our ownSenator Gary Peters is helping to alleviate this debilitating situation for our college students.
After Billions of Wasted Dollars
Even Senator John McCain agrees that Citizens United is one of the worst decisions of SCOTUS (Supreme Court). It has unleashed the corruptible lobbying effort of millionaires and corporations to buy influence and waste money.  Please keep this in mind when voting for our next president as they will have the power to appoint Justices who will or will not support efforts like Citizens United.
After David Lederman
Stephen Colbert will start his new show in a few months but this week he released this clever and funny "Colbeard" youtube to keep in touch.
After the Triple Crown
American Pharoah is not predicted to win the Belmont Stakes (Triple Crown) but his run so far is still miraculous. AP's owner is Ahmed Zayat, a 52 year old orthodox Egyptian Jew who immigrated to the US at the age of 18.  His father was Anwar Sadat's physician and his grandfather was a famous Egyptian writer. Good luck to the Zayat family and American Pharoah.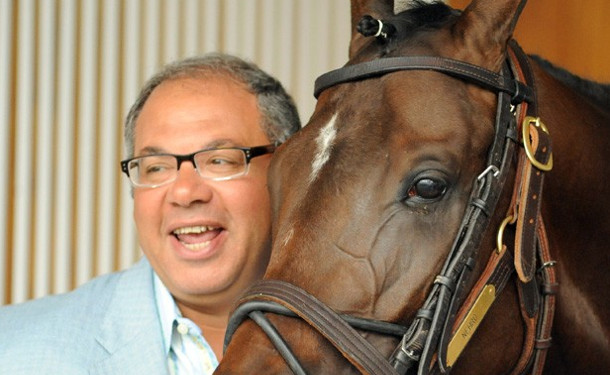 After the Footlights
Break a Leg to all the Tony Nominees as the awards will be presented this Sunday.
After Manhattanhenge
Sunrise…Sunset; Swiftly through the…buildings.  Neil degrasse Tyson discovered (with Stonehenge in mind) that 4 times a year, the sun sets between the Manhattan skyline and New Yorkers come out in droves to witness this phenom which took place this past week.
This week's Musical Selections…
Don't miss this awesome and hilarious ragtime rendition ofRoxanne by Fallon and Sting:
Wishing you and your loved ones a Sweet and Peaceful Shabbat Shalom,
Lisa
Death leaves a heartache no one can heal
Love leaves a memory no one can steal
Condolences to the Biden family on the untimely passing of Beau Biden at the age of 46. May his political and military service, his devotion to his family and his spirit bring comfort to those who mourn his death.
It is the one year yahrzeit (Jewish calendar anniversary) of the 3 slain Israeli students,  Naftali Frankel z"l, Gilad Shaar z"l, and Eyal Yifrach z"l. Their families, friends, the State of Israel, the Jewish Peoplehood and those who fight against terrorism reflect, remember and prayer for their souls.  A young Arab Israeli, Mohammad Zoabi, also is reflecting on the horrors of that fateful day and I will let his words speak for all who strive for Peace on Earth.
"A year has passed already since June 2014. A year has
passed since that terrible month which changed the lives of many in this country, including my personal one.
It was a time when we all, the people of Israel, despite our religious, political and ethnic differences were united under the same hope; The safe return of our boys to their families.
That was until we heard the shocking news.
Eyal, Gilad and Naftali,
we will never forget and never forgive those terrorists who took you away from us and from your families.
In addition to that, and as a moral nation, we will not forgive those Israelis who shamed us by taking the life of Mohammed Abu Khadir.
We all as Israelis, and as a nation that praises human life, say No to all types of terrorism!
May they all rest in peace!
Am Yisrael Chai"
Mohammad Zoabi
Now through June 16th
Detroit Zoo Biodigester 
Please join me in supporting this crowdfunder to raise matching funds to help build a Biodigester which will convert manure to energy.
http://tinyurl.com/ZooBiodigester
June 12th
Detroit Zoo
7:00-11:30pm
Sunset at the Zoo Summer Chill
Creatively Wild Fundraiser (21 and older)
Spotlighting on the Polk Penguin Conservation Center
http://www.detroitzoo.org/Sunset/sunset-at-the-zoo

June 16th
David Broza Honoring and Concert
Special guest Peter Yarrow
Lab/Shul Gala
City Winery
NYC
http://labshul.org/register-labshul-gala-2015/
Aug. 18th
(Please save the date)
We will be hosting a fundraiser in our home for Senator Chuck Schumer.  More details to come.
Happy Birthday!
June 5th
Chris Mark
Janie Liebowitz
Kevin Giles
June 6th
Carli Siegel
Doug Stone
June 7th
Susie Feldman
Lynn Rubin
Harlene Appelman
Craig Erlich
June 8th
Gabby Giffords
Marla Folbe Butler
June 9th
Treger Strasberg
June 10th
Hilary King
Yaffa Yankelovitz
June 11th
Lisa Fishman Langnas
Rob Orley
Matt Nosanchuk