Shabbat Shalom
March 13, 2015
Dear family and friends,
"All my life I've been waiting for,
Sadly marches in Selma, Ferguson, Detroit, DC… are still needed today. Those at the Edmund Pettus Bridge this past weekend, including our President, reiterated the progress we've made, but acknowledged the transgression we've experienced (like the disgraceful actions of Sigma Alpha Epsilon at OU*) and the momentum needed for the future. It will only occur when we all see the virtue in our differences and work together for the common goal of true equality.
"Turn and Face the Strain 
Ch Ch Ch Changes.."
Nothing can or should stay the same.  We are a dynamic and evolving society and it is (beyond) time, after 75 years since it was built and 50 years after Bloody Sunday, to change the name of the Edmond W. Pettus Bridge.  Mr. Pettus was a adamant defender of segregation and before that slavery. He spewed his hatred as KKK Grand Dragon in 1896 and then continued his racism in the more prestigious venue of the US Senate from 1897-1907.  Selma currently has a population of 80% African Americans and surely they deserve a Bridge name that doesn't offend and remind them of hatred and discrimination. It is time the State of Alabama, the City of Selma and the National Park Service take action.  Here is a petition from Change.org that is nearing it 200,000 signature goal:
If I could save time in a bottle
The first thing that I'd like to do…
Though Daylight Savings Time, this year, brought Spring weather to Michigan, it still is considered an antiquated system.  We should just pick a time and stick to it. John Olivier showcased the absurdity and history (no, it's not for the farmer) of DST in this hilarious video:
"I am woman, hear me roar, 
in numbers too big to ignore"
20 Years ago, the Fourth World Conference (held in Beijing) studied the status of Women and not surprisingly, results showed excessive discrimination, abuse and inequality for (the female) half of the world's population. Well, this week the UN confirmed what most already knew, that women are still at extreme risk throughout most societies. Government delegates from across the globe are convening at the UN headquarters this week to assess efforts instituted back in Beijing in 1995. Some advancement are apparent, such as a decrease in maternal mortality and higher percentage of girls enrolled in school but these positive trends are outweighed by serious concerns like domestic abuse (legal in some countries) and the increase of human trafficking. There is much more work to be done before women of the world are respected like their male counterparts.
"We can not ALL succeed when half of us are held back"
Malala Yousafzai
"I'm pickin' up good vibrations, 
he's giving me excitations"
To paraphrase Chris Rock, only President Obama can end 2 Wars, eliminate Bin Laden, bring Gas Prices down by 2 bucks, decrease Unemployment to 5.5% (while it continues to drop), help save our Auto Industry, expand our Economy (64 months in a row), decrease the Federal Budget Deficitand provided Health Insurance to 11 million people and still be called a failure. I hope the future history books will set the record straight on Obama's legacy.
"Doctor, Doctor, give me the news, 
I've got a bad case of lovin you"
ObamaCare has proven to all that it is not a job killer nor an economy destroyer (new indicators estimate even lower Health Care Costs than anticipated**) but this doesn't stop the (over 50) congressional attempts to repeal it and now the 2nd visit to the Supreme Court to overturn it.  This current case,
King V Burwell, is attacking the State Exchanges that would affect 75% of the newly insured. If the Supreme Court rules in favor of King (Virginia residents who brought the case) and against Burwell (our US Secretary of Health and Human Services), it would seriously throw a monkey wrench in the system essentially pulling the insurance rug from nearly 8 million people and not providing an alternative solution. It seems to be a split court now and just like the last court case, Chief Justice Roberts will probably make the final decision. Let's hope he again saves the day.  A vote could take place as early as (today) March 13th but the opinion might not be known till June.
Oh yes, wait a minute Mister Postman…
You're damned if you do and damned if you don't… We went to war in Iraq and abstained in Syria yet the evil Daesh (self proclaimed Islamic State) wreaks havoc in both countries plus Libya and beyond.  Now Nigeria's resident terrorist organization, Boko Harem has pledged allegiance to the Daesh Hatred. How and when will this spreading disease be stopped…?  Though Iran and Daesh are not friends, certainly we don't want Iran to possess nuclear capabilities with their bulls-eye on Israel and their terrorist tentacles across the globe. Will a safe deal be made as the dealmaking deadline approaches?  Sending an open letter to Iran signed by 47 Republican Senators was a useless, polarizing, idiotic idea. Even some Republicans criticized it.  One thing it did do was spotlight the young Freshman Senator from Arkansas, Tom Cotton who instigated the letter. Let's see what other shenanigans this Senator displays during his Senatorial career.
Senator Tom Cotton, age 37
"Time keeps on slippin, slippin, slippin 
into the future"
Running out of time and space with this week's email has forced me to tickle your fancy for next week's topics of the deplorable conditions of our Michigan Roads and our May 5th vote on Prop. 1, not to mention the deterioration of our countries infracture and the insolvency of our Highway Trust Fund (quickly running out of money), in addition to the continuing saga of Emailgate,  plus the results of Israel's election. These issues and many others will be addressed next week…till then, enjoy some music.
Harmony
Last's week inclusion of these quintessential 60s era female voices covering Bob Dylan's "I Shall Be Released" was missing. I was having trouble with this youtube of 
Mama Cass, Joni Mitchell and Mary Travers.  
I hope this one works: 
https://www.youtube.com/watch?v=sEZFt5ZZj9s
USA for Africa
30 years ago the biggest names in the music industry converged at a studio (after the AMA awards) to record the iconic "We are the World" (released March 7, 1985).  It was overplayed during its time but this classic still have meaning and prestige:
SXSW March 13-22
Film, Music, Technology… South by Southwest SXSW (Austin, TX) starts this weekend.  It is on my Bucket List and would love to attend one year. Here's their website:
http://sxsw.com/
And here's their promo video:
Trombonist with a message
40 Million Americans have student loans which is more debt than is owed to Credit Cards. This is a serious problem that Congress needs to address.  It started out fine in 1958 when it was developed but it has morphed into a monster.  For more info, check out this music video by Paul The Trombonist (activist/musician) though take some of his 5 minute musical interlude with a grain of salt; the end has some very interesting facts: 
https://www.youtube.com/watch?v=2-fvDSi_kWg
March 17th
For those of you who celebrate the patron saint of Ireland…Happy St. Patricks Day!  Apparently, the lenten restriction of alcohol consumption is lifted on this day…hence the appearance to green beer.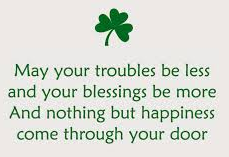 Wishing you and your loved ones a Sweet and Peaceful Shabbat Shalom. 
Lisa
* Shame on University of Oklahoma frat SAE for their racist chant that included the "N" word and was caught on tape.  The South (and other corners of our country) continue to be riddled with racism but seem to elude videotaping.
http://www.cnn.com/2015/03/09/us/sigma-alpha-epsilon-fraternity/
** Lower Health Care Costs article:
http://www.nytimes.com/2015/03/10/us/politics/budget-office-again-reduces-its-estimate-on-cost-of-the-affordable-care-act.html?_r=0
This poem by Judi Schram touched a cord…
Moments
The day you met
first time you kissed
first fight you had
(not all is bliss)the day you wed
first baby's cry
you quit your job?
your pet dog died
a gift 'just cause'
your favorite meal
I love you so
some truth concealed
kids make you proud
kids pull apart
kids challenge you
fill up your hearts
the first health scare
no solid ground
a chasm opened
but hope's unbound
until that day
we know will come
when gift of life
is almost done
these moments all
good, bad…together
these moments all
you'll have forever.
April 14th
Emily Stillman Foundation
Night of Laughs
Raising awareness about meningitis, organ donation and the importance of vaccinations.
April 26th (Sunday)
Send a Kid to Tamarack event
Adat Shalom
Enjoy a Magical Night with Magician and Mentalist
Oz Pearlman
For more info, please contact Laura Adler
adler@tamarackcamps.com
May 1st  
8:00pm
Detroit Opera House
Forgotten Harvest Comedy Night
Featuring:
Joel McHale
(NBC Community and The Soup)
For more details and ticket info:
May 3rd
11:30am
Jewish Senior Life
8 over 80 presentations
Adat Shalom Synagogue
For more info:
248-592-1101 or mbuda@jslmi.org
May 7th
6:00-9:00pm
Orchards Children's Services
Signature Event
Colony Club, Detroit
For more info, please contact Fern Kepes
fkepes@orchards.org
May 17th 
Hillel Day School Annual Dinner
(My Alma Mater)
Honoring:
Audrey and William Farber with Dream Maker Award
Bob Canvasser with Rabbi Jacob Segal (z"l) Award
For more info, please contact Amy Schlussel
aschlussel@hillelday.org
248-539-1484
May 18th
Planned Parenthood Annual Luncheon
The Henry (Dearborn)
Guest Speaker: Senator Wendy Davis
Mazel Tov to Aria Oleshansky and Katie Radner on becoming B'nai Mitzvah this weekend.
Happy Birthday
Missed from last week…
March 12th
(Nephew) Peace Dorn (Happy 1st birthday)
March 13th
Erica Sachse
March 14th
Jim Zack
Abbe Sherbin
Dylan Dembs
Melissa Slaim Dyer
Rob Spiegelman
March 15th
Aria Oleshansky (Mazel Tov)
Debbie Levin
Heidi Budaj
Tom Kukes
March 16th
Rabbi Marla Hornsten
Nathan Elyakin
March 17th
Michael Berke
Patrick Mardney
March 18th
Jeremy Cohn
Patrick Duggan
Jennifer Harmon
March 19th
Kelly Rogers Victor
Connie Gustafson