Post-Turkey Day
Shabbat Shalom
November 28, 2014
Dear family and friends,
Wake Up
During this Holiday Weekend, hopefully many of you are surrounded by family and friends digesting a belly full of turkey on this post Thanksgiving Day Shabbat. Thank you, sister, Sheri Mark, for hosting this year's Turkey Fest filled with side dish delicacies and fresh baked desserts. If you too are in a rolly-polly mood and you want to dance off that tryptophan, please enjoy this Uptown Funk by Bruno Mars:
Are you old enough to recognize this exercise guru?
Thanksgiving 1965
Are you ready for the 50th anniversary tour?  Arlo is getting ready himself as he re-learns the 18 minute song about the time he was arrested for littering and how it disqualified him from fighting in Viet Nam.  Of course, I'm talking about
Alice's Resturant
.  Every 10 years
Arlo Guthrie
hits the road to perform this classic song/story of stupidity that actually happened to him at this friend, Alice's Thanksgiving day celebration. Want to join me at his Michigan concert on April 30, 2015 at the
Berman Theatre
? 
http://theberman.org/arloguthrie/
  And here's the song with the lyrics, so you can along.
You can get anything you want…
Down to Business
Onto the serious issues of the week.. Ferguson, Immigration, Israel, Iran Negotiation, Marriage Equality and Anti-Semitism.
Blame
Nothing will bring back the life of Michael Brown and the thousands of other innocent people who've been wrongfully killed.  Yes, racism is a problem in this county.  Yes, the police possess and use excessive force (mainly) against minorities. Yes, easy access to firearms doesn't help this volatile situation. But 12 jurors committed months to their responsibility on the Grand Jury, listened to hundreds of hours of testimony, read thousands of pages of evidence, deliberated for days and decided against an indictment. Even with this ruling, I assume officer Wilson will need to go into hiding considering the protests that erupted around the country.  One city, Seattle (Tzachi, you sure you want to move back there) decided that boycotting Israel will help the Ferguson situation: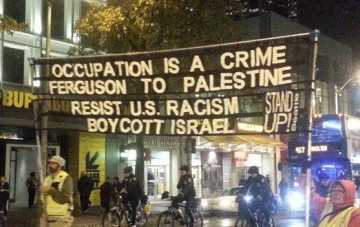 For added material to this Black/Palestinian correlation, here is an excellent article by the compassionate and educated Israel advocate
Pastor Dumisani Washington
(whom I follow on Facebook) on his 7 reasons why the Black struggle and the Palestinian situation should never be connected. 
http://tinyurl.com/lr826mg
Undocumented
There are approximately 11.4 Million unauthorized immigrants in this country with nearly 60% of them from Mexico and 25% of them living in California. This is a broken system with our government's solution stuck on the desk of this Do-Nothing Congress.  A bill was passed in the Senate to help ease this situation but the House refuses to bring it to a vote. President Obama's executive order could ease the lives of nearly 5 million people.  Many were brought here as children, worked their way through school and college only to learn later in life they were undocumented. Most just want legal status so they can live their lives and contribute to our society without the risk of deportation. I know this issue is much more complicated than just the words in this short paragraph, but if the choice is to do nothing or something, I vote for the latter.
Ellis Island
"Give me your tired, your poor, your huddled masses yearning to breathe free."
Emma Lazarus (Statue of Liberty)
Pure Politics
The essence of Zionism is that Israel is the Nation for the Jewish People and (thankfully) this reality has been official for 66 years. The 1948 Declaration of Independence already states this fact. But, this week Bibi Netanyahu wanted to pass a bill reiterating the Jewish Nationhood in addition to elevating Hebrew as the only national language which would antagonize the 20% of Israelis who aren't Jewish. Of that 20% are Druze who fight and die as IDF soldiers and police officers. This political provocation is not needed and not helpful during these turbulent times. I was confused by Bibi's action till I spoke with the 3 most educated Israelis in my life (husband, son and son-in-law) who all agree that Bibi's initiative is unnecessary and politically motivated solely to appease his right wing constituents and hold onto his coalition power.  If he loses his coalition, Israel will set elections to elect a new Prime Minister. Voting on Bibi's bill has been postponed till next Wednesday while the wording is still being contemplated.
UN Ambassadors
Just this week, Ambassador
Ron Prosor
made an impassioned speech to the global community in the (unfriendly) halls of the United Nations. Ambassador Prosor is one of my favorite advocates for Israel. His messages are always educational, historical, articulate and meaningful. If you've got around 10 minutes (I'm a slow reader so you might need less time), I strongly urge you to read his most recent speech:
http://www.jwire.com.au/ron-proser-addresses-u-n/
  And bravo to US Ambassador
Samantha Powers
on her distain for the European community's lack of attendance at the conference on Anti-Semitism. Though the hatred is rising, less then 1/3 of the European nations sent representatives to the conference:
But on a positive (musical) note, please enjoy this wonderful recently released song from Israel that reiterates our desire to live in Peace by learning to
love the ones who love you less:
7 Month Delay
Agreeing to disagree (and delaying the negotiations for 7 months) is not a great strategy when it comes to eliminating nuclear disaster especially with Iran's bull's eye on Israel's back. But this is the situation. Others invested in coming to an agreement are the surviving 39 (of the 52) Iranian hostages from 30 years ago…remember them?  They've never been compensated since "dear" President Carter granted Iran immunity after signing their release which took place the day Reagan was sworn in. Many have suffered severely since their abduction with one who just recently committed suicide. If you are interested in more details of this case, please read this NYT article:
Marriage Equality
10 years ago Michigan voters approved a ballot proposal banning same-sex marriages.  I'm not so sure it would pass with today's Michigan voters, but that's water over the bridge.  Since that time (and after several lawsuits), 35 States have welcomed Marriage Equality and 15 States still have bans. The Michigan lawsuits (to overturn the ban) have resulted in varying court opinions but our Attorney General, Bill Scheutte, believes "the differences among the courts requires justices to step in and assert the constitutionality of voter-approved bans".  In other words, Mr. Scheutte wants the Ban to remain and is asking the Supreme Court to uphold it. I'm hoping they won't!
Can't say it any better than that…
Reminders
Shower Epiphanies (SE) – profound thoughts that overtake your mind in the shower's non-disruptive environment where no phones or distractions interfere with your thought patterns. Several years ago, an article was written on life's lessons that I assume came from those SE.  Here is that advice:
(thanks cousin, Tom, for reminding me of these lessons).
Talent Abounds
I love this jazzy rendition of this popular song with the right message that we should love the body we live in. The vocals by
Kate Davis
are smooth and pleasant and her talented fingers on the bass are mesmerizing (bass solo is half way through the song)…cuz, bottom line… its
"All about that Bass"
. Hope you enjoy! 
https://www.youtube.com/watch?v=iyTTX6Wlf1Y
Holiday Tunes
As the Holiday Season has now officially arrived, please enjoy this sweet holiday song covered by the delightful vocals of
Idina Menzel
and
Michael Buble'
(I first fell in love with this song in the movie
Elf
): 
https://www.youtube.com/watch?v=6bbuBubZ1yE
 and while we are in that end of the year holiday mood, here is a real treat of all the hippest Hanukah songs mashed into one very entertaining video filmed last week in the windy city of Chicago. Enjoy this Adam Sandler Hanukah sandwich, you'll see why if you watch: 
https://www.youtube.com/watch?v=fqEQy6l1kzc
Wishing you and your loved ones a Pleasant and Peaceful Shabbat Shalom and a Stress-Free holiday weekend.
Lisa
Elaine Wagenberg z"l

Condolences to Nate Stone, Kim (Michael) Quail, the Wagenberg family, Wendy Stone and Josh, Zachary and Rachel Stone, the Forbes family and all those who loved Elaine Wagenberg on her Thanksgiving Day passing. She was predeceased by her son, Steven Stone z"l who died in 2010. May Elaine's beautiful spirit and loving memories help comfort those who knew and loved this beautiful woman.
Dr. Lawrence Krugel z"l
Our thoughts and prayers are with Dr. Richard and Sally Krugeland their family on the passing of Richard's brother, Dr. Lawrence Krugel.  He was a well respected dermatologist in our community and I hope his spirit, memories and love bring comfort to his family, friends, patients and doc. partners (one of which was my cousin, Dr. Emily Levin). Condolences to all who loved him.
Marion Barry
Rest in Peace, Marion Barry, former mayor of DC as his life proves that you can rise to greatness, fall to despair and rise again by always trying to make amends.
Kudos to the 18 recipients of the Presidential Medal of Freedom
award, including Stevie Wonder (loved his Palace concert last week), Congressman John Dingell (longest serving member of Congress), Tom Brokaw, Meryl Streep, Ethel Kennedy, 
James Chaney, Andrew Goodman, and Michael Schwerner
(3 civil rights activist who were murdered in 1964 while helping to register Black voters), Alvin Ailey (famed choreographer),Stephen Sondheim (famed composer) and Marlo Thomas.  
3 of the recipients have connections to Detroit (Stevie, John and Marlo).  Here is the full list:
Women of the Wall
We are helping them with their Team WOW Marathon:
Now through Jan. 31st
Mittens for Detroit has just embarked on its 5th collection season with this year's goal of 20,000 (new/unused) mittens or gloves. There are donation locations all around town.  Two, I know of, are Weight Watchers and Starbucks.  To find a drop box closest to you, please click here:
http://mittensfordetroit.org/locations/
Thursday Dec. 4th (noon-8pm)
Friday Dec. 5th (10:30am-5:00pm)
Orchards Children's Services
Shopping event at House of Style
574 N. Old Woodward, Birmingham
Meet Hari of Hari Jewels (exquisite Indian Jewelry)
15% of sales will be donated to Orchards
For more info please contact Fern Kepes
248-459-3030 or fkepes@orchards.org
Wednesday December 10th (6pm)
ADL Gala Honors Senator Carl Levin
Torch of Liberty Award
Tam-O-Shanter
For more info, please contact Jaimee Wine
jwine@adl.org or 248-535-7553
Tuesday April 14th (Save the Date)
The Emily Stillman Foundation's A Night of Laughs will help encourage organ/tissue donation and raise awareness of Meningococcal Disease. More details of this event to come…

Happy Birthday!
Nov. 28th
Jon Stewart
Barry Gordy, Jr.
Randy Newman
Gary Hart
Nov. 29th
Jerry Acker
Nov. 30th
Andi Wolfe
Harris Van Cleef
Dec. 1st
Senator Elect Gary Peters
Jennifer Berg 
Sherri Kay Ketai
Dec. 2nd
Liz Appleton/Zuckerman (Our Shabbat dog)
Nicole Lemmer Yoder
Dec. 3rd
David Altman
Jack Rubinfeld
Dec. 4th
Forest Levy Wolfe
Joan Solomon Frank
Denise Kalt