Shana Tova 5775
September 19, 2014
Dear family and friends,
Land Sabbatical
As this Wednesday evening begins Year 5775 of our Jewish Calendar, it also commences our Torah's Shmita (Sabbatical) Year for Israeli farmers (on the biblical land of Israel).  Just as we, humans, have a 7th Shabbat day of rest after 6 working days, so too, it is written for our land to rest after 6 working years. There are many interpretations of this Shmita law as some feel the dormant year will make the soil more productive if it has a year of rest or that the year off will help temper our greed or that no harvest for a year will remind us of those who suffer from restricted access to food. How do modern farmers and the massive Israeli agricultural business deal with this major interruption? Some plant above the "biblical land" (in tables) avoiding the rule altogether. Some sell their land to non-Jews (like selling our Hamaetz) and some (non-kosher) farms just ignore the rule. If you'd like to read more about his issue, here is a great article: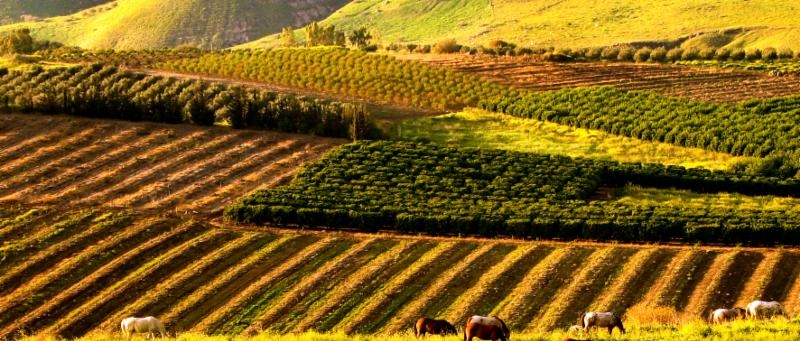 Possible Permanent Sabbatical
Scottish voters (as young as 16) cast their vote this week of either YES or NO to determine their future union with the United Kingdom.  It looks like the NO votes prevailed though the counting was still in progress when I completed this message.
No Sabbatical for Anti-Israel protest
The day before we celebrate our Jewish New Year, there is a global call to action for all college campuses to organize protests against Israel. So far 7 campuses have signed onto this call by Dr. Hatem Bazian, including UC Berkeley, Rutgers, University of Texas at Austin, Purdue, SFSU, UCSF, and UC Berkeley.
Here is their stated plan:
International Day of Action on College Campuses
Free Palestine and End the Siege on Gaza
A call for activists and organizations on campuses across the world to organize massive protests on every college and university campus. Make Free Palestine and Ending the Siege on Gaza part of campus education by holding teach-ins, rallies, sit-ins, civil disobedience, and push for BDS activities.
No to Academic Complicity with Israeli Occupation
No to Study Abroad Programs in Israel
No Investments in Apartheid and Occupation Supporting Companies
No to University Presidents' Visits to Israel
No Campus Police Training or Cooperation with Israeli Security
No Joint Research or Conferences with Israeli Institutions
No Cooperation with Hasbara Networks on College Campuses
No to Targeting Faculty for Speaking Against Israeli Crimes
No to Administrative Limits on Free Speech Rights of Palestine Activists
No to University Coordination and Strategizing with the ADL, JCRC, AJC, Stand With US, ZOA, Israeli Consulate to Limit Students Pro-Palestine Constitutionally Protected Activities.
This impassioned letter was sent to the chancellor of Berkley expressing the safety concerns for the Jewish students on his campus: 
http://www.amchainitiative.org/letter-to-chancellor-dirks-hatem-bazian-day-of-action/
 Bias and fabricated lies feed the minds of liberal college students which perpetuates their hatred toward the only democratic country in the region.  If they ever did the slightest research on their own, they would find a vibrant, innovative, open, accepting, modern society which strives to make her "neck of the woods" (if her neighbor would allow it) and the global landscape a better place for the future.
Sadly, harassing Jews continues to run rampant.
No Sabbatical for Student Loans
Speaking of college students, many have been plagued with major debt from Federal Student Loans that has ballooned to over
1 Trillion dollars
, exceeding Credit Card and Auto Loan debt. This is a huge financial dilemma for millions of Americans with some interest rates nearing double digits and NO options to refinance. Some Senators are trying to pass a bill to allow for student loan refinancing however it seems our contentious Congress won't work together to get it (or anything) passed.
http://thehill.com/blogs/floor-action/senate/217908-gop-blocks-warrens-student-loan-bill
   Citizen's Bank might be able to help as it is now offering to convert Federal Student loans to lower interest private loans for qualified applicants.  This may help some but won't solve the larger problem. Locally, we have a wonderful organization that offers some relief for Detroit students. Please help support the
Detroit College Promise
and learn more about their scholarship opportunity at
No Sabbatical for Anti-Semitic Politicians
One US Senate candidate from
Kentucky
, decided that attacking Jews would be the best campaign strategy as, Senate Write-in Candidate
Robert Ransdell
's anti-semitic slogan of
"With Jews, We Lose"
is obviously disturbing.  Sadly, Mr. Ransdell is a legitimate candidate in the system with the sole interest of expressing how Jews are ruining our country. He knows he's never going to win but just the fact that his message is received and perpetuated is indicative of the increase in non-subtle anti-semitism. I'll keep you updated on how many votes he actually gets.  
http://www.wlwt.com/news/us-senate-candidate-uses-campaign-to-spread-slogan-with-jews-we-lose/28096066
200 lawn signs in Kentucky
No Sabbatical for Racism
Sadly, racism reared it ugly head over the weekend as black actress, Daniele Watts (from the film Django Unchained), was arrested for suspicion of prostitution because she kissed her white partner in public.  Our Black population has aways been on the front lines of racism due to our country's shameful past with slavery and their skin deep external difference. The mosaic of our nation is our strength as we should embrace all ethnicities while working together to further the progress of our county.  The kids of Ferguson have filmed a poignant and creative message to remind us that "Racism is not over"
Brian Lucus and Daniele Watts
Help End Intolerance
You can take a pledge (as I did) to help end prejudice, hatred and racism at this incredible website, created by the son of a High School friend of mine. Bravo to
Jack Stone
(son of
Mary Hanlon Stone
) who founded this
Reaching 4 Peace
movement as an attempt to bring understanding, harmony and peace to our global communities. Jack's website brings together our global stories in hopes of creating a more accepting and understanding world population. Please visit and interact with this wonderful website: 
http://reaching4peace.com/
Image Repair
The NFL is in deep water this week as a few of its athletes have been charged with domestic and child abuse. Their biggest advertiser, Anheuser-Busch, is very upset over the handling of this issue. Though, I assume, excessive use of alcohol exacerbates domestic abuse.  The NFL have now convened a panel of women experts to help deal with this problem which frankly plagues our whole society and not just the National Football League.  Hopefully discussion and action on this problem will not fade as the issue fades from our headlines.
Some AMAZING new music
Mother and Son
Barbra Streisand has a new album called "Partners" where she teams up for some incredible duets.  Two of my favorites duets are with Billy Joel and her son, Jason Gould. Both videos include some moving commentary by Barbra and her partners:
Billy Joel
Jason Gould (son of Elliot and Barbra)
Jason and Barbra
Father and Son
But, what I'm MUST excited about is Cat Stevens/Yusuf Islam's new album, "Tell 'Em I'm Gone".  If you've been reading these Shabbat messages for awhile or if you knew me in High School, you'll know of my obsession with Cat Stevens.  I never got to see him in the 70s but now that he's back on tour, I hope to make his NYC concert on Dec. 7th.  I'm shamelessly willing to accept any help with inside connection to the Beacon Theatre or his concerts. In the meantime, please enjoy this article and tune: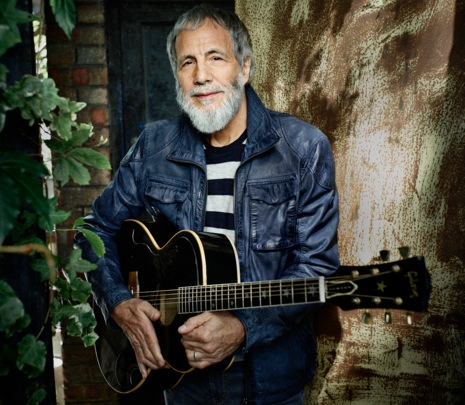 Cat Stevens
46 Days
Our Nov. 4th election is only 46 days away.  It is vital to our democratic system that you and everyone you know (new voters, your parents, your neighbors…) gets out to vote! But we should all be informed of our choices so here is a great tool.  You can check out your ballot ahead of time so you can research your decisions.  If you live in Michigan, you can see your district's ballot online at
https://webapps.sos.state.mi.us/mivote/SelectPublicBallot.aspx
  This is especially important for the Statewide and City proposals.  There are two State Proposals addressing Wolf Hunting and my city of Farmington Hills has a Road Millage Amendment.  Along with our Governors race, Senate race, House races, State and County races we are also asked to pick several Judges (Supreme Court, Appeals,District, Probate… which you can ask your lawyer friends about), as well as educational positions. Lots to research and I hope your find this site helpful.
Senate
I mentioned last week, that I thought Gary Peters is our best choice to represent us in the US Senate.  Well, looks like Former Michigan Republican Governor Bill Milliken agrees with me.
I joined; I hope you will too.
College Student Suggestion
For other States, you can contact the county clerks office in your city.
"They tried to kill us. We survived. Let's Eat"
This explains every Jewish Holiday.  I must admit, I'm not a cook but this Brisket recipes looked delicious so if any of you want to try it, I'd love to hear how it tastes.
Wishing you and your loved ones a Sweet and Peaceful Shabbat Shalom and L'Shana Tova U'Metuka (Happy and Sweet New Year).
Lisa
P.S. Our prayers and thoughts are with our friend, Yossi Peled as we wish him health and a speedy recovery for his heart attack last weekend.
P.P.S  Many thanks to those who attended this week's PBS event including Diane/Randy, Liz/Brian, Betsy/Eric, Bunky/Neal, Reuben, Carol/Mitch, Carol/Steve, Brian/Fern, Marcie, Doreen, Sheldon, Leora, Daniel, Kim/Rick, Sherri K., Jack/Amy, Susan S., Sandy S., Nathan/Rosiland, Debbie/Rick, Michelle, Annabel, Lorie, Sandy/Jim, Tammy F., Lisa K., Sally/Graham, Joy/Allan, Sandy/Danny, Jim R., our loving family, all our friends at DPTV and anyone else I may have missed.  We are grateful to your love, support and friendship.
P.P.P.S Our son, Aviv, is a mentor for an amazing community service Detroit based volunteer program for pre-Bar/Bat Mitzvah kids call PeerCorps.  If you know of any pre-B'nai Mitzvah aged students who would like to participate in hands-on Detroit improving projects, please contact Nora Feldhusen at peercorpsdetroit@gmail.com or (313) 355-3417.
Condolences to our friend (from our Kibbutz days on Ramot Menashe),Yoav Bar Am on the passing of his beloved father.
Condolences to Margie Robbins and her family on the passing of Jerry Robbins.  May Jerry's love, spirit and memory bring comfort to his family.
Now till Oct. 18th
Check out this Indiegogo Crowd-funding project to help create an incredible film by David Broza.  Any and all investments welcome with great perks and gifts available.
Sunday Sept. 21st
3:00-5:00pm
Gary Peters Fundraiser at Ethan and Gretchen Davidson. Please contact Hy Safran @ hy.safran@gmail.com
Wednesday October 1st
Kadima's Annual Benefit Celebrating 30 years!
An evening with Paul Reiser at the Max M Fisher Music Center www.kadimacenter.org
Thursday October 2nd
Michigan League of Conservation Voters will be honoring Congressman John Dingell and Senator Carl Levin for their decades of service to our nation and their efforts to help protect our environment at their Innovation in Conservation dinner at the Westin Book Cadilac.
Thursday October 2nd
The Pink Fund Dancing With the Survivors
My sister Sheri Mark is the Honorary Chair
Art Van Furniture
27775 Novi Rd., Novi
6:30pm-10:00pm
https://www.eventbrite.com/e/dancing-with-the-survivors-sm-tickets-10807239745
Monday October 6th
Tuesday October 7th
We will be celebrating our 10th anniversary of the Mothers, Daughters, Sisters, Friends luncheon which benefits the West Bloomfield Henry Ford Breast Care and Wellness Center.  We are teaming up with the Detroit Lions this year as the Luncheon will be at Ford Field in Detroit.  For additional information please contact Ashley Abaloz at (313) 874-6139 or AABALOZ1@hfhs.org
Thursday Oct. 16th
Please join us at Eastern Market Corporation Inaugural Harvest Celebration in historic Shed 3.  For more info, please contact Tracy Rivard at (313) 833-9300, ext. 113 or trivard@detroiteasternmarket.com

Thursday Oct. 23rd
ReMarkable Women Luncheon
Guest speaker: Tonya Reiman
The Henry, Dearborn
For more info: http://askflorine.com/remarkable-women-live/
Shabbat Oct. 24-25
Join the international celebration of Shabbat with The Shabbos Project. https://www.youtube.com/channel/UC89SX8l6JJLECCgbmp-SdEw
Sunday November 9th
Sept. 19th
(sister) Sheri Mark
Carol Meizels
Mark Bernstein (friend & trusted U of M Trustee)
Sept. 20th
Colleen Peters (Hunger advocate)
De McBroom (Political proponent)
Julie DeMaria (co-counselor Camp Sea-Gull)
Mary Hanlon Stone (Harrison High School buddy)
Lori Cohen Weberman
Leah Ann Kleinfeldt
Sept. 21st
Kathy Brickner Finkel
Sept. 22nd
Rachael Avadevoh-Woods (owner of fav. Birm. store Artloft)
Sept. 23rd
Perry Orhen
Nancy Heinrich
Sept. 24th
Jack Folbe (doc who knocks you out)
Judy Sklar Cantor
Sept. 25th
Talia Raviv (Ashkelon school girl)
Linda Hiller Novak