Shabbat Shalom
September 12, 2014
Year 13
As we commemorate the 13th anniversary of the horrific 9/11 terrorist attack that (within a few minutes) killed nearly 3,000 innocent people, we must keep vigilant and prepared to continue our global fight against those warped fundamentalist who's main goal is to establish a homogeneous restrictive community where freedoms are deprived and life is limited. Though we might have an ocean as our buffer, Israel lives with these evil terrorist as her neighbors. Yet lately their extreme ideals are spreading to both Americans and Europeans as hundreds are known to be fighting on their behalf in Syria and Iraq. And now, (130) Canadians have joined this ruthless bandwagon.
May the souls of those who perished on 9/11 and all those who've lost their lives to terrorism be the spirit and strength to help combat the evil forces of Islamic Radicalization.
 World Trade Center
1970-2001
Ugly Monster
Domestic abuse was brought to the forefront of our country's consciousness this week, though (sadly) it is always present in the back bedrooms, hall closets or elevator cars of our country's hidden spaces. Many of these abuse victims stay with and defend their abusers, like this week's famous case. The CDC reports that 1 in 4 women are abused in our society. This US statistic is startling and outrageous.  We need to do a better job educating and protecting those susceptible to this horrible cycle of violence. Not surprisingly, there are 20 countries that don't even have laws preventing domestic violence, including many you would expect, like Yemen, Iran, Syria…and these:
http://www.huffingtonpost.com/2014/03/08/countries-no-domestic-violence-law_n_4918784.html
  While at this week's Lion of Judah conference, we saw a presentation about an incredible documentary which shines light on the "honor" abuse of Muslim women. This film was written and produced by a young Jewish Human Rights attorney,
Paula Kweskin,
 who bravely sought to spotlight the extreme abuse through the lens and stories of (only a few) of the millions of victims of this religious sponsored violence.  
http://www.honordiaries.com/
  The world needs to see this film.  Many in our community have brought awareness to its importance.  Bravo to
Leora Bar-Levav
for spearheading this effort.
The IS Fight is on
President Obama, this week, unveiled his plan (with a wide coalition) to help eradicate the radical extremist of the
Islamic State
. This fight will (unfortunately) continue well beyond his presidency as he was hoping his foreign policy legacy would have been the killing of Bin Laden and ending the Iraq and Afghanistan wars though more fighting seems to have been thrusted upon him. This wide coalition consists of the
Big 10
major countries including
U.S., U.K., Germany, France, Italy, Denmark, Poland, Canada, Australia 
and the strategically located
Turkey
as well as 40 others (including 10 Arab nations) who are willing to help. Globally, there is a strong interest to suppress these evil forces and for the sake of our future this coalition must succeed. 
Secession
Internationally speaking, the inter-connected Quad-Countries of the UK (England, Wales, Northern Ireland and Scotland) COULD become less connected next week when Scotlandvotes to secede from their Union. The polls indicate the race is neck and neck with the outcome up in the air, though I assume it won't pass. But, now, other countries have been emboldened to attempt the same fate.  For example, Catalonia has longed to disconnect from Spain and will this inspire Quebec to try again to separate from Canada?  Even the Yuppers in our ownUpper Peninsula wanted to become the 51st State and separate from Michigan which would have sadly relinquished some beautiful territory from our State.
Scotland, part of the UK since 1707
Hamas Fools
I am truly in AWE of Ari Lesser who is one of the finest educators of the Middle East situation through his poetic songs which illuminate the TRUTH in articulate and balanced terms. Check out his newest song regarding Hamas.
Bridge Building
Another VERY creative and talented soul is David Broza who has just launched an Indiegogo campaign to help fund his film documenting the production of his latest album: East Jerusalem-West Jerusalem.  By being part of this project you too can help build the bridges to create a lasting Peace.  You can read more about this initiative and contribute at:
Making Progress
There is light at the end of our Detroit Bankruptcy tunnel as a settlement is in the works between (creditor) Syncora and our City.  The trial is on hold till next week so the parties can get their ducks in order.  This is good news and one step closer as our Phoenix shakes off the debt-fill dust and starts to rise.
Love – Love
Congrats to Marin Cilic (Croatia) winning (6/3,6/3,6/3) in the men's finals and Serena Williams (who didn't drop a set in the whole tournament) and won her 18th (chai) Grand Slam Singles Title at this year's US Open (which I joyfully attended for the first time).
Serena joined by other 18-time winners Martina and Chrissy, though Steffi takes the cake with 22 Grand Slams.
Bigger is better
Apple introduced it new iPhone 6 and 6+ but if you plan to buy one yourself, you might jump in line now as Apple expects to sell out within days of their Sept. 19th availability date. Personally, we converted to Samsung a year ago and love the larger size so I can see the appeal.
Ridiculous
Yale Chaplain Rev. Bruce Shipman wrote a response in the NY Times to Deborah Lipstadt's op-ed about the rise of Anti-semitism, where he blames the cause of anti-semitism on the diaspora Jews for not urging Israel to restrain from their defensive actions in Gaza and find a solution to the Palestinian situation. Anti-semitism and all racism warrant absolutely NO excuse as his bigoted remarks resulted in his self resignation and apology.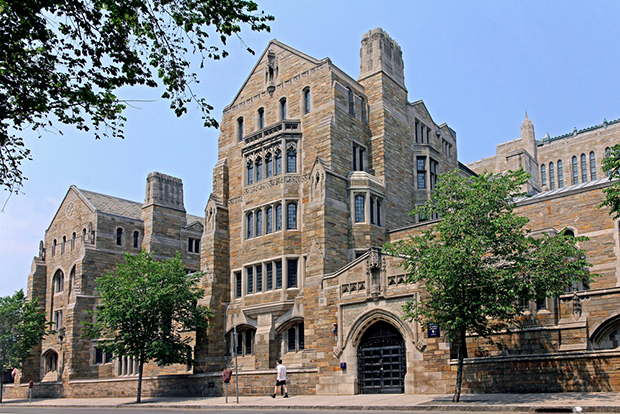 Hallowed Halls of Yale University
Our Right and Responsibility 
Election day is only 7 1/2 weeks away.  Please educate yourselves on your choices.  In my opinion, Gary Peters is, hands down, the wisest choice to represent us in our United States Senate.  And to confirm my opinion, here is more evidence from US World and News Reports:
Women who support Gary are encouraged to join the Team at this website.
I joined; I hope you will too.
Smartphone App
For other States, you can contact the county clerks office in your city.
The Mighty $
There is just TOO much money being spent on candidates during our election cycle.  The field should be level and unburdened of excessive financial contribution.  An amendment to overturn Citizens United was filibustered this week preventing campaign finance reform.  Efforts need to continue to rightsize our wasteful campaign structure.
"Run, Forrest, Run"
My two all-time top favorite films are
The Big Chill
and
Forrest Gump
, both with incredible music.  For the 20th anniversary of Forrest Gump, the soundtrack of 32 songs will be released on a 3 (vinyl) LP album (stands for Long Playing, for those of you born post-album era). And the film was re-released for IMAX theaters this past week.
http://tinyurl.com/ForrestGump20th
Palindrome Year 5775
As our Jewish New Year of 5775 is quickly approaching (just 12 days away), I'd like to take this opportunity to wish all of you aSweet, Healthy and Peaceful Rosh Hashana.  May the new year bring healing to the ill, relief from the suffering and comfort to the downtrodden.  As I was searching for an upbeat Rosh Hashana music video to include in this week's message, I stumbled upon comedian Elon Gold's "rant" of our Jewish New Year.  If you remember, I mentioned Elon a few week's ago after he and his family were harassed and threatened while walking home from Shabbat dinner. Anyway, I find Elon hilarious and hope you do too. Beware as it is slightly racey:
Wishing you and your loved ones a Sweet and Peaceful Shabbat Shalom and a Happy New Year,
Lisa
Baby Feet are the BEST!
Welcome Slade George Rogers grandson of Shari and Daryl Rogers born.
Mazel Tov to Linda Hurwitz as she and her husband, Steven, join the best club around… Welcome to Grandparenthood.
THIS Sunday September 14th – hope you can attend!
Get Out the Vote – Women's event 
Delicious Brunch with Senator Debbie Stabenow and many more Women Political Leaders.
11:00am – 12:30pm our home
28619 Oak Crest Ct., Farm. Hills
To RSVP, please contact Marcie 810-877-8753
or mhemgesberg@michigandems.com
THIS Wednesday September 17th
Detroit Public TV will present Hannan and I with the Dolores & George Riley Stewardship Award at their annual Premiere Night at the Westin Book Cadilac. Also receiving awards that evening are Waltraud E. Prechter, Bank of America and Shinola. We hope you can join us.
THIS Thursday September 18th (11:00am)
The innovative and creative founder of The Empowerment Plan, Veronika Scott will be the guest speaker at the Tikvah Hadassah luncheon at home of Hillary Shaw (350 Pine Ridge Dr., BH). Veronika is a brilliant star in our Detroit community and if you don't know her, it is worth your while to learn more about her efforts to help the homeless of our City.  Space is limited. Please RSVP to Barbara 248-481-9580 or Karen 248-481-8129
THIS Thursday September 18th
Please join us at the Michigan Israel Business Bridge Ambassador's Award Dinner at the Detroit Athletic Club honoring Chuck Newman.
Wednesday October 1st
Kadima's Annual Benefit Celebrating 30 years!
An evening with Paul Reiser at the Max M Fisher Music Center
www.kadimacenter.org
Thursday October 2nd
Michigan League of Conservation Voters will be honoring Congressman John Dingell and Senator Carl Levin for their decades of service to our nation and their efforts to help protect our environment at their Innovation in Conservation dinner at the Westin Book Cadilac.
Thursday October 2nd
The Pink Fund Dancing With the Survivors
My sister Sheri Mark is the Honorary Chair
Art Van Furniture
27775 Novi Rd., Novi
6:30pm-10:00pm
https://www.eventbrite.com/e/dancing-with-the-survivors-sm-tickets-10807239745
Monday October 6th
Tuesday October 7th
We will be celebrating our 10th anniversary of the Mothers, Daughters, Sisters, Friends luncheon which benefits the West Bloomfield Henry Ford Breast Care and Wellness Center.  We are teaming up with the Detroit Lions this year as the Luncheon will be at Ford Field in Detroit.  For additional information please contact Ashley Abaloz at (313) 874-6139 or AABALOZ1@hfhs.org
Thursday Oct. 16th
Please join us at Eastern Market Corporation Inaugural Harvest Celebration in historic Shed 3.  For more info, please contact Tracy Rivard at (313) 833-9300, ext. 113 or trivard@detroiteasternmarket.com

(new to this list)
Thursday Oct. 23rd
ReMarkable Women Luncheon
Guest speaker: Tonya Reiman
The Henry, Dearborn
For more info: http://askflorine.com/remarkable-women-live/
Sunday November 9th
Today Sept. 12th
Happy 32nd Anniversary to dear friends,
Bunky and Neal!
Sept. 12th
Diane Benyas
Diane Mondry
Morgan Berg (wonderful young cousin)
Jordan Gruber
Sept. 13th
Kary Moss (ACLU director)
Sept. 14th
Pam Benyas
Suzi Terebelo
Patty Haron
Toni Trager-Bradley
Sept. 15th
Eli Mayerfeld
Irwin Wright
Diane Farber
Omri Winterberger (Happy 60th)
Sept. 16th
Matthew Levine (Jennifer's hubby)
Amy Roth (bought our old house in HW)
Sept. 17th
Nate Berkus (handsome design expert)
Sept. 18th
Risa Kraft Brickman
Patti Kelter
Joel Schwartz (Hillel Day School together in 70s)