Shabbat Shalom from Jerusalem May 16, 2014
Dear Friends and Family,
Helping Hands
We are in Jerusalem to participate in the 100th year celebration of JDC (aka: The American Joint Distribution Committee) a world-wide rescue and relief agency which had a hand in supporting my in-laws (of blessed memory) during their travels from war-torn Europe to Israel in the mid 40s. Gratitude abounds for the past, present and future efforts of the JDC in assisting our extended Community.
Help Needed
Anger, frustration and sadness overwhelms the families of the Turkish Coal Mine disaster that has already stolen the lives of nearly 300 victims with still many more trapped beneath the rubble. My prayers go out the the family and friends of this disaster.
Friendly Support
Nigeria is Israel's closest friend in Africa and has provided medical support during past terrorist incidents just as it has offered help this week to find the abducted schoolgirls. The Nigerian president Good Luck Jonathan has accepted Israel's assistance while more brazen attacks continue to be perpetrated by the evil
Boko Haram thugs, this week killing 17 soldiers.  Through Israel's short 65 years, it has developed (under necessity) an expertise in anti-terrorist tactics. The world is praying for the safe return of these daughters.
Pyromaniac's Delight
The Omer is counted between the two anchor holidays of Passover and Shavuot that both represent the common theme of "Persecution to Freedom". During this 49 day (semi-mourning) period, we aren't suppose to shave, cut our hair, get married or "party", but on Lag B'Omer (this Sunday) we take a break from the restrictions.  Traditionally, Bonfires are the form of celebration during this holiday as we look forward to attending the Bonfire at Jerusalem's historic Biblical Zoo.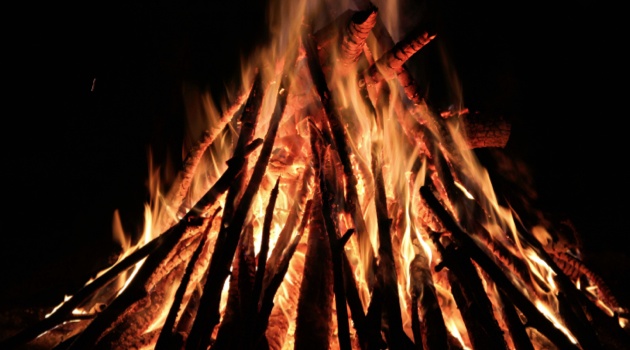 (I must confess; I have slight pyromaniac tendencies) 
What's in a Name?
For 400 hundred years a tiny town in Spain has kept its name as"Little Hill Fort of Jew Killers".  Now the Mayor had decided the time might be right for a name modification, yet, hold your horses… there is some resistance.  After a bit of research, it was discovered that a large Jewish presence lived in the town but during the Inquisition, many chose to convert to Catholicism rather than leave.  So to prove they weren't Jewish any longer, they added "of Jew Killers" to their original name of "Little Hill Fort" and it has stuck ever since. The push back about the name change is grounded in the fear of precedent-setting as they are concerned it will open up other towns to follow suit, which I assume would annoy Spanish map-makers.

Take a lesson…World
Dignity, respect, equality… this is how our Israeli society treats their special needs citizens.  Just as all young Israelis must serve in the military, so too do these special (proud) soldiers.  Israel is a unique society which values ALL its citizen regardless of their abilities. The families of these soilders are grateful for the opportunities their kids are provided, just like all their peers. Thanks, Alon Tolwin for sharing this message:
https://www.youtube.com/watch?v=gZC42c8lMqg&hd=1
Undignified
No dignity and respect for the (first) Israeli Prime Minister (Ehud Olmert) who was recently sentenced to a 6-year jail term for bribery.  This certainly puts an end to speculations of his future political career.
Bias Pledge
More indignities are occurring at UCLA (one of California's many campuses which are bias against Israel).  Anyone running for Student Government is now requested to sign a pledge that states they will never participate on a free or co-sponsored Israel Trip (though Birthright, AIPAC or ADL). Most likely this action was initiated as a reaction to their February failed BDS vote.  Their attempt to eliminate pro-Israel voices from their Student Government is despicable, bigoted and ruthless.
YIKES
More evidence this week proves of our manmade affects on our Climate as research indicates that there is no stopping the melting Ice Sheets in Antarctica which will (without a doubt) raise our sea levels.  This can NOT be good for those living near our coastal regions. Skeptics can hide their heads in the sand, but if you choose that route, I'd suggest you find some sand further from the shoreline. http://www.cnn.com/2014/05/12/us/nasa-antarctica-ice-melt/index.html?hpt=hp_t2
A Book's Cover
Eurovision
is the HUGE and prestigious song contest (since 1956) that spotlights musical talents from all across Europe and Israel. Proudly, Israel has won 3 times but this year's winner was a first for the contest.  A 25 year old Austrian bearded drag queen took home the grand prize.  Check out the amazing talents of
Conchita Wurst
: 
http://tinyurl.com/kcq5yld
Adios
Bye, bye Barbara Walters and Carl Castle as they both retire this week from their TV and Radio shows, respectively.  Wishing Bye, Byes to Donald Sterling and Carl Rove as each time they open their mouths, Webster rolls in his grave for providing (racist and lying words (respectively) for them to spew.
Condolences 
SOAP BOX
Politics
Michigan Primary is Aug. 5th
National Election is Nov. 4th
All US Citizens who are or will be 18 by Nov. 4th are eligible to vote.
You can register to vote by mail; at your county, city, or township clerk's office; or by visiting any Secretary of State branch office.
This site can also answer all your Election questions including info on a sample ballot so you can prepare for your vote. http://www.mi.gov/sos
GOTV
(Get Out The Vote)
Please help elect 
Gary Peters
as our next MI Senator.  His opponent Terri Lynn Land is excessively funded and is now running her childhood story in new TV ads.  But this is the truth about that story: 
https://www.youtube.com/watch?v=p1Wd6dx-yuo
Please join us for a fundraiser at our home Monday June 2nd(5:30pm) to help Pam Byrnes campaign for US Congress. For more info: Kelly Tebay at kelly@pambyrnesforcongress.com or 734-253-2282
Going to be in Ann Arbor this Sunday?  Please attend a fundraiser for
Mark Schauer and Lisa Brown
(May 18th @ 3:00-4:00pm) at the home of our dear friends,
Neal and Bunky Elyakin
(1300 Red Oak).  For more info, please contact Neal at 734-417-6094 or nelyakin@gmail.com or 
http://tinyurl.com/MarkSchauerElyakin
For those with 20 minutes to spare and a interest in the humor ofPresident Obama (quite funny), please enjoy his jokes from last week's White House Correspondence dinner:
Community events
Please join me at the
Jewish Working Women's Series
(sponsored by Federations Women's Philanthropy) on Friday morning
May 30th
at
8:00am
(7:15 networking and registration) at the
Max M. Fisher Federation Building
(6735 Telegraph Rd, BH). The wonderful speakers will be
Marla Drutz and Sherry Margolis with Kelly Rogers Victor
as moderator.  All three are amazing women! 
https://action.jewishdetroit.org/events/wd/jwws-2014-may/
August 17-22
Maccabi Athlete Housing
Our community needs about 800 host families to house approximately 1,500 visiting athletes and artists the week of August 17-22.  Its a fun commitment that helps connect our community and gives us the opportunity to meet wonderful young people from all over the world.
Michigan Bests
Looking for a Detroit area Art Festival this year, then look no further as here are the 12 Best Fests:
By next summer (July 2015), all stores in the city of Chicago will be restricted from offering plastic bags to customers. Their city council approved the plastic bag ban this week making Chicago the largest US city to institute this environmental step.
Bravo to our Jewish Community Center's new year-roundElectronic Recycling Program for Computers, Cell Phones, Monitors, Mice (yes the computer ones), Speakers, DVD, Microwaves and much more.   Clear out your house, Save the Earth, Eliminate Landfill waste, with a bonus Financially help for the JCC. The recycling bin at the West Bloomfield JCC is between the double glass doors at the main entrance and the bin in at the Oak Park JCC is near the back with the other recycling containers. For more info, please contact Randy Gavorin at 248-432-5452 or rgavorin@jccdet.org
This week's celebrants are…
  May 16th
Amy Shefman
Mark Lit
Liz Schubiner
May 17th
Regina Colton
May 18th
Elise Benyas
Michael Maddin
Sosie Berg
May 19th
Joel Kahn
May 20th
Ashley Wainer Oleshansky
Brian Adelman
Nathan Upfal
Nancy Rands
Vadim Avshalom
May 21st
John Steinberg
Sally Orley
Trudi Weinman
May 22nd
Beth Liberson Brandvain
Betsy Appleton
Rochelle Upfal
Ken Korotkin
Sorry if I've missed yours.  If you'd like a birthday mentioned in these emails, please confirm I have it in my system.

For those who are forwarded this message by a friend or read it on Facebook, you can receive your own version each Friday morning at 6am by clicking on the above button.
Please excuse my typos, misspellings and human errors.  Thanks.