Shabbat Shalom April 12, 2013
Dear Friends and Family,
Rest in Peace Baroness Thatcher, the longest serving British Prime Minister in the 20th Century and the only one with Ovaries.  Also, condolences to the family of Annette Funicello on her early passing at age 70.  We will miss her Mouseketeer Ears, Beach Blankets and Pajama Parties.
5 million babies have been conceived since 1978 when Dr. Robert G. Edwards first helped Mr. and Mrs. Brown become parents to Louise Brown using In Vitro Fertilization. The father to IVF, Dr. Edwards, passed away this week.  His efforts (though criticized at the time) have brought immense joy to those 5 million families.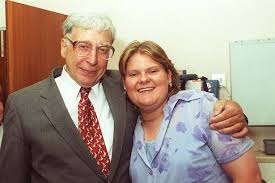 Dr. Edwards and Louise
HATE is a very strong word, but I can say without hesitation that I HATE Bullies and Mean People.  Why do some feel the need to exert force and racist slurs upon subordinates.  I'm sure Sigmund Freud could explain their actions, but common sense and compassion should prevent them.  Rutgers Head Coach, Tim Rice(with apologies to the talented Sir Tim Rice of the London Stage for dragging his name through the mud), should have been fired as soon as this abhorrent behavior of abuse became public.  The only reason he was fired (5 months after video of his abuse was seen by Rutger's administration) was because his actions went viral. All those who witnessed his abuse and didn't take action, should also be punished.  But apparently, punishment at Rutgers also comes with a $1 Million severance pay for the Athletic Director who just resigned over the incident. Key and Peele (comedy duo with Key as a native from Southfield) does a great job shedding a humours yet eloquent light on this problem.  As with all good satire, core elements are true:http://www.youtube.com/watch?v=CUvFeyGxaaU
Its a shame that a few Athletic Professionals taint the field for the good ones. Bravo to University of Michigan Basketball Coach, John Beilein, who came to Ann Arbor during a low point and elevated his team to Final Four Champs.  Maybe next year they can go the full distance to win the championship.
Also, Bravo, to Federal Judge Edward Korman for his insightful decision to allow (Plan B, the Day After Pill) to be sold over the counter so it is accessible when needed. I'm sure North Dakota (the worst of all States regarding Women's Rights) will attempt to fight the Plan B accessibility ruling since it's State Legislature just passed its Personhood Amendment basically stating Life begins at conception with the all Rights (including the Right of Protection) due to that Life. Essentially, this mean harming the Zygote (fertilized egg) could be illegal. North Dakotans will be a vote on this Amendment next year.  I'll keep you posted.
Approximately, 17,000 Fatalities (Military and Civilian) have occurred during the (too many) wars Israel has experienced during her brief history. Plus about 4,000 victims have died as a result of Terrorist Attacks on the tiny sliver of land.  Multiply those numbers by 10 to reach those injured and disabled due to wars and terror and the casualties skyrocket. This Monday, Israel pays tribute to its fallen soldiers during Yom HaZikaron and as Life is a Cycle, this sorrowful day is followed by Yom HaAtzmaut, the day we celebrate Israel's Independence.  Happy 65th birthday and I hope one day (soon) she will receive the only birthday gift we have been wishing for since 1948…the gift of Peace.
I found another video I know you'll LOVE. In honor of Yom HaAtzmaut, this youtube epitomizes the upbeat HOPE, vitality, youth, history, culture and innovation of TODAY's Israel. Please enjoy: http://www.youtube.com/watch?v=HsE1cAKM4Yc
One HUGE gift Israel DID receive recently is the potential for energy independence.  A few months ago, a HUGE amont of Natural Gas was discovered under the Mediterranean.  Last month, this gas went online to the homes and businesses of the Israeli population.  This could be a HUGE windfall for the economic and security concerns of Israel.
Wishing you and your loved ones a Sweet and Peaceful Shabbat Shalom,
Lisa
SOAP BOX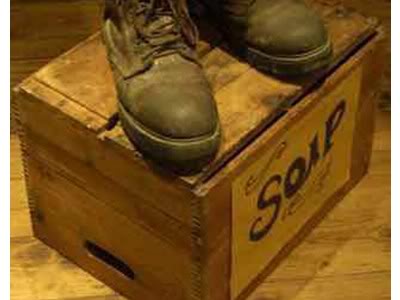 Thanks for your support of these worthy causes:

Thursday April 25th @ 6:30pm
Please join me as Jewish Women's Foundation sponsors
"Wine, Women and The F* Word featuring Comedian Wendy Liebman @ Knollwood County Club.  www.jewishdetroit.org/jwf or contact Helen Katz at 248-203-1483

Wednesday May 1st @ 9:00am-4:00pm (Boutique) and 1:00pm (lunch)
Please join me for Shaarey Zedek's Women's World lunch featuring CNN's White House Correspondent, Jessica Yellen.  For tickets, please call 248-357-5544 Ext. 48

Thursday May 2nd @ 9:30am
Please join me and my mother for the Henry Ford Health System Mothers, Daughters, Sisters, Friends Patron event at Saks Fifth Avenue @ Somerset Collection (Big Beaver Rd. Valet Entrance).  For more info: henryford.com/MDSF or 313-874-6139 or aabaloz1@hfhs.org

Sunday May 19th @ 10:00am
Please join the 3rd Annual Wing Lake Walk for Diabetes at Wing Lake School (Maple and Wing Lake Rd)
http://jdrfevents.donordrive.com/index.cfm?fuseaction=donorDrive.team&teamID=6083