Shabbat Shalom February 1, 2013
Dear Friends and Family,
Snow storms, near record high temps and major rain was the weather reality for this week. Last weekend, we nearly froze our fannies off in NYC (visiting our daughter Ariella and son-in-law Tzvi) as we walkedTime Square to enjoy the delightful Broadway production of Newsies. This Saturday is Groundhog Dayso our weather fate depends on the paranoid escapades of Punxsutawney Phil and his shadow. Its either 6 more weeks of Winter OR maybe just a month and a half ;-).
Photos from the train to Penn. Station and Bryant Park.
This year's Cain and Abel will be duking it out on the sidelines of Super Bowl XLVII (that's 47) down in NOLA.  Brothers, John and Jim Harbaugh, Head Coachs for the two opposing teams of Baltimore and San Francisco will battle for the famed football trophy as their parents most likely will have a hard time deciding who to root for.
The family of Ariel Sharon received confirmation (of something they suspected all along) that the former Prime Minister who suffered a stoke 7 years ago might be able to see, hear and maybe even understand simple words. Though optimistic, it is not likely his current status of a vegetative state will ever change as he is breathing through a ventilator and eating through a feeding tube.
In the past, blind Israelis who sought the help of seeing eye dogs had to travel to the United States and know English to converse with dogs who only understood English commands.  Now, Israel is training Guide Dogs in Hebrew, but the real reason I share this story with you is to show these VERY cute Israeli puppies in training:
For the 10 top Israeli dog-centric ideas, please click here (#9 is quite strange):
http://israel21c.org/culture/the-top-10-unique-ways-israelis-love-their-dogs/?utm_source=Newsletter+1%2F30%2F2013&utm_campaign=Jan%2C+29%2C+2012&utm_medium=email
On Jan. 17th, the 2,000th Indian Jew, Mirna Singsit, arrived to her dream homeland of Israel.  The B'nei Menashe community of India are descendants from one of the Ten Lost Tribes and for the past 27 centuries have been living a Kosher and Shomer Shabbat lifestyle in India's Northeastern region. There are still an estimated 7,000 Jews living in India, many of them hoping an immigration flight to Israel is in their near future.
Black Hebrews are another example of the diverse Israeli tapestry. Their heritage is African but they are not Ethiopian Jews. The Black Hebrews also believe they were descendants of the Lost Tribes and their travel route took them from Africa through the Slave trade to America until the 1960s when they decided to return to the Land of Israel. Their immigration to Israel has been controversial but now they seem accepted (living mainly in the southern town of Dimona) with schools, factories and a vibrant community. http://www.youtube.com/watch?v=RDu1U0EPImE
Deja vu of repeated voilence and protest is occuring in Egypt this week.  Can democracy, freedom and equaltiy exist in counties where Islamic rule is dominant?  The people of Timbuktu (a town in African Mali) were just recused from a 10 month rule of Islamic militants who burned thousand-year-old antiquties and terrorized the citizens requiring them to follow strict (prison-like) Sharia Law.
Condolences to…
… the Brazilian community on the deadly night club fire which took 235 lives and countless injuries.
… the Australian community on the deadly mass flooding cause by remnants of a cyclone, a monsoon and Climate Change.
… the family of last surviving Andrew Sister, Patty, who passed away this week at the age of 94. http://www.youtube.com/watch?v=A9ZVQP-O9Rg
Shame on…
… Detroit City Council for rejecting Gov. Snyder's offer for the State to manage Belle Isle.
… MI Attorney General, Bill Schuette, for supporting (extreme religiously conservative Domino's Pizza founder) Tom Monaghan's Lawsuit challenging mandatory contraception coverage.
… Sec. of State, Ruth Johnson, for continuing her stance to prevent immigrants from obtaining drivers licenses even-though our Federal guidelines approves it.
… Former Italian Prime Minister Berlusconi on defending Mussolini's Hitler alliance during last week's International Holocaust Remembrance event.
Bravo to…
… Hillary Clinton on her successful tenure as Sec. of State, Thanks and farewell (for now).
… 30 Rock for 7 great seasons of pure hilariousness.  Thanks, Tina Fey.
… Dan Gilbert on expressing (our collective) disappointment with the Detroit City Councils inept actions.
… Gabby Giffords for her brave and difficult testimony (with her permanently bullet damaged affected speech) at this week's Senate Hearing on Gun Control.
And lastly, Bravo to Dr. Michael Cahn, who 21 years ago initiated the first attempt to eliminate the ban on Gays in the Boy Scouts. At that time, he received hate mail and anti-Semitic taunting.  Finally, in the 21st Century, the Boy Scouts could be joining the modern era by accepting the equal rights of the LGBTcommunity. http://www.nationaljournal.com/domesticpolicy/a-boy-scout-rebel-who-accepted-gays-in-1992-is-about-to-be-vindicated-20130131
Wishing you and your loved ones a Sweet and Peaceful Shabbat Shalom,
Lisa
SOAP BOX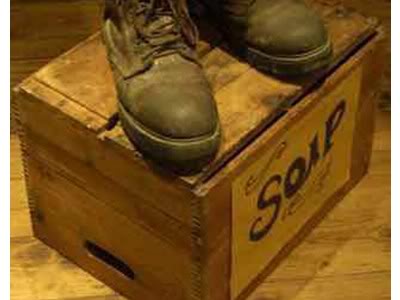 Mazel Tov Alana Doctoroff on becoming a Bat Mitzvah this weekend. Wishing you and your family all the best during this celebratory weekend and for many years of future shimchot.

Condolences to Linda Klein on the passing of her beloved brother, Norbert Zuckerman.  May his memory be a blessing onto his family.

Happy "big" birthday this Sunday, cousin Ingrid.  Wishing you all the best!

Please join us for a light supper and presentation about Forgotten Harvest on Tuesday March 5th @ 6:00pm at our home.  Please reply back to me if you'd like to attend.

Please join us for an inspiring evening to learn more about the work of the Joint Distribution Committee on Tuesday March 19th at 7:00pm at our home.  Please reply back to me if you'd like to attend.

Please attend a worthy and interesting event to help support the Detroit College Promise on Tuesday Feb. 12th @ 6:30pm @ the (newly renovated) Detroit Historical Museum with guest speakers Rev. Jesse Jackson and Rabbi Danny Syme who will be discussing the "The Re-education of America in the Age of Obama".  Click here for ticket info: http://www.detroitcollegepromise.com/dcpcontribute1.php

Please either help make phone call or answer your phone this Super Sunday (at Federation from 9:30-2:30) to help raise our Jewish Community's needed funds.