Dear Friends and Family,
As always, with 2 Jews comes 3 opinions on the reason we dwell in temporary huts (called Succot) during this week's Jewish Holiday (appropriately named) Succot. My favorite explanation, discussed at the Succah dinner graciously hosted by Simcha and Esti, is to remind us that our brick and motar houses are also, just, temporary dwellings as our true home is our family and wherever they are. Our family is spread between both US coasts from New Jersey to Oregon and many in Israel, but in the meaningful words of Billy Joel "a home is just another word for you"
Here are more lyrics to that wonderful song:
"If I traveled all my life
And I never get to stop and settle down
Long as I have you by my side
There's a roof above and good walls all around
You're my castle, you're my cabin and my instant pleasure dome
I need you in my house 'cause you're my home"  
And to listen to this magnificently beautiful song (1976 version), please click below:
http://www.youtube.com/watch?v=c4D40r-E7yk
Speaking of Billy Joel, did you know that 30 years ago this week BJ's "52nd Street" was the first commercially produced and mass marketed CD (aka: Compact Disc).  Yes, ABBA was the first CD pressed but it was not released till later that year.
10 years ago, there were 400 thousand Holocaust Survivors and today that number has decreased to 200 thousand.  The decline is inevitable but once they are all gone, they must not be forgotten. A new tribute to these heros is for family member to tattoo their death camp numbers on their own arms. These are personal decision that exhibit a powerful statement.
Now is the time to sell off your Iranian Rials.  Their nosedive is drastic and their economy is tanking due to the world's pressure and sanctions. Let's step up the "squeeze" so we can non-violently prevent their development of nuclear weapons.
BRAVO to Julia's dad, William Louis-Dreyfus, on his NYTimes full page ad (and $1 Million commitment) to preventing voter suppression. For more info: http://www.brennancenter.org/
Also BRAVO to CA Governor Jerry Brown on signing a bill to ban sexual orientation altering (Gay to Straight) therapy for minors.
Last week's Sara Silverman's video (Let My People Vote) link was cut off so here it is and again with it's warning of curse words:  http://www.youtube.com/watch?v=ypRW5qoraTw
And Samuel L. Jackson didn't want to be outdone so he got into the game (curse words and all) with his "Wake Up" ad:  http://www.youtube.com/watch?v=og35U0d6WKY&sns=em
I must admit, I was disappointed with this week's Presidential debate.  The next round is Thursday Oct. 11th at 9:00pm for the VP debates.  If anything, they should be more entertaining with Ryan and Biden as the players.
Wishing you and your loved ones a Sweet and Peaceful Shabbat Shalom and Hag Succot Sameach (Happy Succot Holiday),
Lisa
SOAP BOX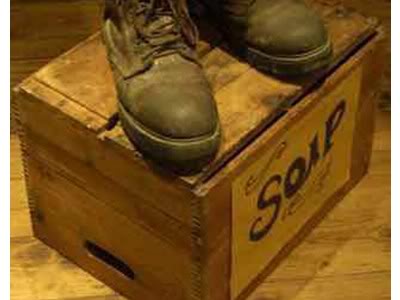 Sunday Oct. 7th @ 5:00pm
Please join us at the home of Doreen Hermelin to help support 3 wonderful womenUS Senatorial candidates: Shelley Berkley of Nevada, Heidi Heitkamp of North Dakota and Claire McCaskill of Missouri (who is running against the famous Todd Akin).  For more info please contact Tracy Phillips at 248-540-8843 or tracy@mgroupinc.com

Wednesday Oct. 10th @ 5:00pm
We will wine and dine you (as in appetizers and sweets) at our home if you come help support 2 great Michigan Congressional candidates: Gary McDowell (Up North) and Steve Pestka (Grand Rapids) with guest speakers Congressman Gary Peters, Congressman Sandy Levin and Dem. Minority Whip Steny Hoyer.  For more info please contact Nicole Eynard at 202-485-3436 or eynard@dccc.org

Thursday Oct. 11th annual dinner
Please attend the ADL event at Knollwood with comedian Joel Chasnoff.  For more info please contact the ADL office at 249-353-7553

Monday Oct. 15th @ 11:30am
Please attend our annual JAC membership event (JAC = support of pro-women, pro-Israel and pro-separation of Religion and State) at the home of Marcie Orley with guest speaker Donna Crane of NARAL.  For more info please contact jacpac123@aol.com or 847-433-5999 or jacpac.org

Monday Oct. 15th @ 6:00pm
Please help the Jewish Ensemble Theatre honor Arthur Horwitz at their Gala at Glen Oaks County Club in Farm. Hills.  For more info please call 248-788-2900 orwww.jettheatre.org

Monday Oct. 15th @ 7:30pm
It's not everyday you can hear Middle East expert, Ambassador Dennis Ross, speak to our community. Please take advantage of his Michigan visit at The Berman Center.  The event is free but registration is suggested at http://dennisross.eventbrite.com/

Tuesday Oct. 16th @ 5:00pm
Help support Oakland County Sheriff candidate, Jane Felice Boudreau, at an event at 28555 Orchard Lake Rd. Suite 100 in Farmington Hills.  More info: 248-320-9891 or pam@boudreauforsheriff.com

Sunday Oct. 21st @ 1:00pm
Please help support Congressman Gary Peters by attending an event at the home of Gretchen and Ethan Davidson on Sunday Oct. 21st @ 1:00pm.  For more info please contact Caitlyn Stephenson at 248-737-2692 or caitlyn@petersforcongress.com

Saturday Oct. 27th @ 8:00pm
Please join us at Congregation Shaarey Zedek's 150th anniversary celebration.  For more info please visit http://www.shaareyzedek.org/

Tuesday Oct. 30th @ 6:30pm
Please attend the Jewish Women's Foundation screening of the acclaimed movie "Arranged" at the Max M. Fisher building.  For more info please call 248-203-1519 or visit https://action.jewishdetroit.org/events/wlw/arranged-register/

With only 33 more days till our Nov. 6th election, it is time to familiarize ourselves with our long and complex ballot.  We will be voting for President, Congressmen and Senators (both nationally and locally), State board of Ed,  University (regents, trustees and governors), County positions (execs, prosecuting attorneys, sheriffs, clerks, treasurers, commissioners: including the "drain" or now known as "water resource"), plus our non-partisan judges and not to mention our 6 Michigan proposals.  And each State has their own long list of important decisions needing our votes.  So, if you live in Michigan, please visit this public ballot viewing site: https://webapps.sos.state.mi.us/mivote/SelectPublicBallot.aspx

You'll need to fill in your county, city and precinct and up will pop your ballot.

To get started for Michigan voters, here are our 6 proposals:
1.  Emergency Manager Law
2.  Collective Bargaining Constitutional Amendment
3.  Renewable Energy: 25% by 2025 – I'm voting YES
4.  In-Home Care Workers Collective Bargaining and Council
5.  Limit new taxes by State Government
6.  International Bridge – Please vote NO on this Matty Moroun sponsored proposal

If anyone has any insight into these props., please let me know.  Thanks.

Dear friend, Jeff Zaslow, would have celebrated his birthday this weekend.  He is greatly missed by so many friends, fans and family.