Happy Birthday Brian Kepes!
October 3, 2014
Dear family and friends,
Needed Enlightenment
Though we are progressing in years it doesn't seem we, as a global society, are progressing in enlightenment.  The time for Shari Lewis' lamb chop and Leo the Lion to share a hug is fading in the distance.  The destructive nature of hatred has become cyclical rather than descending and it looks like we are in an upswing with the world's eruption of hostility.  I hope my pessimistic view is altered in the near future with more enlightened leaders and citizens so our children can live in a more peaceful world.
Gmar Chatima Tova
In our corner of the world, in our community, hatred is frowned upon and discouraged.  We are supposed to love one another and treat all with respect.  This past week, Jews have been asking family, friends, neighbors, associates, God…even ourselves for forgiveness as tomorrow, when we fast and repent on Yom Kippur, we all hope to be Sealed in the Book of Life for another year.
Appropriate Balance
As we are (hopefully and gratefully) sealed each year in the Book of Life, we are constantly making choices on how to live our lives to the best of our ability.  And with technological advancements that aid in our existence, we need to find that sweet balance between "assistance and invasion". Here is a poetic reminder of what's important:
Volcano
The death toll from the Japanese Mount Ontake's eruption is rising as unsuspecting hikers were caught as the volcano blew toxic gas, rock and ash from its core this past weekend. Nearly 50 people have died with still others missing.  The volcano continues to spew gas and rock hampering the rescue mission. Our prayers are with the victim's families and survivors.
Mount Ontake, Japan
Occupy Movement
More news, this week, from the Far Eastern Hemisphere as riots exploded in Hong Kong when pro-democracy protesters took to the street in their Occupy Central movement which commenced to the offense of Police and pepper spray.  The protest continued throughout the week as China's National Day was celebrated on Wednesday. The streets are still full but calmness has set in. Hong Kongers hope their peaceful protest about the upcoming election will be met with compromise by Beijing.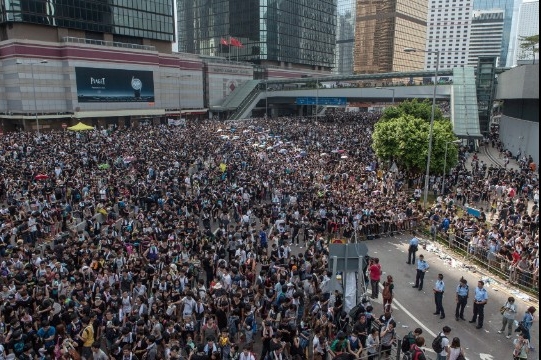 Hong Kong's Financial District
Halted Traffic
20 years and 1/4 million dollars could be the punishment bestowed upon Brian Howard for setting ablaze the Chicago Air Traffic Control Center which caused major traffic snares last weekend. From Mr. Howard's Facebook postings, it looks like he was under distress and quite depressed as his final posting was a suicide messages.
Outernet
Epidemic
Dallas is reeling from the discovery of an
Ebola
infected Liberian who is now hospitalized. Quarantines have been initiated for his family as he is recovers from the virus. The exchange of bodily fluids while showing signs of the illness is the ONLY way, currently, to contract this deadly disease and it seems he wasn't ill on the flight and hopefully he didn't spread the virus to his family. A surge of research and funding is needed to bring containment, treatments and cures to those suffering, since experts have concerns that a mutation of the virus could become airborne if this epidemic continues to spread.
http://tinyurl.com/dailymailEbola
UN GA 2014
All the Big Wigs spoke at this week's
United Nations General Assembly
but not much new was said.  Mahmoud Abbas demanded a timeline for a complete Israeli withdrawal from the West Bank.  Bibi compared ISIS, Iran and Hamas to the Nazis as they all believe in a superior Race or Faith.  Obama spoke about the attack on Jihadism but all of these speeches paled in comparison to these greatest moments in UN General Assembly history: 
http://www.theguardian.com/world/video/2014/sep/24/un-general-assembly-greatest-hits-video
More UN News
This week, Actress
Emma Thompson
introduced the gender equality movement call 
HeForShe
: 
http://www.heforshe.org/
  While 
Father Gabriel Naddaf
(who lives in Israel) urged the UN to stop the "Witch Hunt" against Israel since it is the ONLY country in the region that ALLOWS Freedom of Religion. 
http://tinyurl.com/IsraelReligiousFreedom
And this speech by Anne Bayefsky about the UN's lack of attention to Global Anti-semitism is well worth the watch:
UN image from 1955
Always Israel
There are NO other atrocities in the world more hedious than the Israel/Gaza conflict for activists to fix.  Proof of this is the constant protest against the Israeli commercial industry. Again this week (as it also occurred in August), an Israeli cargo ship was prevented from docking and unloading at the port of Oakland, Ca when 200 protesters prevented dock workers from doing their jobs. Who are these 200 people?  Are they all Palestinians or are they uneducated, misguided, bias activist who are blinded by easily believed lies about Israel.
Singing in Unison
I know you are the choir.  You love and respect Israel as I do, otherwise you wouldn't be receiving these emails. But maybe you can pass this video along to someone who doesn't know the true, real, vibrant democratic Israel.  Take a peek at this unscripted 6 minute snapshot of the tiny yet often attacked county. 
https://www.youtube.com/watch?v=AWymSPHGtbE#t=343
Tel Aviv
Ellen and Matthew
Wishing you and your loved ones a Sweet and Peaceful Shabbat Shalom, an Easy Fast (for those fasting) and a Gmar Chatima Tova (your named sealed in the Book of Life).
Lisa
Baby Arrivals
Congrats to the wonderful Kellman family as Joel and Betsy Kellman embrace their 3rd grandchild, Grey Rachel Kellman, daughter to Yoni and Jami Kellman.
Congrats to first-time grandparents, Bill and Hillary as they welcome Charlotte Clinton Mezvinsky, daughter to former first daughter, Chelsea and husband Marc Mezvinsky.  
And last but not least, mazel tov to new parents, Kivuli and Jabari, after a 15 month pregnancy, their baby boy arrived this week at 150 lbs/ 6 feet at our wonderful Detroit Zoo.  Can't wait for the baby naming.
Kol Hakavod 
("All the Respect")
Mazel Tov to well-deserving Butzel award winner, Richard Krugel, as he received his honor this week.  Our community is indebted to you, Sally and your family for your dedication to Tikkun Olam.
Congrats to the State of Califonia and their trusted Governor Jerry Brown for signing the Bill this week to be the first State in our Union to ban single-use plastic shopping bags though cheers are tempered as the plastic bag manufacturers vow to fight this battle through the ballot box.
Bravo to our Detroit Tigers on clinching their 4th (in a row) American League Central Division Championship Title.
Condolences
Condolences to Marianne and Robert Bloomberg and their family on the passing of their beloved grandmother, Belle Dubrinsky. May her memory and spirit be a blessing onto her family and friends.
Condolences to the family and friends of Erma Elders on her passing this week.  Erma was a pioneer in the Detroit Auto industry as the first woman in Metro Detroit to own a car dealership (after her husband died in1983) which she went on to build into one of the largest woman-owned businesses in the country. Erma was also a generous philanthropist who gave back to our wonderful community.
Hall of Shame
Sadly the 11th house of the Heidleberg Project was vandalized and burned this week.  Unfortunately, arson has plagued this art project for the last year with no leads on the perpetrators.
Debate
Tune into Detroit Public TV on Oct. 12th (6pm) to witness our Michigan gubernatorial candidates (Governor Synder and Mark Schauer) square off at a Town Hall style debate to discuss the issues near and dear to our State.
32 Days and counting till Nov.4th
There are about 200 million eligible voters in US.
Nearly 150 Million registered to vote.
Presidential elections generally get a turnout in the mid 50%.
Midterm elections (like this one) get a turnout in the mid 30%.
Let's change that dismal Stat!  Please encourage everyone toGet Out To Vote (GOTV).  You can preview your ballot and research your decisions online at
There is lots to research so I hope you find this site helpful.
Vote ahead of time
For other States, you can contact the county clerks office in your city.
Now till Oct. 18th
Please help our dear friend, David Broza, with his Indiegogo Crowd-funding project to help complete the film documentary of East Jerusalem West Jerusalem.  Any and all investments welcome with great perks and gifts available. If you have been procrastinating, please join the team, now. Thanks.
Sunday October 5th (7:00pm)
Candidate Forum at
The Birmingham Temple
28611 West 12 Mile Road
Farmington Hills, MI 48334
RSVP to 248.477.1410
Monday October 6th
Tuesday October 7th
We will be celebrating our 10th anniversary of the Mothers, Daughters, Sisters, Friends luncheon which benefits the West Bloomfield Henry Ford Breast Care and Wellness Center.  We are teaming up with the Detroit Lions this year as the Luncheon will be at Ford Field in Detroit.  For additional information please contact Ashley Abaloz at (313) 874-6139 or AABALOZ1@hfhs.org
Tuesday October 14th (6:45pm-8:30pm)
Emily's List conversation on the importance of electing women.
With US House candidates: Pam Byrnes, Debbie Dingell and Brenda Lawrence.
At the home of Nina Dodge Abrams
For more info and address click on website or contact Emily Beardsley at ebeardsley@emilyslist.org or 202-419-1075
Thursday Oct. 16th
Please join us at Eastern Market Corporation Inaugural Harvest Celebration in historic Shed 3.  For more info, please contact Tracy Rivard at (313) 833-9300, ext. 113 or trivard@detroiteasternmarket.com

Thursday Oct. 23rd
ReMarkable Women Luncheon
Guest speaker: Tonya Reiman
The Henry, Dearborn
For more info: http://askflorine.com/remarkable-women-live/
Shabbat Oct. 24-25
Join the international celebration of Shabbat with The Shabbos Project.
https://www.youtube.com/channel/UC89SX8l6JJLECCgbmp-SdEw
Wednesday October 29 (7:30pm)
Film Screening
Body and Soul:The State of the Jewish Nation
The Berman Center for Performing Arts
West Bloomfield JCC
Post-screening discussion with producer/director Gloria Greenfield and Rev. Dr. DeeDee Coleman
Tickets available from The Berman Box Office: 248-661-1900
or theberman.jccdet.org/ticketing
Plus there will be a Detroit screening Thursday October 30
6:00pm – Russell Street Missionary Baptist Church 
8700 Chrysler Freeway Drive
Buffet reception followed by screening
Post-screening discussion with Rev. Dr. DeeDee Coleman and producer/director Gloria Greenfield
Open to the public at no charge
Sunday November 9th
Saturday November 22 (6:30pm)
The Benefit II in support of the Children's Tumor Foundation to help fight Neurofibromatosis.
Detroit Marriott at the Ren.Cen.
Hosted by Jennifer and Dan Gilbert
For more info: Joyce Keller at 313-202-6606 or joycekeller@quickenloan.com
Happy Healthy Birthday to this week's celebrants:
Oct. 3rd
Brian Kepes
Oct. 4th
Ruth Beitner
Neal Krasnick
Oct. 5th
Patty Tapper
Steve Pestka
Wendy Rose Bice
Oct. 6th
Anessa Kramer
Oct. 7th
Eli Saulson
Ilana Liss
Josh Bennett
Miryam Rosensweig
Oct. 8th
Brad Benyas
Deborah Orley Rubyan
Ester Rubyan
Gregg Orley
Yehoshua Lis
Oct. 9th
Graham Orley