Dear Friends and Family,
Northern Neighborhood
Thank God there were no injuries during this week's (Lebanese) rocket attack on Northern Israel.  What?… you didn't hear about it…Surprising!!!  Two of the 4 Rockets hit populated areas.  One fell near a nursing home for Holocaust survivors.  As repeatedly stated in these messages, Israel got stuck in a nasty neighborhood. How would Michigan feel if Wisconsin occasionally lobed rockets at the Upper Peninsula, while Ontario was dealing with a violent civil war, as Illinois fired missiles at Kalamazoo and Ohio exhibited major governmental instability and violence.
http://www.timesofisrael.com/rocket-falls-in-northern-israel/

glass damaged by rocket
Beauty in the Northern Neighborhood
Northern Israel (Haifa to be exact) is the home of the beautiful BahaiGardens and Religion.  If you don't know about this religion, please view this 4 minute video.  The main elements of their religion are Beauty and Rquality.  Something all neighboring countries could use a bit more of… http://www.youtube.com/watch?v=9ZCcg2rj8Ww
Literary Neighborhood
Rest In Peace, Elmore Leonard (aka. The Dickens of Detroit) who's crime novels (like "Get Shorty") were loved my many but proudly honored by Michiganders. Occasionally he would auction off (for charity) the prestige of using the auction winners name as a characters in one of his books. He passed away at age 87 in Bloomfield Hills, MI.
Early Neighborhood
It could NOT have been a more beautiful Sunday last week when I reminisced down memory lane. 14 (flat) miles, 8 (interesting) stops though Northwest Detroit with 200 other bikers on the (Jewish Historical Society's) J-Cycle, starting at Palmer Park (where Grandmas Toba and Ruthie used to push me in a stroller) to the original Temple Israel building (where brothers Jeff and David became B'nai Mitzvah) past Hampton Elementary (got my first pair of aviator framed glasses in 3rd grade) to the Curtis/Meyers JCC(use to roller skate in the basement) but the piece d'resistance was biking right past my childhood home on Strathcona in Palmer Woods where we lived from 1960-1969. Though I struggle to recall most daily memories, last Sunday will NOT be forgotten. Thank you, JHS of Michigan for all the work you do preserving our Jewish Detroit Heritage.
http://www.michjewishhistory.org
Childhood Home on Strathcona

Segregation wall *
New York Neighborhood
In honor our my J-Cycle participation, please view this sadly (yet) humorous PSA about the obstacles NY bikers must endure: http://twentytwowords.com/2011/06/08/new-yorker-rides-into-obstacles-in-bike-lanes-to-prove-a-point/
DC Neighborhood
The year was 1968, the date was Aug. 28th and close to 300,000Civil Rights supporters Marched on Washington.  50 years later we are still dealing with both subtle and blatant discrimination throughout our society (not to mention Global Human Rights atrocities).

view from Lincoln to Washington
Historical Neighborhood
During that same month of Aug. (on the 19th) but several decades before, the women's vote was ratified.  Happy 93rd birthday to the19th Amendment. Let's not take this right for granted during our next election cycle.
Yemen Neighborhood
The rights of Jews in Yemen have been violated since 1948 when most Yemeni Jews became refugees and many walked to their new home in Israel.  Just this past week, a secret airlift of 17 members of the Karny (Yemeni) family arrived to the Be'er Sheva absorption center in the south of Israel. There are still about 100 Jews left in Yemen.  Their clandestine journey to reunite half their family from Argentina reads like a mystery novel, thankfully with a happy ending. http://www.haaretz.com/jewish-world/jewish-world-features/.premium-1.542775
Wishing you and your loved ones a Sweet and Peaceful Shabbat Shalom and Shana Tova 5774!
Lisa
* The (6 foot concrete) Segregation Wall (also known as Detroit's Wailing Wall) was built in 1940 at the demand of the Federal Housing Administration to separate a neighborhood so ONLY white mortgage applicants could apply for new home loans. Blacks (and Jews) were not allow in that neighborhood as well as many other cities that had deed restrictions against minorities. Currently the wall is covered with murals and is a reminder of our not to distant past.
SOAP BOX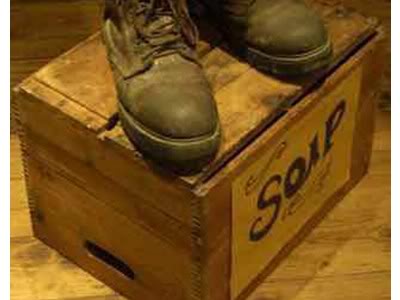 Condolences to the family (and community) on the premature death of Theresa Fulgenzi, the beloved JCC sports coach.  May her memory and spirit bring comfort to those who mourn her passing.

Condolences to Keenan Wolens on the passing of his father.  May he be remembered fondly during this time of mourning.

*************************

Please help the 

Detroit Historical Society

select 3 of our most celebrated Detroit buildings for their upcoming exhibit.  If you need a suggestion, I recommend the Detroit Public Library for its history, art, beauty and consistent usage by all ages since its grand opening in 1921.  For more info on the Library please view this website: 

http://www.detroit.lib.mi.us/library/about-us

  and to vote for your favorite Detroit Building please click here:

*************************

Check out this cool opportunity to help save the

*************************

If you love gardening, you'll love next week's

Permaculture Workshop on Saturday Aug. 31st from 9am-5pm (including vegetarian lunch) with expert gardeners Ian Robinson, Oren Brandvain and (from Israel) Ilan Brandvain. For more info, check out their facebook page:

 or to sign up (cost is $75) please email irobi@umich.edu

*************************

Please join us at the 

Mothers, Daughters, Sisters, Friends Oct. 2nd Luncheon

with 

Guilana and Bill Rancic

.  Tickets are moving fast (we might be sold out) so please sign up soon at 

http://www.henryford.com/MDSF

*************************

Please join us in support of Ruby Hobbs' run for a United States Congressional Seat (to replace Gary Peters who we hope you support of the US Senate):

Tuesday Oct. 8th
5:30-7:00pm
Our home

For more info and to RSPV, please contact:
Kristen Caswell
517-214-6719 or kriscaswell@gmail.com
www.rudyhobbsforcongress.com

*************************

Upcoming Gary Peters Events:

Sunday Sept. 22nd
11:30am-1:00pm
Home of Rachel Bendit and Mark Bernstein
Ann Arbor

Monday Sept. 30th
8:00-9:30am
Home of Marcie Orley
Franklin

Monday Oct. 7th
(new date)5:30-7:00pm
Mex
6675 Telegraph Rd. (south of Maple)
Hosted by Jim Bellinson

For info on any of these events, please contact Elias Malile 248-799-0850 or malile@petersformichigan.com

 
Happy, Healthy Birthday to this week's celebrants:
Aug. 24th
Karen Sachse (Happy 50th)
Risa Levinson
Aug. 25th
Sage Berg
Aug. 27th
Gary Edelson
Sasha Berman
Aug. 28th
Jimmy Ketai
Aug. 29th
Joan Epstein
Sheri Kukes