Shabbat Shalom March 23, 2012
Dear Friends and Family,
Much has happened in the world this week such as the revenge killing of innocent Jewish children in France, the earthquake in Mexico and the continued republican primary. But this Israeli storycaught my eye as it exemplifies Israel's normalcy even in the shadow of Southern City Rocket Fire and Looming Iranian Menace. With Israel's concern for women's heath, she has become the FIRST country in the world to ban ultra-skinny models from Ads and Runways. This means, prior to a photo shoot or fashion show, all employed models must present a current medical health report indicating a body mass index of 18.5 or above (meaning not malnourished). 2% of girls in Israel suffer from extreme eating disorders (which is comparable to other developed counties) and hopefully this new ban will demonstrate healthy looking models as apposed to… should I say… holocaust days. By the way, this means Kate Moss (BMI 17.3) and Naomi Campbell (BMI 15.8) could NOT work legally as models in Israel. In addition, any digital manipulation of photos to make the models look thinner must be clearly disclosed. Let's hope this is a trend.
The (now deceased) terrorist/jihadist from al Qaeda is responsible for killing Rabbi Jonathan Sandler, Arieh Sandler (age 5), Gabriel Sandler (age 3), Myriam Monsenego (age 8) and 3 French soldiers. The murderer stated he was taking revenge for Palestinian children and the French army's Afghanistan presence.  Palestinian PM Salam Fayyad condemned the actions calling it a "cowardly terrorist attack" and also stated "It is time for those criminals to stop exploiting the name of Palestine through their terrorist actions". The rabbi and the children were all buried in Israel this week.
Mitt won hands down in Puerto Rico but do you think it had anything to do with Rick's offensive remark to the citizens with an attack on their heritage and his fabrication of a language law. Mitt also won Illinois this week bringing him to 563 delegates. He is 9 short of the halfway mark of 1,144 needed to win the nomination, but he might want to put away his Etch-a-Sketch.
Appreciation rises proportionally to the diminishment of the appreciated source. In other words, it feels great to regain your health after nursing an illness over the weekend.
A 7.4 magnitude earthquake occurred near Acapulco this week but thankfully with no serious injuries. The strange and amazing thing is that Malia Obama is vacationing there with school friends. What were the Obamas thinking? Don't they know Mexico is a dangerous place with drug lords kidnapping and killing Americans. Or maybe 24-hour secret service bodyguards and surveillance is the ONLY way to visit Mexico. No offence to friends who love and still vacation in Mexico.
Someone needs to knock some respect into Aharon Friedman (senior adviser to Congressman Dave Camp) for forbidding to give his wife, Tamar Epstein, a GET (Jewish Divorce) so she can move on with her life. He doesn't seem to care that every rabbinic organization finds him in contempt of human dignity and righteousness.  I am only including the fact that he works for Dave Camp as to why this case is so public. In fact, there are far TOO many similar and unknown abuses of this type that need resolution. These abusers should be shunned by their community so they too feel the pain they have caused by their stubbornness.
Have your heard about the May 30th Global March on Jerusalem (GMJ, more like Global Menace for Jews)? This is a flat out Anti-Semitic, Anti-Israel movement with ties to Iran and those who want to totally eliminate our homeland. Please read this eye-opening article by David Harris that explicitly details their full intent. http://blogs.jpost.com/content/"global-march-jerusalem"-if-it's-not-about-israel-it's-not-about-us
March 22nd was World Water Day. Did you know the process to create one glass of wine take 32 gallons of water? One avocado is 154 gallons of water and one pair of jeans is 2,900 gallons of water. Yikes. Good think Israel is perfecting Water Desalination Technology (Thanks JNF and Technion).
Now for something fun. Please enjoy this humorous explanation by Jon Stewart about the true story of Jew Pond. http://www.aish.com/j/mm/Jew_Pond.html
Wishing you and your loved ones a Sweet and Peaceful Shabbat Shalom,
Lisa
SOAP BOX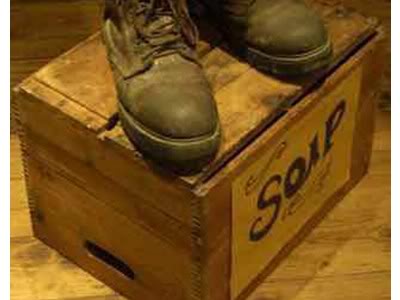 March 26th Debbie Stabenow
Please join me at a women's fundraiser breakfast (8:30am) for Debbie Stabenow at the home of Marcie Orley.  You are welcome to come as you are…from your morning walk or on your way to work (any attire is fine). It is $100 to attend; RSVP to Kate Fairman 517-336-8500 or http://www.stabenowforsenate.com/Women  

March 29th Steven Pestka
Please come to our house next Thursday March 29th at 5:30pm to support Grand Rapids (US Congressional) candidate Steven Pestka as he runs against a very conservative incumbent who is NOT a proven supporter of Israel. Suggested donation is $150. Please RSVP to info@votepestka.com or let me know if you can attend.

March 30th BIG
Buy Israeli Goods (on BIG day and everyday) to help combat Israel Boycott Day. Show your support at local merchants by purchasing Israeli products on Friday March 30th.  Let the managers know you are purposely buying Israeli products and hope they continue to sell them

March 31st Jewish Family Services
Please vote DAILY through March 31st for JFS Project Build (Charity #10) athttps://www.facebook.com/homedepot?sk=app_112064278918490

April 1st What is Detroit?
Please attend this free event on Sunday (9:00-4:00pm) April 1st at the Educational Conference Center (room 1840) U of M School of Social Work (1080 S. University). http://www.facebook.com/events/351179364900378/

April 15th Jewish Women's Foundation
Sunday April 15 "Miss Representation" 3:00-6:00pm. Seligman Arts Center at Detroit Country Day sponsored by the Jewish Women's Foundation.https://action.jewishdetroit.org/events/wlw/jwf-wlw-register/

April 17th Tamid
Learn more about the Tamid Israel Investment Group that integrates U of M students with Business in Israel.  Hannan and I will host an event for anyone interested in learning more about Tamid on Tuesday April 17th at 7:15pm. Here's a sneak peak this great initiative http://www.youtube.com/watch?v=6lps2t8mz04&feature=youtu.be

April 24th Planned Parenthood
Hope to see you at the Planned Parenthood Luncheon on April 24th with guest speaker Rosie Perez. For more info, email Leigh.Krauss@ppmchoice.org or clickhttp://www.plannedparenthood.org/midsouthmi/

April 25th AIPAC
Hope to see you at the Michigan Annual Event at the Suburban Collection Showplace in Novi to hear guest speakers Ambassador Dennis Ross and AIPAC exec. Howard Kohr (in my opinion one of the greatest Israel advocates).

April 29th Stretch to Help
Pledge $18 or more to our community's umbrella organization Jewish Federation and participate in various health classes through out of community. Beneficiaries… your body and our community. For women, but men won't be turned away. Please register athttp://stretchtohelp2012.eventbrite.com/

May 3rd Henry Ford Health Systems
Please join us for the New and Improved Henry Ford Mothers Daughters Sisters Friends event on Thursday May 3rd (11:00am-1:00pm) at the West Bloomfield Henry Ford Hospital. Invites should have reached your inboxes and mailboxes this week. Same great boutiques, Same great food, Same great cause, New great Fashion Show, New great venue.

May 3rd Michigan League of Conservation Voters
Please join us May 3rd for a fundraiser for the MLCVto help insure our legislators are supportive of the environmental issues of our State.  Our guest speakers will be Mark Schauerand Joe Schwarz, both former congressmen from each party.

May 6th Madeline Albright
Please mark your calendar for May 6th (1:30pm at Adat Shalom) to hear Madeline Albright speak to our community.  This event is open to anyone who donates $18 or more to our Jewish Federation.

May 6th Tamarack
Please attend the May 6th at 7:00pmTamarack eventat the Berman Theater featuring Tamarack Alum, Jeffrey Seller who is the Tony Award winning producer of Rent, Avenue Q and In the Heights (3 amazing plays).http://www.tamarackcamps.com/Donations/SendAKidToTamarack-KickOff.php

May 12th Orchards Children's Service
Please join us at the Orchards Children's Services 50thAnniversary Gala on Saturday May 12th @ 6:00pm at the MGM Grand Hotel. For more info or tickets call 248-593-2100 or email fkepes@orchards.org

May 29th Technion
Check out the Technion Trip to Russia/Israel that Hannan and I are going on. We would for you to join us. http://www.ats.org/site/PageServer?pagename=events_mission_2012spring

Happy 70th Birthday this weekend to homegrown Aretha.

Mazel Tov to the Menuck family on Miles becoming a Bar Mitzvah.